107

Harriet buys "Little Women" for $1 at the Drug Store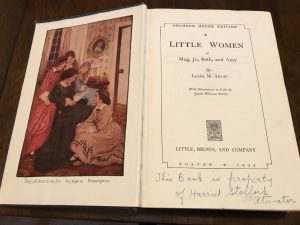 April 1, 1935
Dear Corinna,
We rec'd three letters Sunday morning from 71 Iris Avenue. Harriet brought them home before we went to S.S. We made Myron get up in a hurry so we could read Russy's too. That was a fine letter.
Well Aunt Ev- your letter made me very glad. Glad that Corinna is helpful. You and Corinna both told your view points of the corset episode and I surely enjoyed them both. Corinna's getting so fat just reflects her state of mind—she is both well fed and contented.
It must be you don't like the name "Freddie", that's the second one that's annoyed you, Kinny.
Harriet has been collecting on her paper route tonight. She bought the book "Little Women" tonight at the Drug Store for a dollar. She has always wanted that book for her very own.
Daddy took H, G, Tillie and me out to see Aunt Nellie yesterday about 5 o'clock. We went then so we could say we'd had supper and not be a bother. She liked her plant a lot. Her toe is black halfway up and will drop off. She hates to be idle—she has always been such a busy person. She was coming in to see Dr. Jensen today again. Tillie came in yesterday after Frank Haber's funeral. Otherwise she never comes on Sundays you know. How she did thank me for her ride!! When she got into the back seat she sat right down on Gloria. Gloria squealed and then Tillie moved over and Daddy enjoyed that.
I wrote a short letter to Lutena last week and I got a card back—I'm going to write her a card and tell her my letter was just a sample and that I'm going to save up a lot of news and write her a real letter sometime.
I finally mailed Barbara's nighty tonight and I put your stationary in to fill up the box –also Myron's play book.
Russy—Harriet and Gloria will have to write to you now soon and answer your neat letter. Maybe I can get Myron to write too. So you look for one in your mail box soon.
It has snowed today so my clothes are still in the tub. I had a lot of them too.
The Robertson's asked about you last night—she thot my hat was very nifty. I wish I could show it to you. Love from Mother.