The original Board of Directors for CLIC was composed of the Directors of the member libraries (See Appendix 1)
CLIC's organizational meeting took place on April 15, 1969, with Russell Barnes, Hill Library as Acting President. Members present: Karlis Ozolins, Augsburg College, Mrs. Margaret Dewey, Bethel College, Sr. Marie Inez Johnson CSJ, College of St. Catherine, Rev. Clyde Eddy, College of St. Thomas, Glenn Offermann, Concordia College, Jack King, Hamline University, Mrs. Jean Archibald, Macalester College, Herman Henkle, Hill Library Consultant, and Mrs. Jack King, visitor.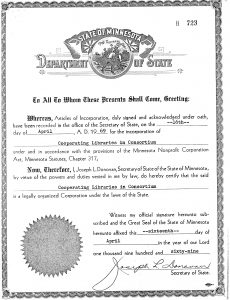 First officers of the CLIC Board were elected: Ozolins, President, Johnson, Vice President, Offermann, Secretary, Barnes, and Treasurer. The meeting continued with Ozolins presiding.
The CLIC Bylaws were accepted as presented.
Motion to establish an account at the Commercial State Bank of St. Paul was passed.
Monetary support for services was based on the assessment of fees based upon one percent of each library's operating expenditures and grant monies. The initial budget was $11,485.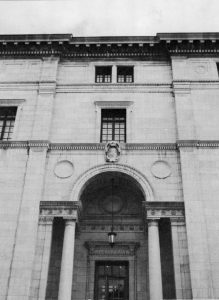 A motion to accept James J. Hill Reference Library's (hereafter known as Hill Library) invitation to serve as CLIC's headquarters and mailing address was passed. Thus CLIC's early home became a 7×12 foot room at the Hill Library. Meetings of the CLIC Board were held at member libraries.
CLIC's courier service for the pick-up and delivery of interlibrary loan materials among member and other libraries was housed and dispatched from the Hill location.
At the September 10, 1969, Board meeting a motion passed to hire Stephen Plumb as the first coordinator of CLIC. He was hired to work half time supporting CLIC operations and half time for Hill Library. For a list of Coordinators/Directors of CLIC. (See Appendix 2)
At the end of September, 1969, the need for an Executive Committee to carry out routine business matters between bi-monthly board meetings was recognized and the four officers were designated as the Executive Committee. At this period the Board did not meet in June, July or August.