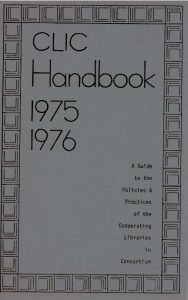 April 29. 1975.  The first mention of a CLIC picnic appears in Board minutes. It was held at Hamline on May 20th at 5:30 p.m.
The AV Committee submitted policies for the cooperative use of AV materials.
December 4, 1975.  The Board passed a resolution that CLIC is interested in joining OCLC and acquiring 15 terminals to be placed at Hill Library for use in the Union Card Catalog Conversion Project.