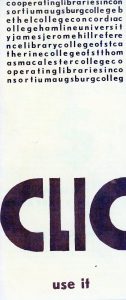 January 29, 1981.  The Board approved the motion to "Establish an on-line union catalog for CLIC as soon as possible." Investigation into costs and configurations of hardware and software for such a system began.
February 23, 1981.  The Board agreed that CLIC should purchase its own computer for an online system.  Difficulties with Brodart, the COM catalog provider, continued.
March, 1981.  The Board continued to maintain ties with MINITEX especially because of the interlibrary loan delivery system and in addition received advice from Alice Wilcox (MINITEX) concerning online catalog development. General discussion of the configuration of a CLIC online catalog indicated CLIC moving into more centralized activity and expressed concern about implications for individual member institutions.
April, 1981.  The expanded courier service to seminary and community college libraries begun as a pilot study in March was approved.
Authorization was given to disband the union catalog card file at Hill Library.
December, 1981.  Carlyle Systems, Inc. name appears in CLIC minutes for the first time. At the behest of MINITEX CLIC supplies one of its OCLC tapes containing 50,000 records to Carlyle to use in a demonstration of its online system at ALA Midwinter, 1982.