January 24, 2007.  The Digitization Community of Interest provided a report on the capabilities of a variety of digital collections systems. The group endorsed the CONTENTdm product and Docherty (CLIC) was asked to arrange a trial of the system.
February 28, 2007.  After a review of the Structure Survey by the Management
Round Table its recommendations for improvements to communication within CLIC and revision of some of the MRT functions were approved by the Board and implemented. MRT's name was changed to Mediation and Advisory Round Table (MART) to reflect a broader focus and its advisory role to Docherty (CLIC) and the Board on the Integrated Library System (ILS) planning process. The group was to ensure that CLIC had a meaningful and well organized ILS futures planning process in place. The first year was to be one of investigation of available systems and technologies.
May 30, 2007.  The Board approved the purchase of WonderDesk, a problem reporting and tracking system.
Ann Bateson became the new Director of St. Thomas Law Library.
June 20, 2007.  The CLIC office was repainted and recarpeted.
CONTENTdm license and equipment including a server were purchased.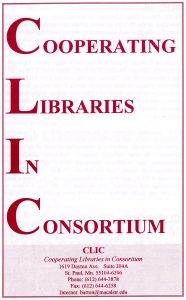 CLIC partnered with Macalester to share a fiber connection and participate in the fiber loop with the private colleges, i.e. PING Project.
Closed Executive session to discuss plans for the CLIC Executive Director position.
Docherty's resignation is not mentioned in Board minutes.
Docherty's last day with CLIC was July 15th.
August 2, 2007.  The search for a new Executive Director was in progress. Closing date Sept. 10th. CLIC staff commended for doing a great job during the transition period.
Board agreed that MART's Futures Planning process should continue. Board liaison's to MART were McGuire (NOW) and Gjelten (MNT).
October 30, 2007.  There was an Executive session concerning the search for Executive Director. Apparently no candidate was selected and hired because another search was underway in November.
November 28, 2007.  There was a report on the new Executive Director search responses.
There was an Executive session concerning CLIC staff.