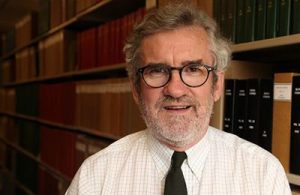 January 2010.  David Stewart joined the CLIC Board as the new Director at Bethel University Library.
Tom Nichol to sign a letter of intent to continue as Executive Director through March 2011.
February 2010.  The strategic planning committee prepared a SWOT analysis in preparation for a strategic planning session on March 26.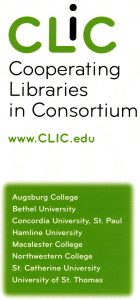 March 2010.  CLIC purchased a SMARTBoard for the CLIC Conference Room.
CLIC discontinued its subscription to Blackwell TOC records. Due to BE Press's unwillingness to provide consortium pricing for Digital Commons, CLIC decided not to go forward with a consortium-wide contract.
The CLIC Board held a special meeting to consider strategic planning priorities on March 26 and unanimously adopted the following Vision and Mission Statements:
Vision for Cooperating Libraries in Consortium (CLIC)
CLIC exists to create a world-class research library experience for our academic communities.

Mission
CLIC enhances the strengths of its member libraries by (1) making library users the focus of our collaborative work, (2) sharing best practices, ideas and resources to improve services, and (3) engaging library staff in professional development, thereby fostering leadership, creativity and innovation in the pursuit of excellence.

April 2010.  The Board authorized $3,750 for III Enterprise backup API and initiated committee review of all new III quotes. CLIC renewed the Richards Gordon office lease for a four-year term.
June 2010.  CLIC hosted a professional development event, CLIC Collections 2010, which included presentations by Dani Roach, Carolyn DeLuca, and Coutts.
September 2010.  CLIC adopted a new formula for allocating CONTENTdm costs for storage and software.
November 2010.  CLIC held a Strategic Planning Forum on November 5. CLIC purchased the Circa Wireless Inventory and the Circa Wireless Assistant.
December 2010.  CLIC created a Discovery Layer Task Force to review Encore, WorldCat Local, and Summon options.