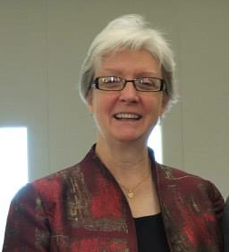 March 2012.  Ruth Dukelow began work as Executive Director on March 14. Tom Nichol stayed on for two weeks to orient her to the position.
The CLIC Board accepted the report of the ILS Task Force recommending to wait at least a year before selecting a new library management system. A farewell reception was held for Tom Nichol at Macalester on March 30.
April 2012.  The Environmental Scan Task Force prepared a report for the CLIC Board. Dukelow attended the North American ICOLC meeting and met with consortium directors from other states to learn about their shared ILS projects.
May 2012.  Dukelow visited all of the CLIC campuses and met with staff to learn about each member library and to hear their suggestions for improvements to CLIC communications.
The CLIC Board's focus in FY12-13 will be Assessment/Demonstrating Our Impact. Dukelow assembled a task force to assist in planning professional development activities. Task force members included Augsburg – Stacy Cutinella, Bethel – Michael Mitchell, Concordia – Zach Moss, Hamline – Kimberly Feilmeyer, Macalester – Ginny Heinrich, Northwestern – Jessica Nelson, St. Catherine – Kathi Rickert, and St. Thomas – Andrea Koeppe.
June 2012.  Fitzgerald arranged for the installation of a new telephone system. Dukelow set up a CLIC Facebook page and updated the CLIC website to include photos of committees.
At the Annual Meeting, the CLIC Board elected officers: President, Dan Gjelten (University of St. Thomas), Vice-President David Stewart (Bethel University), and Treasurer, Ruth McGuire (Northwestern College).
July 2012.  Fitzgerald installed Quickbooks accounting software to replace the outdated Peachtree system (which was retired permanently in September after completion of the annual audit). The new software greatly improved the quality of financial reports to the CLIC Board.
August 2012.  CLIC Systems Manager Steve Waage completed two major CLICnet projects: OPAC enhancements and the Coutts shelf-ready pilot project.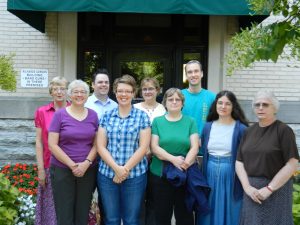 CLIC Chair Camp was held on August 21 for the incoming Chairs of the CLIC Committees. Training included an introduction to the new agenda and minutes online forms and information on Committee responsibilities for goals and year-end reports. As part of CLIC's ongoing review of Committee and COI structure, two COIs were eliminated (Music and E-Journals) and one new COI was added (WorldCat Local).
The topic of "scholarly publishing" was incorporated into the Digitization Committee's purpose (rather than establish a new COI for scholarly publishing).
September 2012.  Waage began work on the MyiLibrary Demand Driven Acquisition project with St. Thomas and St. Catherine.
October 2012.  The ILS Task Force presented at MN-IUG in Northfield. CLIC's Assessment Kick-Off workshop was held on October 26 at Archbishop Ireland Library and featured presentations by each of the CLIC institutions on their local assessment activities.
November 2012.  Dukelow reported to the CLIC Board on two trends came to light during her trip to the Charleston conference in October: (1) storage/weeding/retention and (2) shared ebooks via DDA. Regarding storage/weeding/retention, she attended a pre-conference session on analyzing collections across resource-sharing institutions to determine retention and weeding of low use items, which required conducting a usage analysis via SCS. The CLIC Board discussed and decided not to do a group project with SCS at that time. In light of the second trend, Dukelow suggested that a shared ebooks collection could support CLIC's mission of focusing on the user and volunteered to survey the institutions about ebook purchasing and to investigate ebook vendors willing to sell to shared collections. Two other items from Charleston included investigation of ILS system progress and of consortia shared staff projects.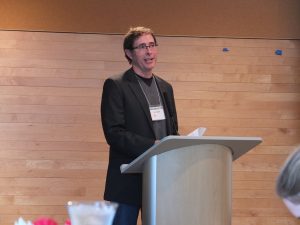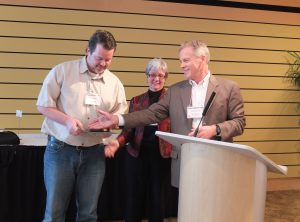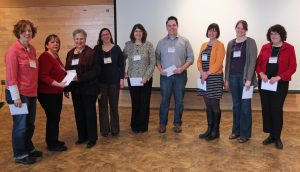 December 2012.  CLIC held the Annual Awards luncheon at Como Zoo, with program speaker author Leif Enger. Ben Durrant won the User Service Award, and the ILS Task Force won the Group Effectiveness Award.
Waage worked on projects for the Cataloging Committee to unprotect the 040 field and to display other fields for RDA.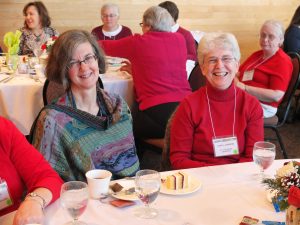 Julie Rochat (Hamline) and Carol Johnson (St. Catherine) retired from their library director positions and from the CLIC Board.