January 24, 1996.  The Board gave final approval to the CLIC Policy on Membership.
The Board directed Olson to write a letter in support of the Minnesota Access Center.
February 15, 1996.  The Equity Forum was held at St. Thomas. The purpose was to focus efforts on producing an Equity Resource Sharing Policy for CLIC.
February 24, 1996.  The Authority Control group was authorized to move forward with the authority control update of CLICnet.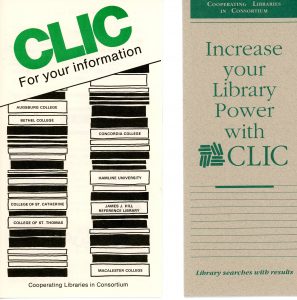 August 14, 1996.  The Board approved signing a new contract with Ameritech Library Services to purchase a new HP server and the graphical interface modules. Also CLIC would pursue the upgrading of the Dynix system.
The Board approved CLIC joining the Minnesota Library Association as an institutional member. Olson (CLIC) became a member of its Legislative Affairs Committee.
September 25, 1996.  There was discussion of Olson's proposed 1996-97 Goals for CLIC document.
October 23, 1996.  The Board passed proposed 1996-97 CLIC goals.
The Board directed that CLIC office staff should establish independent web access.
Personnel policies for CLIC office staff were reviewed and changes adopted.