January 11, 1989.  Kinney (MNE) reported on Carlyle's status and the disintegration of it as a viable company.
The Board authorized payment of $67,895 to Carlyle for successfully completing Stage I of the Reliability Test.
January 25, 1989.  All day Board retreat. They reflected upon CLIC's past and future. Organizational models, goals, and objectives were discussed.
January 28, 1989.  A local update of the database took 30 hours to run. It required significant time on the part of Metz, Dunker (CLIC) and Mark Welge, Carlyle.
March 22, 1989.  The Board approved a motion to accept Carlyle's Full Service Maintenance contract with the 3/6/89 version of the Addendum to Full Service Maintenance Agreement.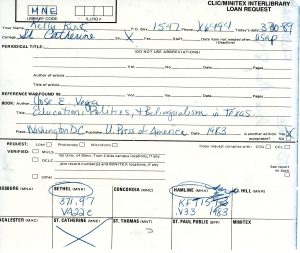 April 12, 1989.  Report on Carlyle's status: negotiations for purchase of the company by other automation vendors ceased. Carlyle will focus its efforts on remaining financially stable and on meeting its commitments to existing customers. CLIC and Carlyle had not yet agreed on the terms of a new full service maintenance contract.
April 26, 1989.  Functional Committee members' terms extended from one to two years.
June 14, 1989.  Dale Carrison, Director of MSUS/ PALS, attended the board meeting for a discussion concerning possible areas of cooperation. The Board concerned about backup for CLICnet.
June 15, 1989.  Carlyle filed for protection under Chapter 11. A hearing on their plan was held in U.S. Bankruptcy Court Northern District of California on 10/25/ 89. They emerged from Chapter 11 on schedule 12/6/89.
June 15, 1989.  A lunch for audiovisual personnel in CLIC libraries was held at St. Thomas. This was the first organized opportunity for all AV personnel to meet their colleagues from other CLIC institutions.
July 14, 1989.  Carlyle rebuilt CLIC's database and included John Ireland Library's records. Number of active (indexed) records after deduping was 586,109.
System downtime for various reasons continued to be a problem. CLICnet log reports for January-June showed availability of the system at 81.6 percent. Contract agreement required 98 percent uptime. Contract Compliance Committee sought reduction in maintenance payment.
October 11, 1989.  The Board voted to continue to retain Janet Boche as CLIC's legal counsel even though she left Dorsey & Whitney for a position at 3M.

November-December, 1989.  CLIC celebrated its twentieth anniversary with two successful events: a dinner at St. Thomas for CLIC staff on November 17th and a lunch for college presidents, directors and donors on December 6th.
December 6, 1989.  Carlyle emerged from Chapter 11 on schedule.
December 16-17, 1989.  Carlyle replaced old hardware with XHP equipment. Committee work continued on bar codes and automated circulation requirements.
Final acceptance testing of the Carlyle OPAC scheduled for January, 1990.