There continued to be interest in exploring the possibility of automated circulation systems within CLIC, at other local library systems including Hennepin County Library System and University of Minnesota, and nationally.
January, 1977.  Although not specified in the minutes the first microfilm catalog from Brodart arrived some time between January 12th and 24th. The Implementation Task Force began work to introduce the catalog's use to library users.
September 28, 1977.  At this time the CLIC Coordinator was half time. There was no job description. Location of office, secretarial support and payroll responsibilities came up for discussion.
Offermann (MNC) presented a copy of his PhD dissertation, Relationships Among Minnesota Academic Library Consortia, their Staffs and Their Clientele, 1977, to CLIC.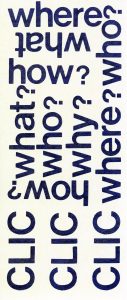 October 26, 1977.  The Task Force on Cooperative Collection Development recommended that CLIC's New Serial Titles and Serials Cancellations lists be discontinued since they duplicated services of the Minnesota Union List of Serials. (MULS).
A job description and schedule for evaluation of the CLIC Coordinator was presented and approved.
December 21, 1977.  Although the minutes do not mention her resignation it appears that Forde left CLIC's employ at this time because the minutes authorized a search for a coordinator.