January, 1979.  Discussion of CLIC's budget and funding formula began as did the use of grant monies.
February, 1979.  An agreement with Jim Olson from Augsburg for the maintenance of the Autographics LCR microfilm readers was approved.
April 20, 1979.  The Board celebrated CLIC's tenth anniversary with a cake.
CLIC Year In Brief for 1977-78 was produced by Coordinator Chittenden.
CLIC supported Augsburg cataloger, Irene Schilling's trip to an A.L.A. Preconference about AACR2 rules and their implications.
Still no summer Board meetings.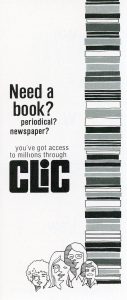 Cooperative collection development continued to be an interest within CLIC even though grant proposals were not funded.
October, 1979.  New printed interlibrary loan forms began to be used.
November, 1979.  Irene Schilling (MNA) was hired as a consultant to CLIC to create specific plans and procedures for correcting and updating the COM catalog.
December 4, 1979.  Kaye Gapen, Assistant Director for Technical Services at Iowa State University came as a consultant and speaker to address a number of issues including AACR2 and current and future catalogs.