On January 26, 1983, the Automation Task Force sponsored "An Afternoon of Automation Demonstration and Discussion". Demonstrations included OCLC acquisitions system being used by St. Catherine and St. Thomas, Macalester's acquisition system, Mankato State University Online Catalog, and CLSI Libs 100, a turnkey system.
Other demonstrations were held on April 13, Dataphase and May 5, Geac
Library directors and other librarians took every opportunity to view online systems nationwide whenever the occasion arose.
February 28, 1983.  The Automation Task Force recommended production of a new edition of the COM catalog to the Board. The CLIC database would be reformatted into OCLC/MARC withdrawals and AACR2 work necessary to an online catalog would be done. The Board approved a new COM edition for Fall, 1983.
September, 1983.  COM Catalog edition statistics: Unique titles: 448,349.
Withdrawal project (cost $1400) resulted in 31, 000 changes and 8,500 record deletions. 40,000 new OCLC records added. Film lengths: author 727 ft., title 653 ft, subject 856 ft.
October 3, 1983.  The Board recognized the timing to be right for them to engage the presidents of their institutions in the need and search for funding for CLIC library automation.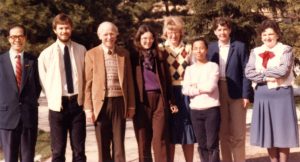 November 9, 1983.  Board members reported very supportive reactions from their college administrators to CLIC's library automation needs and plans. The Board passed a series of motions clarifying CLIC's automation position. The primary one being: The CLIC libraries will develop and implement a joint CLIC integrated, automated library system.