Lewis writes to Henry for the first time since his illness.  He has recovered and can almost walk normally, but he is a changed man.  Lewis says he is "Able to do a good fair days works.  But not the nerve I carried in former years."  He has reduced his farm to forty acres, which he can manage comfortably, and his wife does a lot of the work with him "from choice."
Lewis reports on the health and doings of the brothers.  Lucius is now clearly the most driven farmer of the family, and younger brother Anson is living and working with him rather than out on his own for wages.  Harrison and Lyman are in Arkansas and Lemuel is out of touch.  Henry has apparently announced he has retired from business and become a gentleman farmer (this is only partially true) and Lewis pokes a little fun at him, asking whether he has done any heavy work himself or does he just watch others do it.
Their mother Achsah has decided to spend her winter in Phelps and Ashfield, Lewis reports.  Henry's wife Marie is ill, so Achsah will be able to help look after the children.  Lewis says he encouraged her to go, and that Lucius agrees it is a good idea, but would never say, "for fear she would think they wanted to get rid of her."   
The season was dry and the harvest light, Lewis says.  But he planted five acres of peppermint, and he has seen in the papers that peppermint oil is selling for $4.25 per pound.  Lewis asks Henry for a price because he would prefer to deal with family, but he makes sure Henry knows he is aware of the oil's value in New York.
My transcription follows the images: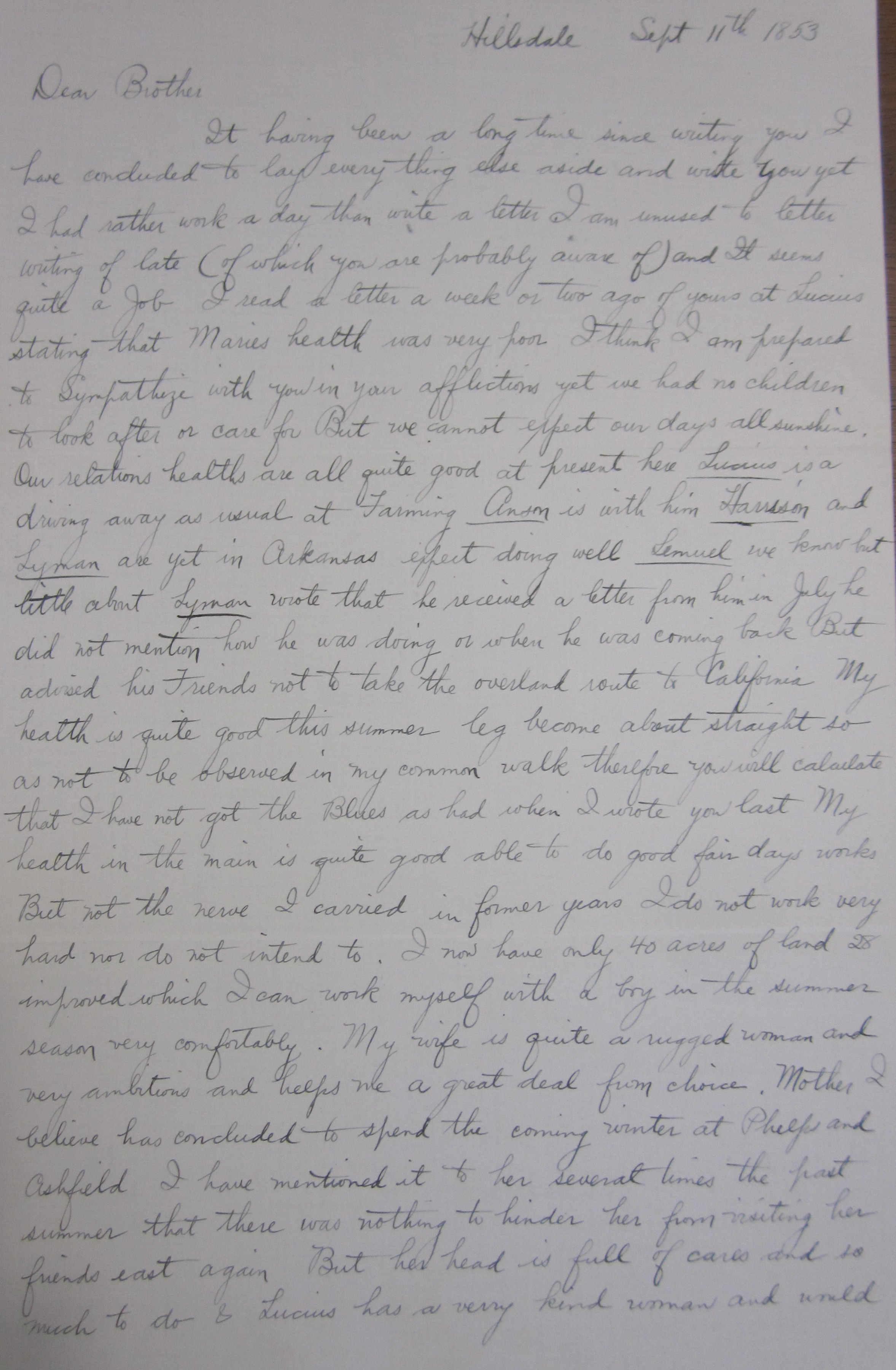 Hillsdale Sept 11th 1853
Dear Brother
It having been a long time since writing you, I have concluded to lay everything else aside and write you.  Yet I had rather work a day than write a letter.  I am unused to letter writing opt late (of which you are probably aware of) and it seems quite a job.  I read a letter a week or two ago of yours at Lucius's, stating that Marie's health was very poor.  I think I am prepared to sympathize with you in your afflictions, yet we had no children to look after or care for.  But we cannot expect our days all sunshine.
Our relations' healths are all quite good at present here.  Lucius is a driving away as usual at farming.  Anson is with him.  Harrison and Lyman are yet in Arkansas, expect doing well.  Lemuel we know but little about.  Lyman wrote that he received a letter from him in July.  He did not mention how he was doing or when he was coming back.  But advised his Friends not to take the overland route to California.
My health is quite good this summer.  Leg become about straight so as not to be observed in my common walk.  Therefore you will calculate that I have not got the Blues as had when I wrote you last.  My health in the main is quite good.  Able to do good fair days works.  But not the nerve I carried in former years.  I do not work very hard nor do not intend to.  I now have only 40 acres of land, 28 improved, which I can work myself with a boy in the summer season very comfortably.  My wife is quite a rugged woman and very ambitious and helps me a great deal from choice.
Mother I believe has concluded to spend the coming winter at Phelps and Ashfield.  I have mentioned it to her several times the past summer that there was nothing to hinder her from visiting her friends East again.  But her head is full of cares and so much to do & Lucius has a very kind woman and would like to have her go if she could enjoy herself better.  But Lucius would not recommend her to go for fear she would think they wanted to get rid of her.  But Frank has invited her and you in your last wanted her, therefore she has concluded to go, probably in October.
We have had a very dry season.  Wheat and corn came in fair.  But most other crops were light.  Wheat is worth 8/6 per.  But I had only 85 bushes.  Sowed only five acres last year.  What is Pept Oil worth?  I planted five acres last spring.  It has been too dry for it, shall probably get about 30 or 35 lbs.  I see it quoted at about four twenty-five in N.Y. Papers.   
How does farming go?  Have you split any rails yet or made stone wall?  Or do you as an old saying is, keep tally while others do it?  Ralph I suppose is company for you if nothing more.  It hardly seems possible that he is a boy eight or nine years old.  We are not remarkably fond of very small children at our house.  But one of that age we should think worth fussing with.
Sept 12th
I must close as I am going to town and have not time to write any more.  Please write soon.  I am much obliged for papers I am receiving from you and intend favoring you with the expense sometime.
My respects to you and yours.
L.G. Ranney
I can send Hillsdale papers to you occasionally if of any account.  Densmore's people we have not heard from in several months.  Probably well or we should have heard.