Lemuel writes to Anson in December 1854, saying he had just received Anson's letter dated October.  This letter apparently took a similar amount of time getting back East, since Lucius forwards it on to Alonzo Franklin in Phelps in early February, saying it has just arrived.  He asks A. F. to forward it on to Henry in Ashfield.  At some point along the way (probably in Phelps), the entire letter seems to have been transcribed, because the whole thing is in the same hand.  Interestingly, the transcriber in Phelps makes a "true" copy, including Lucius's side-message to A. F. in the final copy.  I think this letter is just one of many that made its way from place to place, which might help explain some of the gaps in the Ashfield archive.
Lemuel says he is planning to stay through another summer in the gold country, because the winter rains prevented him and his partners from working their claim completely.  They have diverted Clear Creek, and are harvesting the loose gold from the creek bed.  Lemuel says they made a little over a thousand dollars apiece after expenses.  While this isn't a fortune, Lemuel defends the result as "better probably than I could [have done] in the Atlantic States."
My transcription follows the images: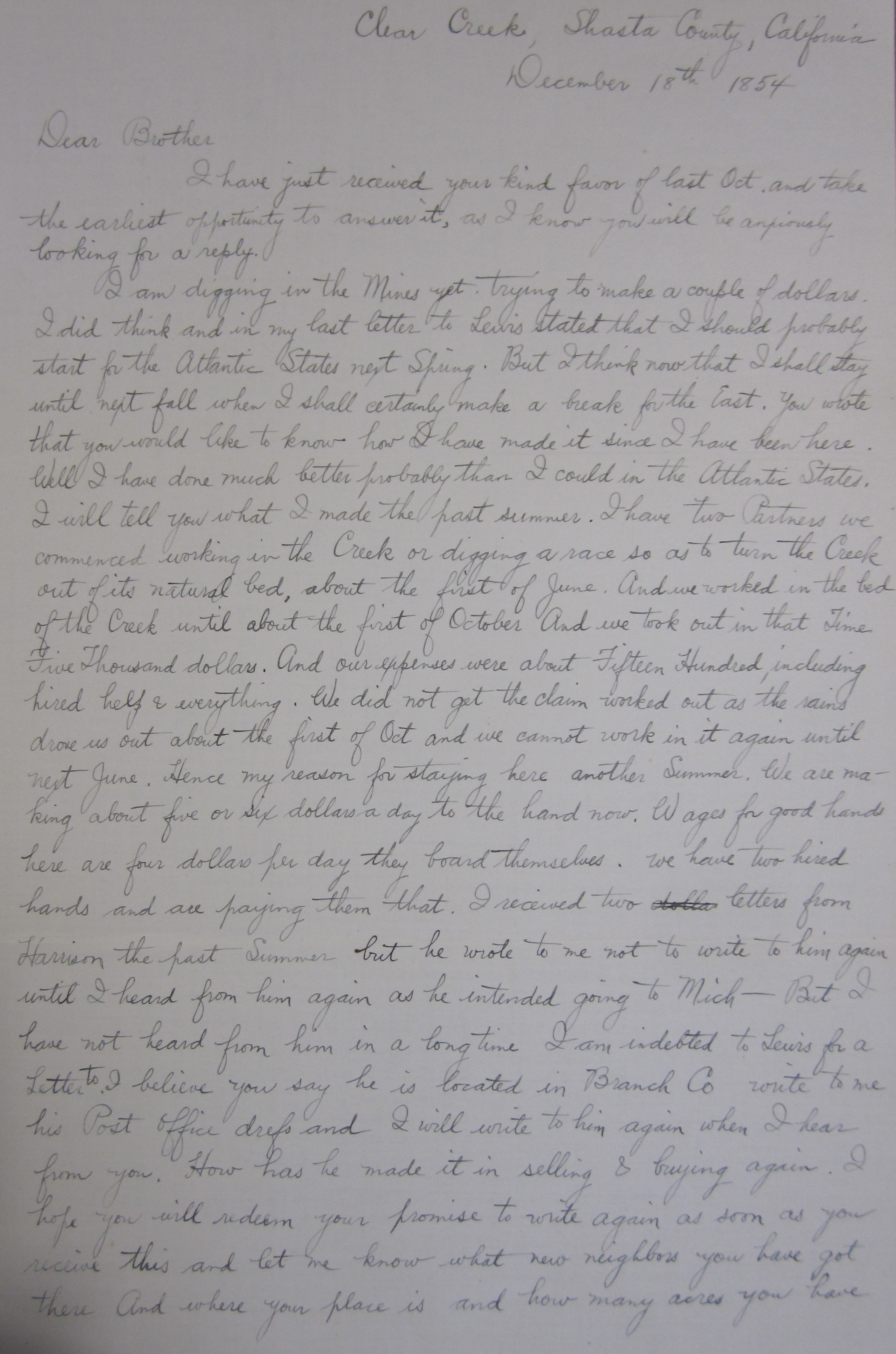 Clear Creek, Shasta County, California
December 18th 1854
Dear Brother
I have just received your kind favor of last Oct. and take the earliest opportunity to answer, as I know you will be anxiously looking for a reply.
I am digging in the mines yet, trying to make a couple of dollars.  I did think and in my last letter to Lewis stated that I should probably start for the Atlantic States next Spring.  But I think now that I shall stay until next fall when I shall certainly make a break for the East.  You wrote that you would like to know how I have made it since I have been here.  Well I have done much better probably than I could in the Atlantic States.  I will tell you what I made the last summer. 
I have two partners.  We commenced working in the Creek or digging a race so as to turn the creek out of its natural bed, about the first of June.  And we worked in the bed of the creek until about the first of October.  And we took out in that time Five Thousand dollars.  And our expenses were about Fifteen Hundred, including hired help & everything.  We did not get the claim worked out as the rains drove us out about the first of Oct. and we cannot work in it again until next June.  Hence my reason for staying here another summer.  We are making about five or six dollars a day to the hand now.  Wages for good hands here are four dollars per day, they board themselves.  We have two hired hands and are paying them that.   
I received two letters from Harrison the past summer, but he wrote to me not to write to him again until I heard from him again as he intended going to Mich.  But I have not heard from him in a long time.  I am indebted to Lewis for a letter too.  I believe you say he is located in Branch Co.  Write to me his Post Office address and I will write to him again when I hear from you.  How has he made it in selling & buying again? 
I hope you will redeem your promise to write again as soon as you receive this and let me know what new neighbors you have got there and where your place is and how many acres you have got and when you are going to & &.  I shall certainly be home next fall.  Write about all the folks.  I don't think of anything more to write in particular.  I have never seen anything of the boys from your parts out here. 
Give my respects to all my old acquaintances
Yours respectfully, Anson B. Ranney
Leml S. Ranney
Allen Feb 6th 1855
We received this letter last week & thinking you would like to know what Lemuel wrote I thought best to enclose it & send it to you, A. F.  Please forward this to Ashfield. 
A. F. I have this evening wrote a letter to you.  We are all well. 
Lucius Ranney