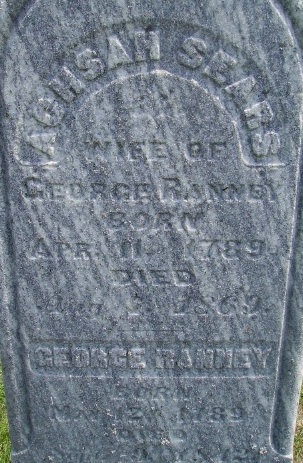 Lemuel writes to his brother Henry of the death of their mother, Achsah Sears Ranney. Born in Ashfield in 1789, she married George Ranney in 1811 and had eight sons and a daughter who survived to adulthood. She moved to Phelps New York with her family in 1833, and when George died in 1842 she began splitting her time between her sons' homes in Michigan and New York, with occasional stays with Henry in Ashfield. She was apparently healthy and active to within a couple of months of her death, her son reporting in a letter a few years earlier that she had churned eight pounds of butter to sell.
Lemuel continued with news of the brothers' farms and greetings from family members who asked to be remembered to Henry. In a postscript Lemuel mentioned their mother's exact age and suggested Henry put a notice in the Greenfield newspaper.
My transcription follows the images: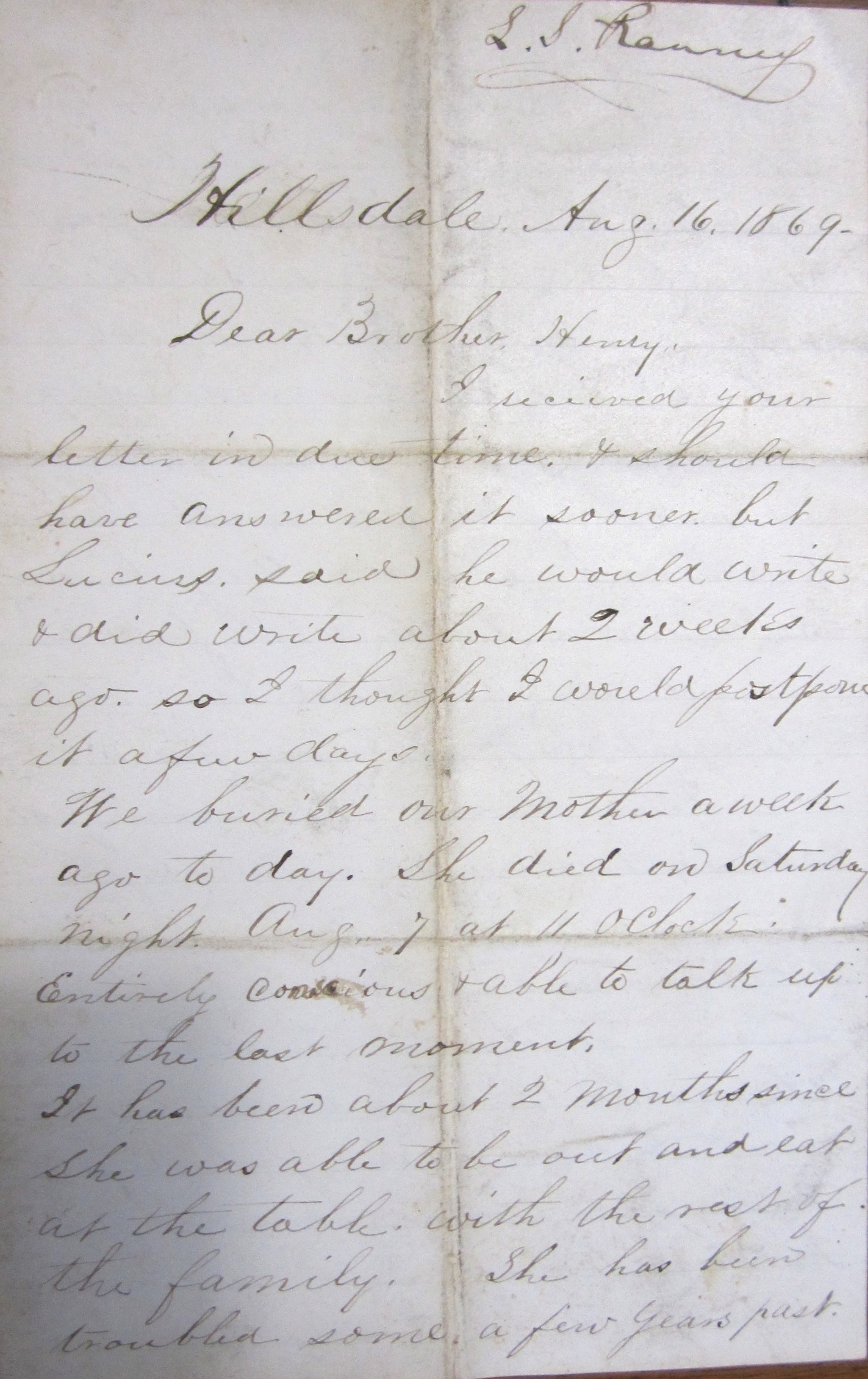 Hillsdale Aug. 16, 1869
Dear Brother Henry,
I received your letter in due time & should have answered it sooner, but Lucius said he would write and did write about 2 weeks ago, so I thought I would postpone it a few days.
We buried our Mother a week ago today. She died on Saturday night, Aug, 7 at 11 o'clock. Entirely conscious & able to talk up to the last moment.
It has been about 2 months since she was able to be out and eat at the table with the rest of the family. She has been troubled some a few years past with the asthma & since she has been confined to her bed, has been afraid she would strangle & choke to death. But she died very easy and quietly. Hardly knew when her spirit passed away. She asked Clarissa on Saturday at noon if it was night. Clarissa told her no, she was getting dinner. She said a little while before she died that had been the longest day she ever knew.
Priscilla is at Lucius yet. She has been quite unwell for 3 or 4 weeks past. Having chills & fever. But is getting better now. Lucius wrote to Franklin about the same time he wrote to you & wrote to him again yesterday. I suppose he told you all about his new house. So I have nothing to say on that matter.
Mother wanted I should tell you when I wrote again that Mr. & Mrs. Leach, she that was Esther Phillips, was here visiting last winter. And George & Sam Phillips were here about a year ago.
We are through with our harvesting & haying & are preparing the ground for sowing wheat again. Wheat is a heavy crop in Mich this year & had been got in in good order generally.
Anson & I finished thrashing ours today. We have 325 bushels. Our corn is looking first rate. Better than it did last year. But corn through this county & I guess in the state generally will not be more than half a crop. Fruit is abundant such as Apples, Pears, Peaches, Grapes. There is a prospect of potatoes being a fill crop so there is no danger of short rations or starvation prices for the next year.
Anson & his wife send their kindest regards to you & yours. Hoping we may hear from you soon.
We remain your affectionate Brother
L.S. Ranney
P.S. I suppose you know Mother's age. It was 80 yr 3 months & 27 days. It would be well to have it noticed in the Greenfield Paper wouldn't it?
L.S.R.