This is a letter from H.J. (Harrison Jackson) Ranney to A.B. (Anson Bement) Ranney.  It found its way into Henry's collection because Anson was visiting Ashfield when he received it.  Harrison wrote to his brother in late August, 1855, when he finally returned from Tahlequah in the Cherokee Nation.  He had been planning to go to Phelps and Ashfield with his brothers, but he didn't return soon enough.  He also missed his brother Anson's marriage to Caroline Baggerly on August 15th.  Caroline ("Callie") was born in Phelps, so Harrison is curious whether she stayed there with relatives or went with Lemuel and Anson to Ashfield.
Harrison, who worked as a merchant out west for several years, has decided to make a thousand dollars buying and selling Michigan peppermint oil.  He arrived too late to have planted any of his own, so he would be thinking of buying from neighboring farmers, and taking the oil to a market where he could make a profit on it.  Harrison wants Anson to find out prices in Ashfield and Boston; he is also considering Louisville and St. Louis, which illustrates the large market for Michigan peppermint oil in the 1850s.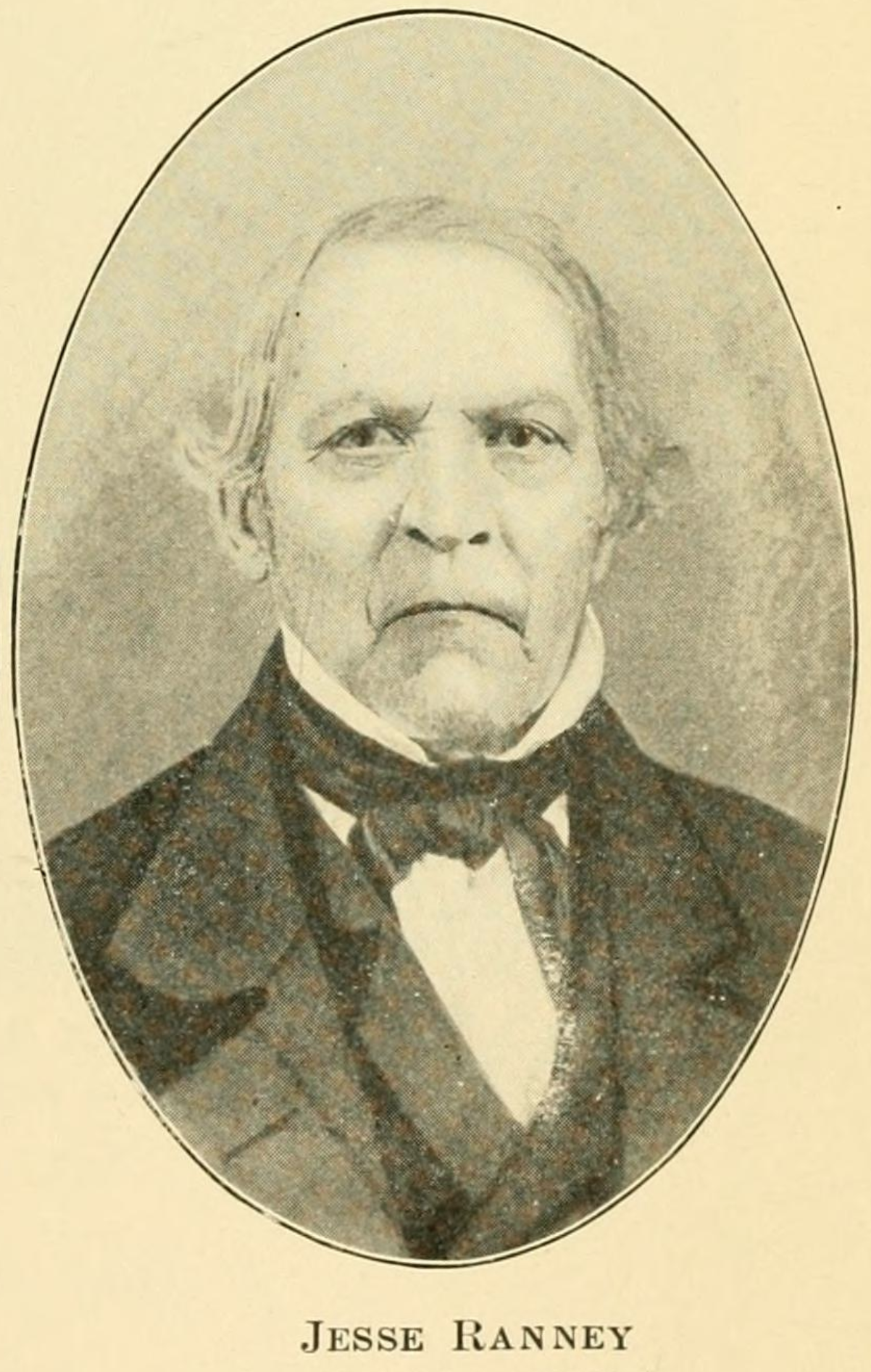 Harrison asks how "Uncle Jesse" is. Jesse Ranney is a brother of their father George, who moved to Ashfield from Connecticut and never left. Harrison also mentions that John Baggerly, Callie's father, is ill.  He appears to be staying with the Baggerlys, possibly because Lewis is visiting Lucius.  Harrison urges them to write, and to come home soon, so he can see them and their Mother, who he expects to return with them from her long stay out East.
My transcription follows the images: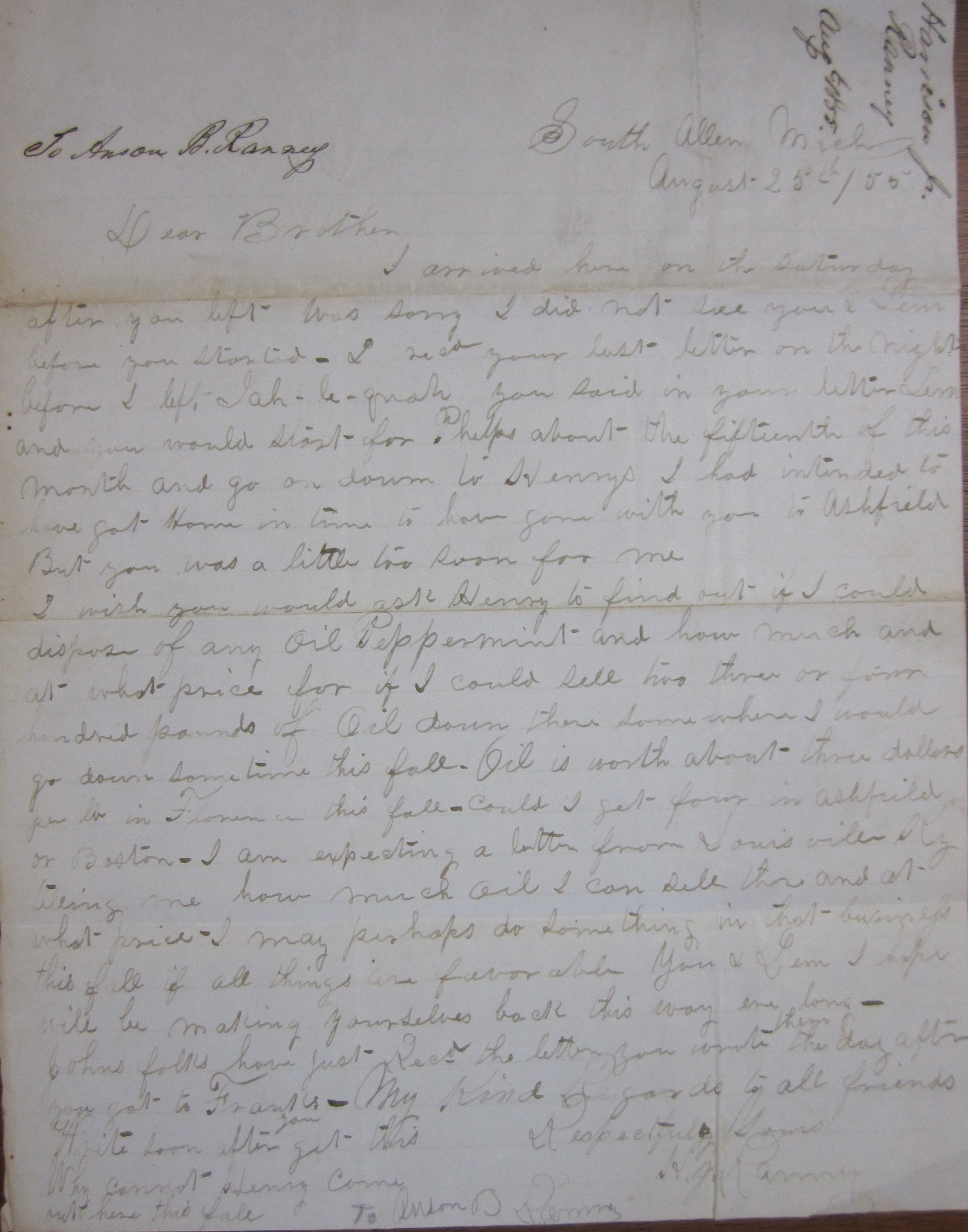 South Allen Mich
August 25th /55
Dear Brother,
I arrived here on the Saturday after you left.  Was sorry I did not see you & Lem before you started.  I recd your last letter on the night before I left Tah-le-quah.  You said in your letter Lem & you would start for Phelps about the fifteenth of this month and go down to Henry's.  I had intended to have got home in time to have gone with you to Ashfield.  But you was a little too soon for me.
I wish you to ask Henry if I could dispose of any Oil Peppermint and how much and at what price, for if I could sell two, three, or four hundred pounds of oil down there somewhere I would go down sometime this fall.  Oil is worth about three dollars per lb in Florence this fall.  Could I get four in Ashfield or Boston?  I am expecting a letter from Louisville telling me how much oil I can sell there and at what price.  I may perhaps do something in that business this fall if all things are favorable.
You & Lem I hope will be making yourselves back this way ere long.  John's folks have just recd a letter you wrote them the day after you got to Frank's.  My kind regards to all friends.  Write soon after you get this.  Why cannot Henry come out here this fall?
Respectfully Yours
H. J. Ranney
[On reverse page]
John Baggerly was taken with a kind of fever last night.  He is up here today on the bed.  Thinks he is going to have the fever & ague.  Got the blues some.
Has Callie gone to Ashfield with you?  I tell our folks if she don't go with you that you will not enjoy yourself much.
What do you think of the folks down there?  Clarissa said you wanted to see what kind of relatives you had.  How is Uncle Jesse?
Lem, take care of Ans & Kin. Rather new potatoes to take to market.
Anson, you be certain to find out about the Oil Peppermint.  I want to make One Thousand dollars this fall.  I may go to St. Louis with one lot of oil.  It is worth four dollars there.
The reason I write so much stuff, Lewis & Lucius are talking and I do not care about listening to them.
Come home soon.  I want to see Mother & Lem & Callie.  Jane was over to JB's as soon as she found I had got home.
I'll quit,
Ranney