After the death of his wife, Henry gets a letter from his sister, Priscilla Densmore.  This is the only letter from Priscilla in the collection.  She lives in South Haven on Lake Michigan, about 110 miles from Allen and Hillsdale.  Priscilla's husband, Randolph Densmore, is a "lumberman and manufacturer," according to most accounts.  The couple had a daughter, Mary, in 1849 who died as a child in 1852.
Priscilla addresses her letter to "Mother & Brother" which confirms that Achsah Sears Ranney is still in Ashfield with Henry.  Following Henry's illness, his wife Maria Goodwin became ill and died in January 1855, leaving Henry with three young children. Their youngest, George Goodwin Ranney, had died at 5 months of age two years earlier. A daughter, Clara Maria Ranney, would die at age 4, later in 1855.
Priscilla says she wishes she had known Maria.  That they had never met despite Henry's eleven year marriage to Maria suggests the possibility that Henry may never have visited Michigan during this period.  Priscilla says she is able to sympathize because she too has experienced losses.  She also tries to console Henry with a paraphrase of a biblical passage ("For whom the Lord loveth he chasteneth, and scourgeth every son whom he receiveth." Hebrews 12:6), and the assurance that Henry's loss is Maria's gain.  This passage is notable, because it is one of the only times religion is ever mentioned in the Ranney letters.  Although some of the brothers were remembered in local histories as members of their area congregations and occasionally mention in letters that members of the family were off at church "meetings", they never communicated with each other using any type of religious language.  This may come as a surprise to modern readers who believe all 19th-century Americans were extremely devout and that ours is an unusually secular time, but the absence of overt religion in nearly all of the Ranney letters suggests otherwise.  Samuel Ranney's letter of 1834 is not the only evidence that the Ranneys were a secular family. Based on these letters, we can conclude that at least some 19th-century Americans were not particularly religious, or that they considered religion an extremely private matter and kept it to themselves.  Of course, death was still emotional, even in an age when people lost loved ones much more frequently.  But the Ranney brothers seem to have had other ways of coping other than overt expressions of faith.
Priscilla also says that Lemuel has returned from the gold country and has just left after visiting her and Randolph.  He will visit Chicago, 125 miles southwest of South Haven, before returning to Allen.  Lemuel is planning a trip to Phelps and Ashfield, she says, and Anson is thinking of going along.
Note: Priscilla signs her name P. M. Densmore.  Her middle name was Minerva, which may also say something about the family's cultural background.
My transcription follows the images: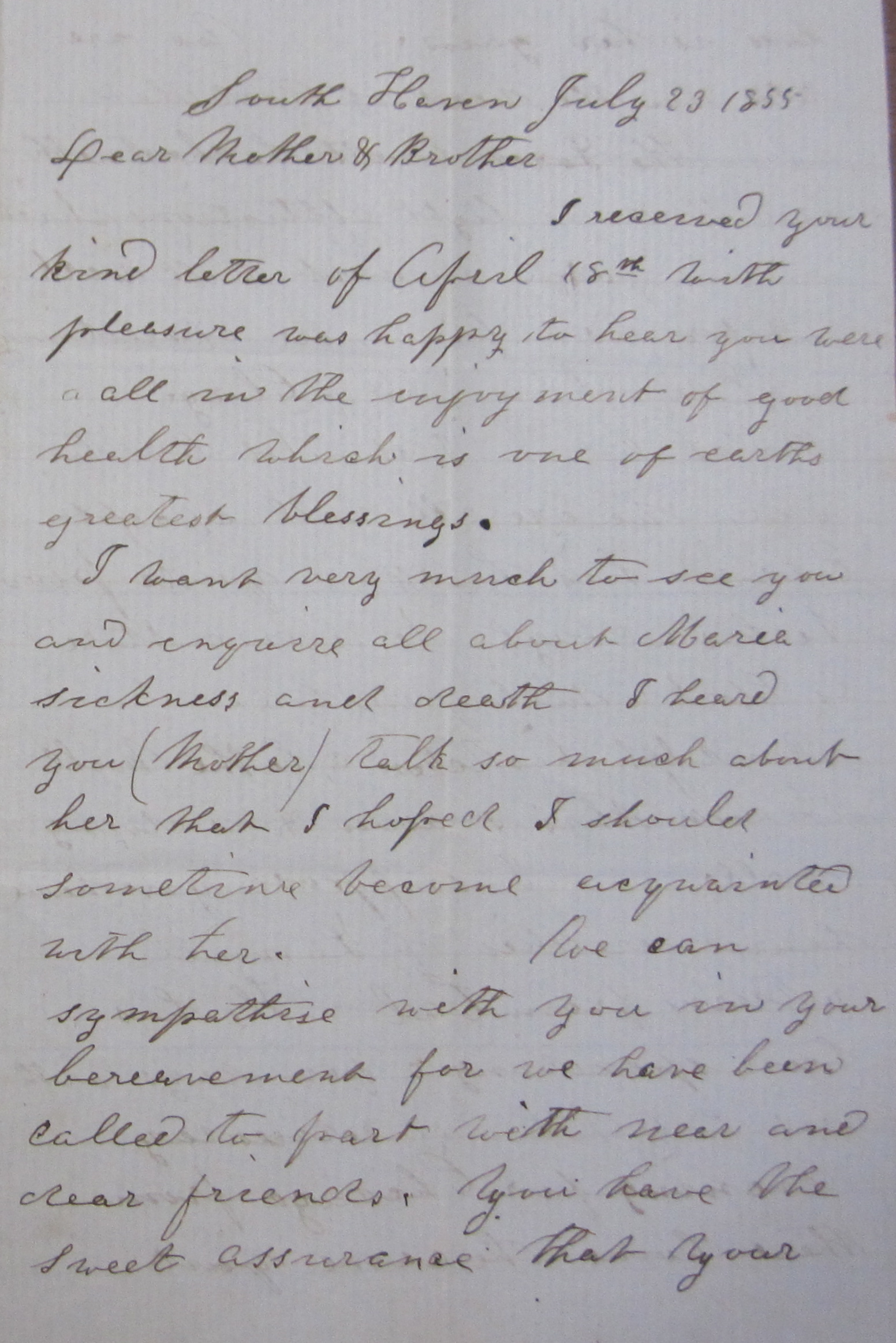 South Haven July 23 1855
Dear Mother & Brother
I received your kind letter of April 18th with pleasure.  Was happy to hear that you are all in the enjoyment of good health which is one of earth's greatest blessings.
I want very much to see you and enquire all about Maria's sickness and death.  I heard you (Mother) talk so much about her that I hoped I should sometime become acquainted with her.  We can sympathize with you in your bereavement for we have been called to part with near and dear friends.  You have the sweet assurance that your loss is her gain.  We are told in the word of God that whom the Lord loveth he chastneth and that our light afflictions which are for a moment will work out for us a far more exceeding and Eternal weight of Glory.
The children I should love to see.  We are all well except Edwin.  His health is quite poor.  He has a cough.  He is in a store as clerk a mile from here.
Randolph has taken a lathe mill to run this season & is doing well.  I suppose you have heard ere this of Lemuel's return from Cal.  He has been spending a few days with us.  He left here Wednesday evening for Chicago.  From there home.  He came quite unexpected as we had not heard from him in a long time.  He intends to start for Ashfield in about 3 weeks.  He will call at Phelps on his way down.  I believe Anson talks of going with him.
We have had a cool wet season so far with the exception of a few days.  We have a good garden.  Our corn & potatoes look well.  We intend to visit our friends at Hillsdale probably in Dec.  Mother we anticipate seeing you at that time.
For particulars enquire of Lemuel.
Please write soon.  We send our love to you all.
Truly & Affectionately Yours
P. M. Densmore