Lucius writes Henry in mid-June, 1854.  He mentions that he received a letter recently from Henry, but was waiting to write until Harrison came home from the Cherokee Nation.  Harrison is anxiously awaited, Lucius says.  The family's anxiety would have been heightened because Lyman died March 7th, 1854 in Van Buren, Arkansas.  The fact that none of the letters in the archive discuss Lyman's death is another strong indication that there were many more letters sent and received between the Ranney brothers than have come down to us.  But as a result of this gap, we have no information on how Lyman died.  Based on earlier letters, we know he had been ill and that epidemic illnesses were not uncommon, and in a future letter we learn Harrison is delayed returning home because of an outbreak of cholera.  But we also know that from Lyman's point of view, Van Buren was a pretty rough town.  Lyman could as easily have been killed in a robbery or brawl as by illness.  We'll probably never know, and this incompleteness of information is typical of this type of archival research.  We work with what we have, and hope the story we can tell using the available information hangs together and makes sense.
In spite of the fact their brother had died only a couple of months earlier, though, the Ranney family has other concerns that get a lot of attention in this letter.  Lewis is looking for a new farm, with even less acreage than the reduced parcel he has been working since his illness.  A dramatic rise in land values has allowed many of the Ranneys' friends and neighbors to sell at large profits.  A neighbor boy has died, which has affected everyone (possibly more so because of their own recent loss of Lyman).  And Lucius wants his mother to come home, but as always doesn't want to come right out and say it.
My transcription follows the images: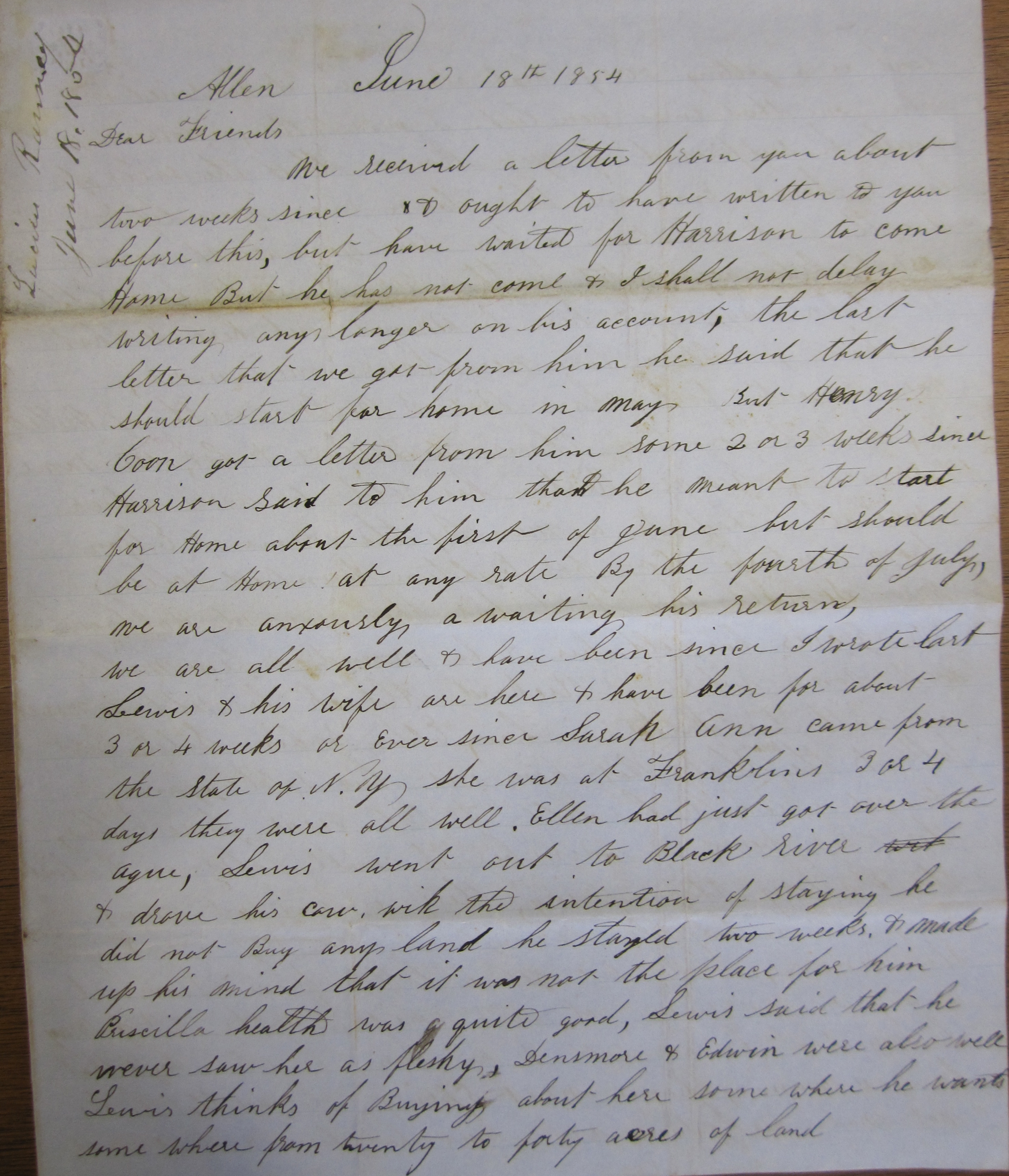 Allen June 18th 1854
Dear Friends
We received a letter from you about two weeks since & ought to have written to you before this, but have waited for Harrison to come home.  But he has not come & I shall not delay writing a longer on his account.  The last letter that we got from him said that he should start for home in May.  But Henry Coon got a letter from him some 2 or 3 weeks since.  Harrison said to him that he meant to start for home about the first of June but should be at home at any rate by the fourth of July.  We are anxiously awaiting his return.
We are all well & have been since I wrote last.  Lewis & his wife are here & have been for about 3 or 4 weeks, or ever since Sarah Ann came from the state of N.Y.  She was at Franklin's 3 or 4 days, they were all well.  Ellen had just got over the ague.  Lewis went out to Black River & drove his cow, with the intention of staying.  He did not buy any land.  He stayed two weeks & made up his mind that it was not the place for him.  Priscilla's health was quite good, Lewis said that he never saw her as fleshy.  Densmore & Edwin were also well.
Lewis thinks of buying about here somewhere.  He wants somewhere from twenty to forty acres of land.  Land is a getting very high about here.  It has raised in value one third since you left.  I mean Mother.  Mother you would be surprised if you knew all the sales of land & changes even in this town since you left.  I will just mention a few that you are the most particularly acquainted with.  Mr. Bements have sold to John Baggerly and he has moved out here so that we have got them for neighbors once more.  Mr. Bement's folks have bought 3 miles south of Hillsdale.  He sold for two thousand dollars & bought for the same 80 acres.  George Martin has sold 60 acres which was all he had to a man by the name of Edwin from Ontario Co. for eighteen hundred dollars.  Mr. Scovill has sold his that joined Holbrook.  Mr. Graves has sold his & has moved a few miles west somewhere.  Richard Aldrich has sold & moved out with his father in law.  Elder Sabin sold last fall & the man that bought him out has sold again.  Daniel Nichols has sold & bought near Jonesville.  There has been a number of small sales on & about the Prairie this spring.  There is a great many many Eastern people through the country a looking this season.
We got a letter from Lemuel a day or two since.  It was written the 9th of May.  He says that he is well & has been.  He also says that he is a coming home next spring.  He says that he has not made his fortune yet but has been a doing well of late.  He has made the last three moths $500 five hundred dollars.  He is a mining but he says that his claim is a running out a little.  He intends to keep a mining until he comes home.  He got a letter from Lewis & one from Henry a day or two before he wrote.
Anson is here this summer.  He is a clearing off, intending to put in about seven or eight acres of wheat this fall.  I am also a clearing off 6 acres up on top of the hill by the sugar place.  Wheat is worth two dollars a bushel.  I sold a load the other day for $1.90.  Wheat looks very poor on the ground this summer, poorer than I ever saw it in this country.  Anson's looks well, it bids fair for two hundred bushels.  Mine looks better than on average, but rather poor.  Other crops looks well.  The weather is fine.  We had a heavy rain yesterday.
Mr. Brockway's folks have been sorely afflicted.  They have lost their son George.  He died about five weeks ago.  He was sick just a week.  He died with the inflammation of the bowels.  He suffered a great deal of pain through his sickness, the most I ever knew a person to in sickness.  The family (Mother) you know took it very hard, & the neighborhood feel to mourn the loss of him, for truly it is a great breach of the family & great loss to the neighborhood.
I sent some money to Franklin by Harrison Baggerly about three or four weeks ago, & out of it there would be about 26 or 28 dollars more than was a going to him which I told him that he might send the whole or a part of to you.  Probably you have received it before this time.  As regards your coming home, I will say in this as I have said in my previous letters, you can act your own pleasure about coming home.  We would all be glad to see you, but just do as you think best & you will please us.  We do not want you should give yourself any uneasiness one way nor the other about us.  I would also say that we get along well.  I do not know how long Lewis' folks will stay here.  Lewis' goods are in the house across the road.
We shall write again when Harrison comes home or we hear from him again.  I have nothing more in particular to write at this time.  Clarissa says that she will not write any this time.  She is a writing to her folks.  It is nearly night.  We have been to the Prairy to meeting today.  Clarissa & Sarah Ann send their love to you all.  Wealthy Ann Howard was married to Andrew Winchester about 4 weeks since.  Write soon.
Yours in Haste
Lucius Ranney
[Notes written upside down in the margins:]
We have sheared our sheep & have sold wool for thirty five cts a lb.
Caroline as the old saying is, is tougher than a bear.  She wants to be on the move from morning till night.  She is all over the farm & wants to know all that is a going on & she asks as many questions as her Grandmother Ranney has ever thought of.   
We raised about 30 lambs this year which I would like to sell for $1.50 a piece.