Lewis writes from Phelps New York in November 1843, where he is visiting family and friends after selling his peppermint oil in neighboring Lyons. He apologizes for not writing sooner, admitting, "I ought to have written a long time since but through the fall I occupy twenty hours in the twenty four a stilling, therefore I wanted the rest for sleep." Lewis reports that he left Florence on 18 October. He passed through Allen, where their mother, Achsah Sears Ranney, and the rest of the family had already moved after their father George's death in Phelps a year earlier.
Lewis and his partner Smith delivered 594 pounds of peppermint oil to a dealer named Franklin Wells in the neighboring town of Lyons, who had commercial contacts in New York City and elsewhere.  Lyons at this time was actually the center of the lucrative peppermint oil business (but you'll be able to read more about that when I finish my dissertation), although Henry Ranney in Ashfield still did some mint oil business through the 1860s, connecting friends and family in Michigan with dealers in Boston who also happened to be relatives by marriage.  A lot of business was transacted in the nineteenth century along these lines of kinship and trust.  The deal is an interesting one, because it suggests the long-term relationship that lies behind it.  Lewis receives $2.00 per pound in advance, and then he is also entitled to the increase in the oil's value if it appreciates in the market over the next eight months.  Peppermint oil was easy to store, and the price was very volatile, so this was a clever way for dealers to get a steady supply of oil and prevent growers from hoarding it.  And it wasn't insignificant business: Lewis and his partner made nearly $1,200, and they planned to expand their planting to thirty acres in the spring.  Apparently they drove the oil overland themselves, because Lewis plans to start for home as soon as there's "good sleighing."
The family was ill when Lewis passed through Allen, so he didn't stay for a visit.  But he reports that his mother is pleased with the move and is thinking of staying in Michigan permanently.  Their eldest brother Alonzo, Lewis says, has sold his farm in Phelps and is thinking of moving to Michigan as well (in the end though, Alonzo remains in Phelps).  Lewis then announces he is planning on buying land in Indiana, just outside Chicago.  It is still possible to get parcels for the "government price" of $1.25 per acre, and Lewis has seen how land values have increased in Michigan.  So he plans to speculate, and set the land aside "until time of need."  This is interesting, because it shows that land speculation was quite normal.  Often historians portray land speculators as ruthless capitalists from the east, and some definitely were.  But it's important to realize that everybody understood that settlement pushed up land values, and everybody who was able took advantage of the opportunity.
Like Lucius, Lewis thanks Henry for the Massachusetts newspapers he has been sending.  He closes by mentioning Alonzo Franklin's two young sons, who want to be remembered to their uncle, and assuring Henry that "Frank's folks are all well."
My transcription begins after the photos: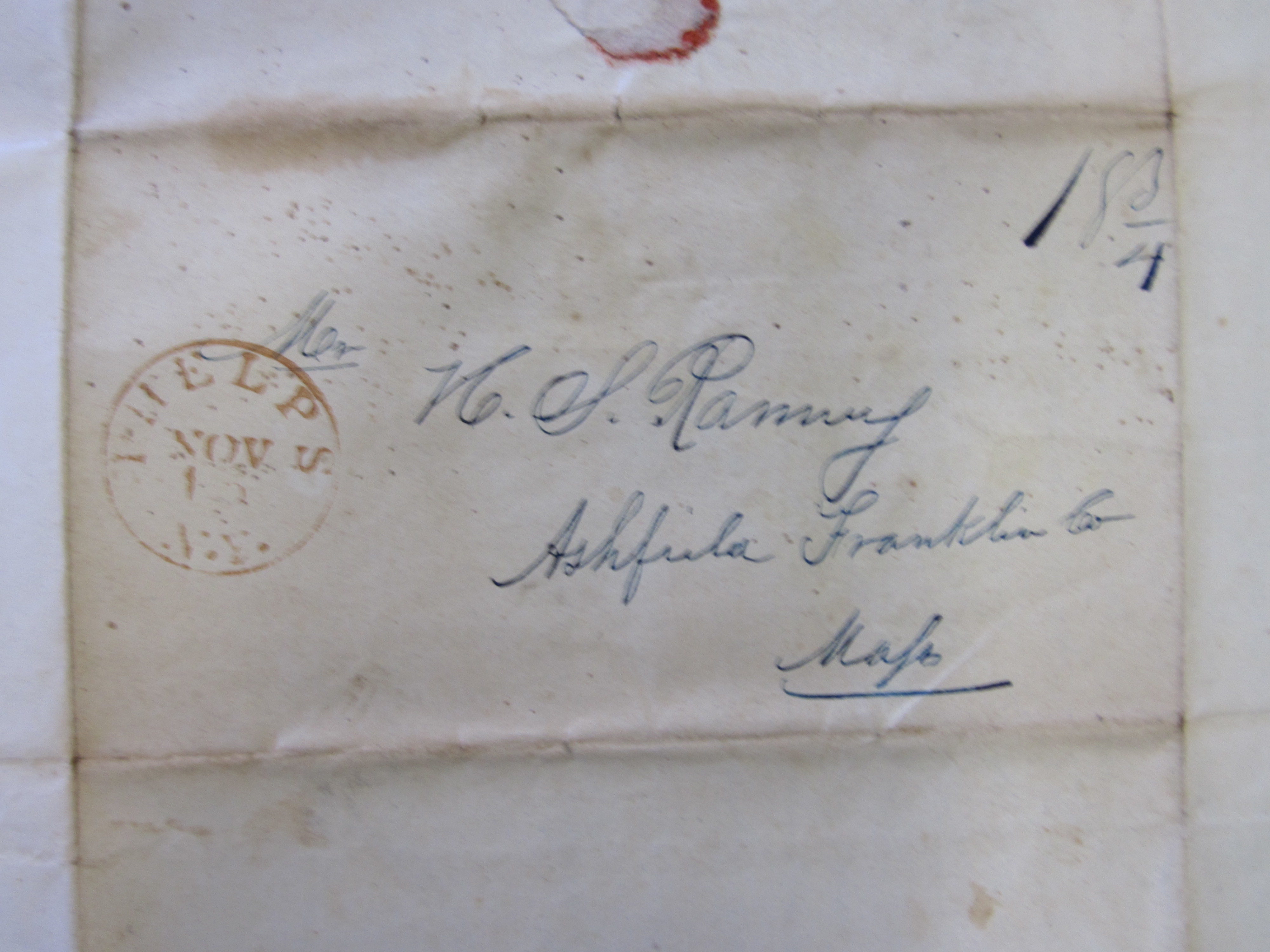 Phelps, Nov 13th, 1843
Respected Brother,
I now being perfectly at leisure I indulge in writing to you.  I acknowledge I ought to have written a long time since, but through the fall I occupied twenty hours in the twenty four a stilling, therefore I wanted the rest in sleep. But we will stop excuses.  I started from Florence the eighteenth Oct.  I passed through where Lucius is but did not stay but an hour.  Mother had been quite sick with a kind of fever, ague, &c., but was getting much better when I was there.  Began to look fresh again and sit up most of the time, and the next was Harrison.  He was a shaking with the ague while I was there.  Anson had a few shakes but was rugged again.  The rest of them were all well.  Priscilla's health is much improved since going to Michigan.  Lucius wrote down here a few days since in true back woods style, saying they were getting as tough as bears.  Priscilla in particular.
We brought down 594 lbs oil we sold to Wells of Lyons at $2.00 in advance and the rise 8 months.  We had a little over 600 lbs, we left a few lbs at home.  I have been here about three weeks.  I shall tarry until good sleighing and then go back.
Mother and the family seem to be well pleased with their situation and find many more privileges than they expected and the prospect of a permanent home.
Smith and myself intend planting thirty acres in the spring of mint.  It is rather hard business, but I think it better than wheat.
Franklin has sold his place here and thinks some of going to Michigan when I go, and look him out a place.  He gets seven hundred dollars.  Three in the spring and then one hundred yearly.
I think I shall start back in about four weeks probably, before if sleighing is good.  My health has been good since I wrote you last winter.  I shall remain in Florence another year probably.  Crops were generally good in Michigan this season, but rather a poor season for mint, it being dry through harvest time.
You can direct letters and papers to me at Florence in a few weeks again and they will meet a happy reception.  I am also greatly obliged to you for the papers I have received from you the year past.
I intend buying a lot of land this spring in Indiana forty miles east of Chicago, of prairie land to lay until time of need.  Lands can be purchased at government price in that vicinity.
Frank's folks are all well.  Henry and Horace are a knocking about the table.  They want me to write something about them.  I guess they are pretty good boys.
Nothing more this time.
Yours respectfully, H. S. Ranney
Lewis G. Ranney