Lucius writes to Henry in the fall of 1853.  After the customary apology for not writing sooner, Lucius says he delayed because he knew Lewis had written in September.  Like Lewis, Lucius says writing is difficult: he would "rather do a days work anytime than to write a letter."
In addition to news of the family, Lucius gives Henry a very detailed account of his farm, and of the prices he is getting for his produce.  This is valuable information, because it gives us a picture of what a hardworking man on 160 acres could produce in a year, with a single, part-time, hired man.  Lucius lists all the crops he sold, and all his livestock.  He also mentions that he has "a boy" living with them who will be in the household for another ten years, until he is 21.  The 1860 Census lists an eighteen-year old "apprentice" named Burton Brown as part of Lucius's household, as well as a thirty-two year old "farm laborer" named Austin Pross.
Lucius thanks Henry for a book he sent as a gift.  Samuel Cole's American Fruit Book was published in Boston in 1849; Lucius says it is "a very useful book in selecting & cultivating fruit trees in this new country."  He already has 120 apple trees, which are just about old enough to produce, and he says his peach trees are yielding thirty to fifty bushels of fruit.  Henry has also apparently said he might send Harriet Beecher Stowe's books, but Lucius says they already have both Uncle Tom's Cabin and A Key to Uncle Tom's Cabin, which was a book of "Facts and Documents Upon Which the Story is Founded," published in 1853 by John Jewett of Boston.  Jewett was also the publisher of Cole's book, and Henry may have a business relationship with him, because at about this time he begins to dabble in the book trade for a few years.
Lucius says Uncle Tom's Cabin and the Key are "a choice book, and one that takes well in this State."  Although Lucius is not as active a campaigner for abolition, he is sympathetic and equates an appreciation of Stowe's anti-slavery message with "intelligence and enterprise," which he proudly declares Michigan is full of.
Translation note: A shoat is piglet that has just been weaned.
My transcription follows the images: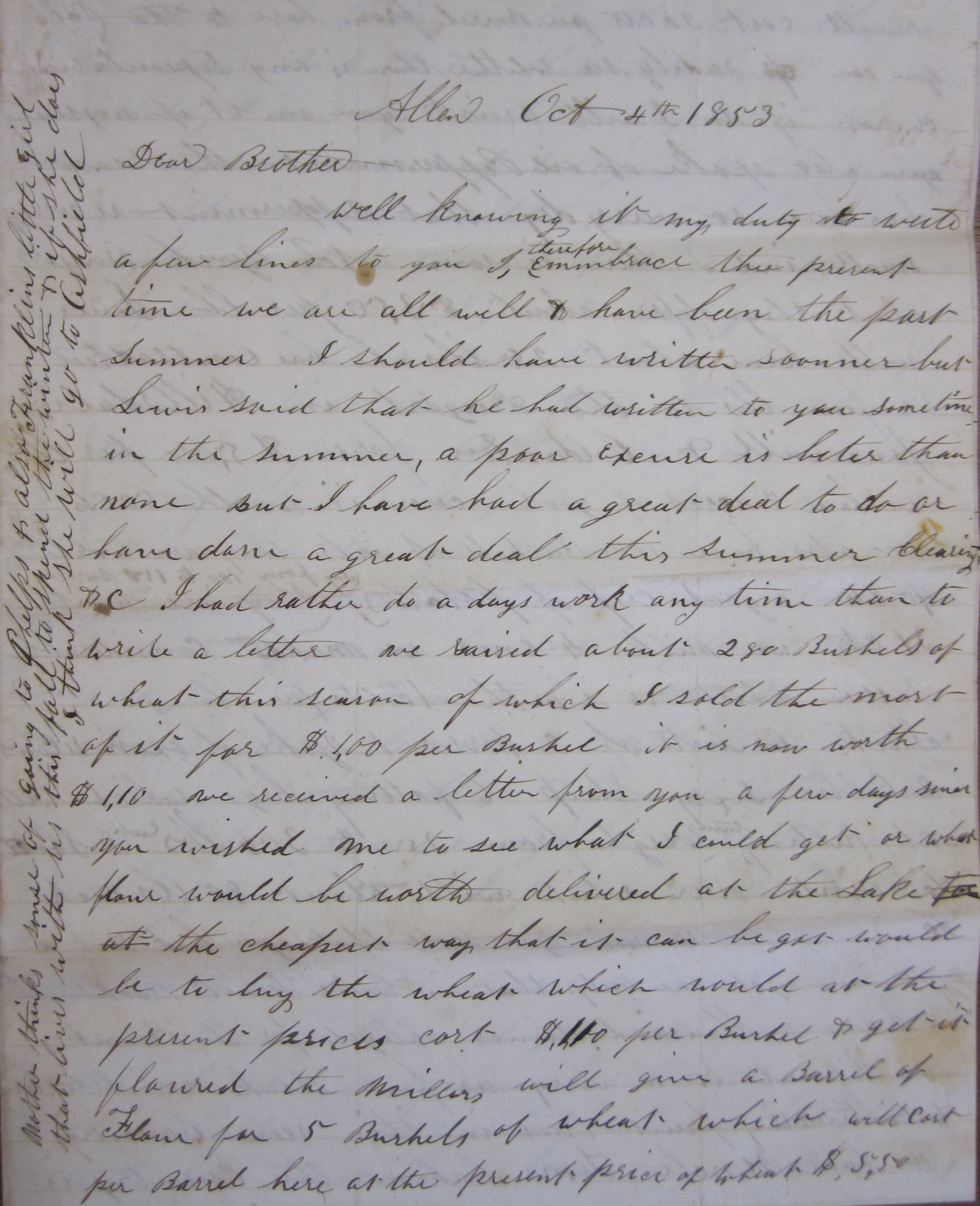 Allen Oct 4th 1853
Dear Brother
Well knowing it my duty to write a few lines to you, I therefore embrace the present time.  We are all well & have been the past summer.  I should have written sooner, but Lewis said that he had written to you sometime in the summer.  A poor excuse is better than none.  But I have had a great deal to do, or have done a great deal this summer.  Clearing &c.  I had rather do a days work anytime than to write a letter.
We raised about 280 bushels of wheat this season, of which I sold the most of it for $1.00 per bushel.  It is now worth $1.10.  We received a letter from you a few days since.  You wished me to see what I could get, or what flour would be worth, delivered at the Lake.  The cheapest way that it can be got would be to buy the wheat, which would at present prices cost $1.10 per bushel, & get it floured.  The millers will give a barrel of flour for five bushels of wheat, which will cost per barrel here at the present price of wheat $5.50.  It will cost 30 cts per barrel from here to the Lake.  You can readily see whether there is any speculation or not.  If so I will assist you in it if necessary.
You also spoke of oil Peppermint.  The season has been so very dry that peppermint is very small indeed.  There is some New York buyers about.  They offer $3.50 per lb.  Lewis will have about 25 lbs.  He has contracted a few lbs to the druggists in Hillsdale, Jonesville, & Coldwater for $5.00 per lb.
We have 7 acres of good corn, is worth 50 cts.  We also have 100 bushels of oats, they are worth 40 cts.  A good crop of potatoes, say from 100 to 150 bushels, they are worth 31 cts.  We milk 4 cows.  We market considerable butter which is worth 16 cts per lb.  Our stock consists of 2 horses, 1 yoke of oxen, 4 cows, 2 colts, sixty sheep, 6 fatting hogs which will at killing time weigh from 250 to 300 lbs each, 8 shoats to winter over which will weigh about 80 lbs each, &c.
As regards the books you wrote that you had sent me, we have got one only.  That is Cole's Fruit Book & I am a thousand times obliged for the Present, for I find it a very useful book in selecting & cultivating fruit trees in this new country.  We have Uncle Tom's Cabin.  The country is full of them, and also the Key.  They are a choice book, & one that takes well in this State.  I must say, and without prejudice too, there is a great amount of intelligence & enterprise in the Wolverine State.
We have about 120 apple trees of the choicest of fruit.  The most of them begin to bare quite a little.  We have about 40 peach trees.  We have had from 30 to 50 bushels from them this season.  We had plenty of them that commenced getting ripe in August & have had them a ripening tree after tree ever since & have a plenty yet.  We have several plum trees that bare & some guineas, currants a plenty, &c.
As regards my farm, I have 160 acres, about 70 acres cleared, & would not thank a man to offer three thousand dollars for it.  I have money enough & more due to me to pay my debts.  I keep a hired man a part of the time this summer.  A man can get about $150 to $160 a year to work on a farm.
Anson is at home at present.  He has attended school this summer.  He thinks of teaching this winter.  He will probably get some land soon to make a farm of.  We have a boy a living with us.  He will probably stay until he is 21.  He is now 11 years old.
Lewis & wife are well.  Franklin was here in June last.  He has disposed of all his land here.  He thinks that he can live easier in the State of N.Y. than here.  Priscilla & husband live at South Haven, the mouth of Black River.  We heard from them a few days ago.  They were usually well.  He is in a sawmill, Lath Machine, & farming, & tearing away at various things.  He has 30 acres of good land there.  If you want to write to them you can direct to South Haven, Van Buren Co Mich.  We have not heard anything from Lemuel this summer.  Lyman said he got a letter from him in June.  We hear from Harrison & Lyman often.  They think of coming to Mich in June next.
I sheared 50 sheep this season, of which I sold the wool for $86.  One sheep, a buck, sheared 11 lbs & 14 oz.  I sold my wool for 50 cts per lb.  Farming is getting to be much better than it has been for years past & the prospect is favorable for it to continue good.  There is a Flood of Emigration to this country this fall.  It has been very healthy here this season.  The price of land has increased one quarter in a year.
You see I must close for want of room.  I have endeavored to give you some of the lines of my affairs & things in general, and that without fabling too.  Write on receipt of this.
In Haste
Lucius Ranney
Mother is a writing to you & Marie some things I have neglected to write.  Mother thinks some of going to Phelps & also Franklin's little girl that lives with us this fall to spend the winter & if she does I think she will go to Ashfield.