Lucius writes to Henry in February 1851, in his "leisure moments while our folks have gone to meeting this afternoon."  After giving news of the family, Lucius announces that he and a neighbor have gone into the "thrashing" business, and have processed 10,000 bushels, or about a third of the local wheat.  They made $360, most of which went toward the $250 purchase of the thresher, wages, and other expenses.  But the business seems promising, and Lucius plans to lease his farm and pursue the opportunity.
Henry had asked Lucius for details on the cost of flour and transportation the previous fall, but Lucius was ill with typhus and unable to respond.  Henry was apparently considering buying flour in Michigan for shipment to New York.  The flour was cheap enough, Lucius reports, but transportation was high, and "advanced about 80 per cent" toward the end of the season.  It's doubtful that Henry could have made money on flour that cost him over five dollars a barrel.  The high railroad rates made it too expensive to ship the Michigan wheat.
About two-thirds of the way through the letter, Lucius mentions that he and Clarissa had a daughter the previous fall.  Lucius says the baby "is healthy & of course a smart & good girl."
Lucius asks Henry for an extension on a loan, explaining that due to his illness and building a house for his boarder he's short of funds.  But he will borrow locally to repay his brother, if Henry needs the money.
After closing the letter, Lucius writes another long paragraph about items that had slipped his mind.  Their mother has "failed considerable" since returning from a visit to Ashfield, and Lucius is considering a trip East himself once he has leased his farm.  At the very end, Achsah Ranney writes a few lines to Henry's wife Marie, asking her to kiss the children for Grandma.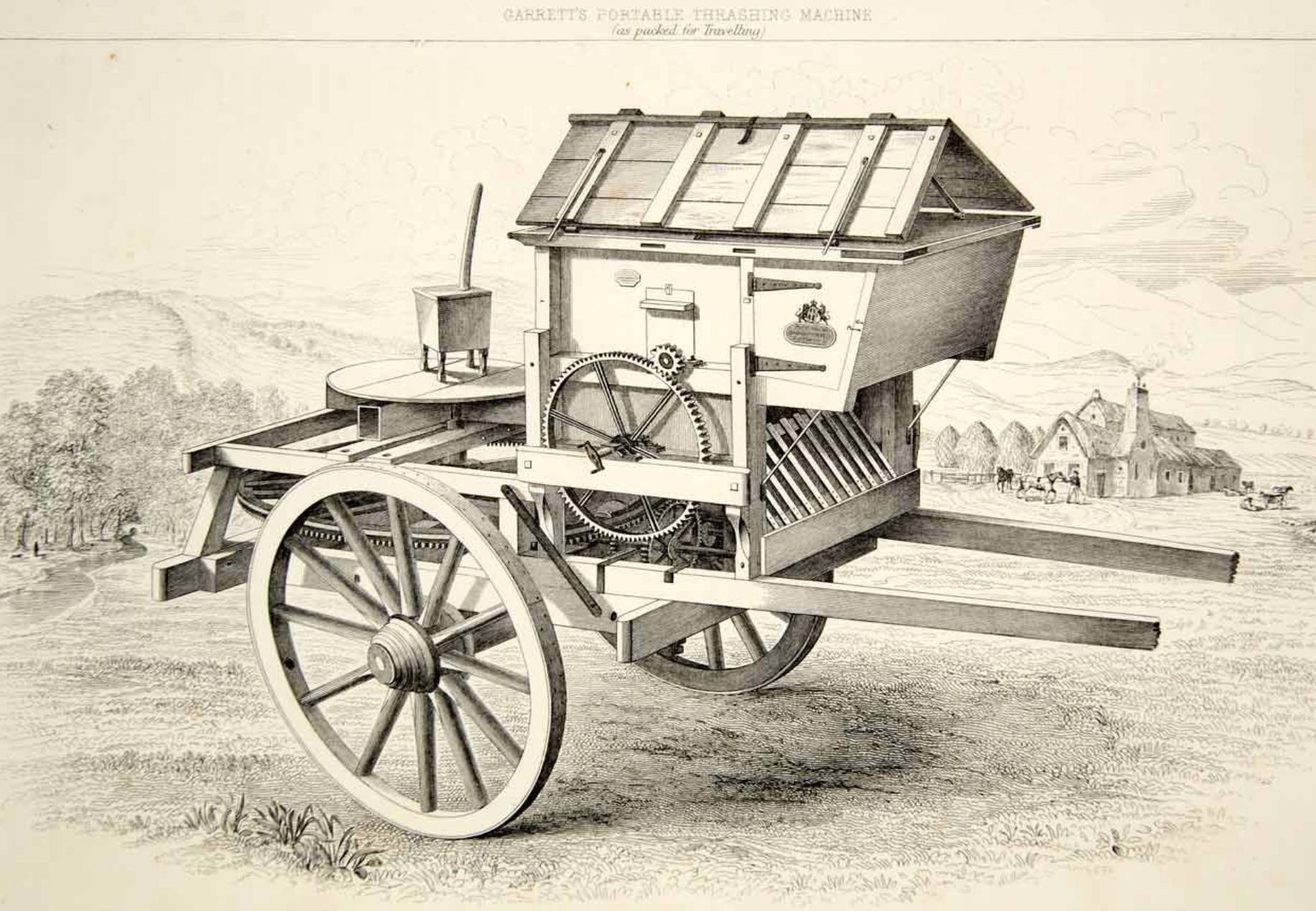 My transcription follows the images of the letter: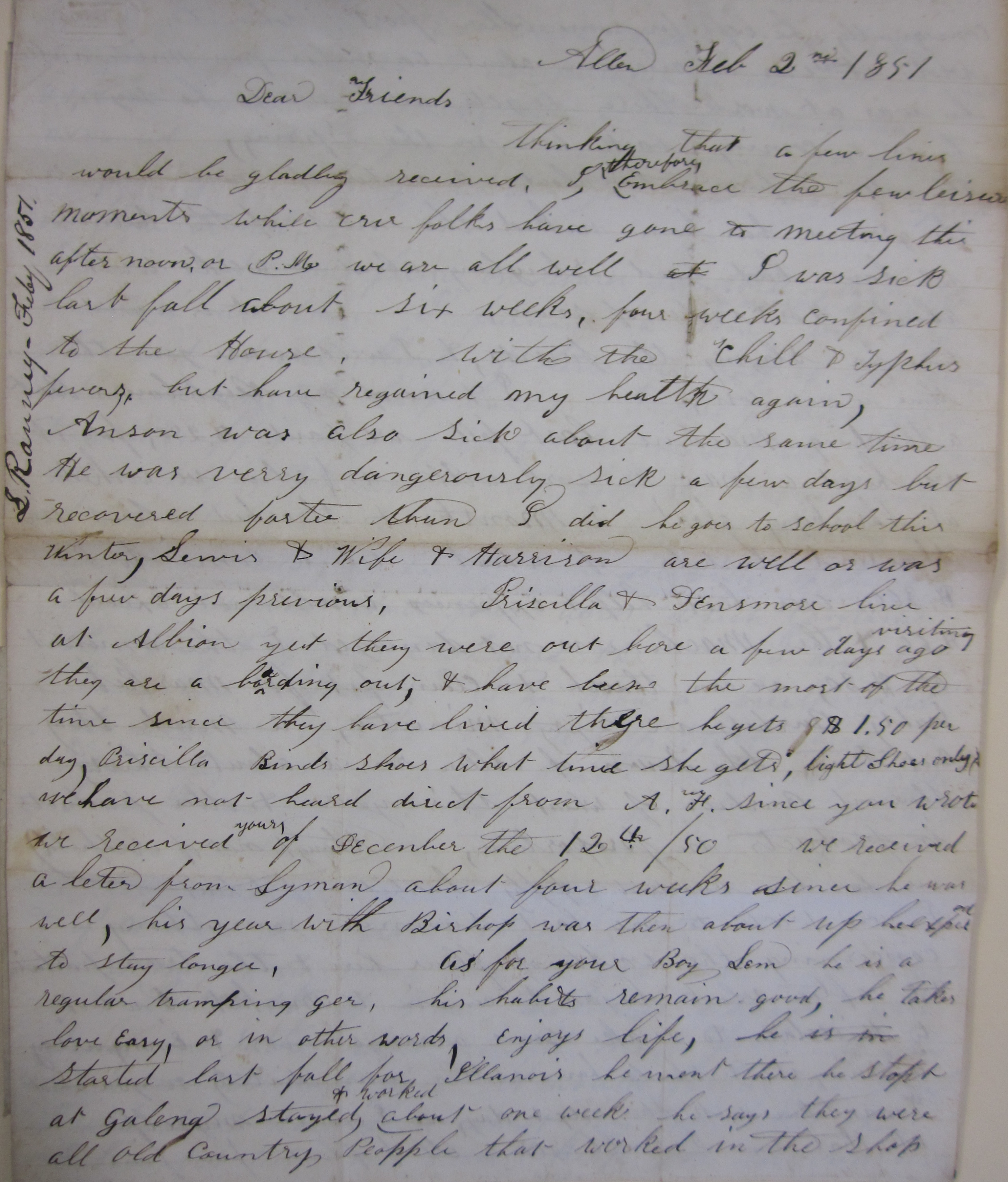 Allen Feb 2nd 1851
Dear Friends
Thinking that a few lines would be gladly received, I therefore embrace the few leisure moments while our folks have gone to meeting this afternoon, or P.M.  We are all well.  I was sick last fall about six weeks, four weeks confined to the house, with the chill & typhus fever, but have regained my health again.  Anson was also sick about the same time.  He was very dangerously sick a few days but recovered faster than I did.  He goes to school this winter.  Lewis and wife and Harrison are well, or was a few days previous.  Priscilla & Densmore live at Albion yet.  They were out here a few days ago visiting.  They are a boarding out, & have been the most of the time since they have lived there.  He gets $1.50 per day, Priscilla binds shoes what time she gets.  Light shoes only.  We have not heard direct from A. F. since you wrote.
We received yours of December the 12th /50.  We received a letter from Lyman about four weeks since.  He was well, his year with Bishop was then about up.  He expected to stay longer.  As for your boy Lem, he is a regular tramping Ger.  His habits remain good, he takes love easy.  Or in other words, enjoys life.  He started last fall for Illinois. He went there, he stopped at Galena, stayed and worked about one week.  He says they were all old country people that worked in the shop, consequently he left for some other port.  When he wrote he was in Wisconsin, about 60 miles from Milwaukee.  He was at work there.  He gets good wages he says.  He is a coming back here in the spring.
The weather is fine.  We have about 2 inches of snow now.  The ground has been naked the most of the winter.  We have had good sleighing about 2 weeks with about 4 or 5 inches of snow.  It is a good time for slaying the forests & I will assure you the time is not lost.
I & one of my neighbors bought a thrashing machine last fall.  We paid $250 for it.  We hired a man to work with us, of  which we worked at thrashing about 2 months & thrashed about ten thousand bushels of wheat which come to $360.  Our hired help & expenses would not exceed $60 & the machine is not damaged the amount of $30.  We can thrash & clean fit for marketing eighty bushels in sixty minutes.  A Mich story but true.  The town of Allen raised about thirty thousand bushels of wheat this year & other products in proportion (though not of Ashfield).  We had two hundred fifty bushels of wheat.
You wrote to me last summer something concerning the worth of flour  here & the transportation &c.  After wheat began to come in to market I went to Hillsdale to make some arrangements & enquiries concerning it & should have written immediately to you but I was taken sick the next day, so I excuse myself.  At that time I could get a bbl of flour for five bushels of wheat and wheat was worth sixty five cents.  Which of course would be $3.25 & transportation to New York was about $1.00 or to Buffalo about .60 cents.  Late in the fall transportation advanced about 80 per cent & wheat about 3 or 5 cents.  Therefore you can judge whether you could made a speck on flour or not.
I have let my farm on shares for three years.  The conditions are these: I furnish a team & necessary utensils, one half the seed of all kinds & have one half the grain delivered in the half bushel.  I also put on three cows fifty sheep of which I have one half the butter cheese &c., one half of the wool, one half of the increase & growth of the stock.  We have the privilege of keeping one cow for ourselves.  He has the same privilege of the cow.  I have reserved about four acres which contains the house & yard & orchard &c.  I am to build him a house to live in.  I am now a building it.  The size is 17×20, one and a half story high.  I shall stay on the place & make what improvements I can & in the fall thrash.  He takes possession in the spring.
We have a little daughter.  She was born the 22nd Sept.  We have named her Carroline Elisa.  She is healthy & of course a smart & good girl.
The money I am owing you if you wanted I will try & borrow it if I can.  Sickness & building will bring me rather short until next fall.  If you can wait until next fall it would favor me some.  I rather think that Lewis cannot pay you until then. I have two teams, one I shall keep for my own use.
As you are not acquainted here I cannot write you much news.  To describe the country here is I presume all useless for I presume you have heard a great many Mich yarns.  There is all kinds of country here.  Just about here it it similar to Phelps Town land.  The railroad running west from Hillsdale goes through this town three miles from here.  It will be completed to Chicago I expect next season. I do not want to urge you out of your way but I should like to have you come to Mich next season.  We have a very good society here.
You discover that my pen is always poor, but writing good.  Don't forget to write as soon as you receive this.  Anson has received some papers from you of Cato.
Yours in haste
L. Ranney
I like to have forgotten some small matters.  I had a horse hooked by a two year old heifer this fall.  He died a short time after.  The horse was worth about sixty five dollars.  We also had two hogs die when they were nearly fatted.  They would weigh about five hundred the two.  I consoled myself by saying as the Paddy did they are but a small loss.  Franklin's little girl lives here with us.  She goes to school.  Clarissa sends her respects to you, although she is a stranger.  Mother sends her love to you all & all enquiring friends.  Mother has failed considerable since she was to Ashfield.  Lewis and Harrison intend to mint it some next season. They are doing tolerably well.  My object in letting my farm is to save hiring & get as much improved as I can fix for building &c., & perhaps go to Ashfield.
Marie, I send a great deal of love to you and Henry and want to see you and the children more than I can write.  I want you to kiss them for me.  Grandma.