Lucius writes his brother Henry again from Allen Michigan, April 1843.  He apologizes for not writing sooner, and thanks Henry for sending newspapers.  Apologies for tardiness will be a frequent part of these letters, showing there's an expectation among the brothers that their correspondence will be frequent and that letters will get timely responses.  This expectation, added to Lucius's remarks about money ("We have money enough due this fall in Phelps…") and the fact that he continues to call Phelps home, suggest the brothers continue to consider themselves members of a geographically extended family rather than free agents.  This connection continues, in spite of the fact that the brothers are now adults (Henry is 27 and Lucius has just turned 24) supporting themselves and building their own homes far from the family center in western New York.
Lucius tells Henry he has traded one of his lots of land for one with a better "situation," which could mean either that the land is better for farming or that it's closer to town.  The new parcel has thirty-five "improved" acres, ready for planting.  Lucius reports in detail how much he paid for the parcel and what he plans to do with the new land.  Although he doesn't mention this, it seems he traded evenly as far as acreage was concerned. Lucius continues to live on this 160 acre farm the rest of his life and it is easy to find on old maps.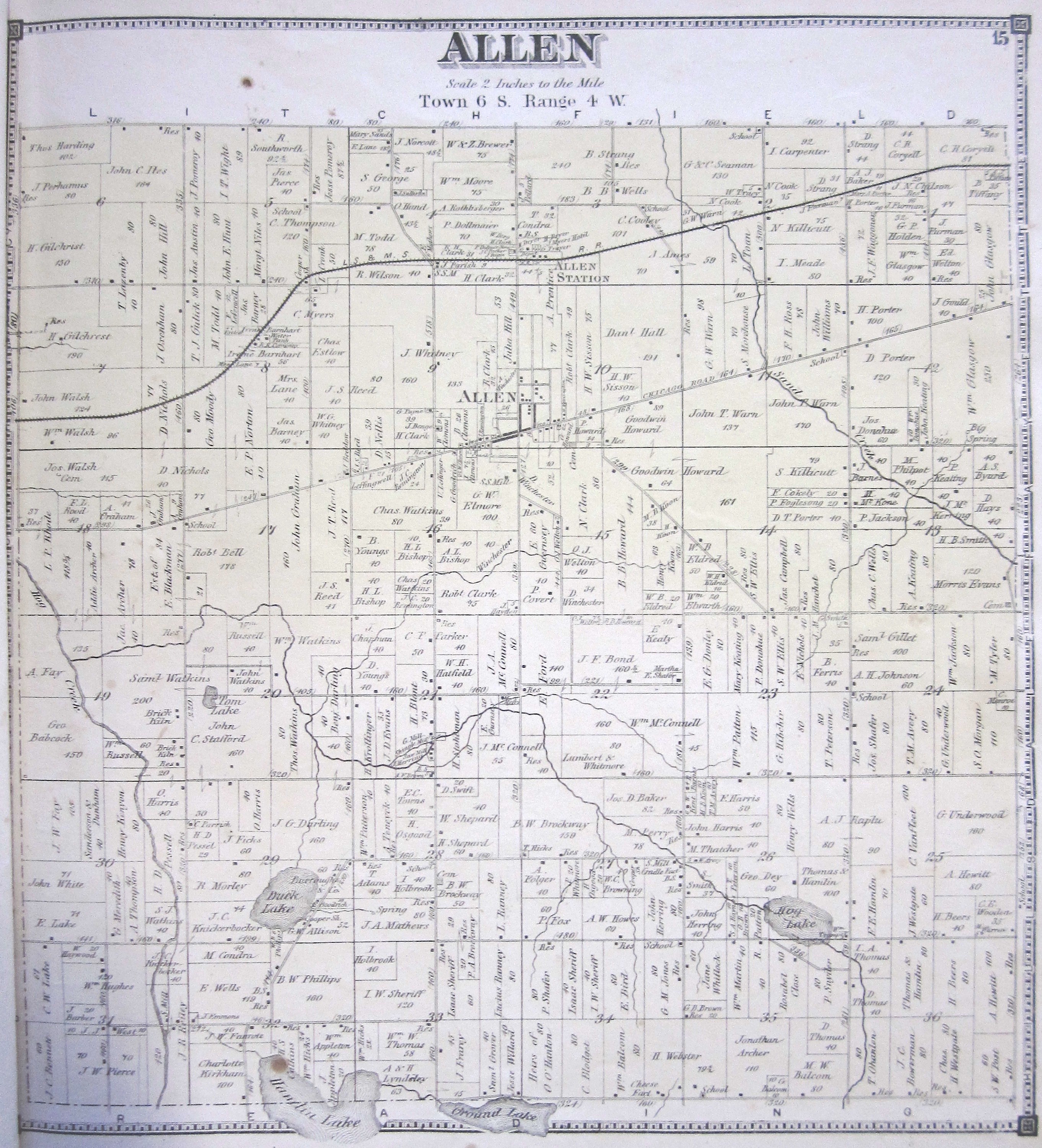 Two eighty acre parcels in the bottom center of the map above (due south of the town of Allen) are marked as belonging to Lucius.  Neither parcel has the stream on it that Lucius boasted about in his first letter, so that is apparently the parcel he traded.  It's also possible to find the parcels on satellite photos.  Although they've been subdivided into a half dozen smaller parcels, you can still see the shape of the old lot and section lines.  This is the case across much of the Midwest — once you're aware of it, the section lines are easy to see on satellite images or out the window of a plane.
News of other family members is a feature in this letter, as it will be in most of the Ranney letters.  Lucius tells of seeing Lewis, who has expanded his peppermint planting to fifty acres.  The new acreage means he will probably distill at least 500 pounds of oil in the fall, and Lucius advises his brother to come out and buy it.  This is not only evidence Lucius would like to see Henry (he mentions that a couple more times in this letter alone), but is a reminder that Henry Ranney is one of several Easterners who regularly buy the peppermint oil of Michigan farmers (the "Peppermint Kings" were the subject of my dissertation, which will soon be a book).  Trade between Western settlers and Eastern merchants frequently ran along these family lines, and was yet another tie binding the migrants with the folks who stayed behind.
In addition to farming, Lucius mentions he has gone into the Potash business.  Potash is potassium carbonate, used for bleaching textiles, making glass, and most important, making soap.  Potassium is now mined but in the nineteenth century was produced by soaking wood ashes on large vats (hence the name, pot ash).  Until settlers reached the treeless prairies of what we now call the Midwest, there were always trees to clear before the wheat could be planted.  So potash was often the first product that could be shipped back to Eastern markets and sold for cash.  Lucius says he has partnered with "one of Mrs. Baggerly's Sons in Law."  The Baggerlys are not an Ashfield family, so this suggests that Henry is at least familiar with some of the people his family has met since they moved to Phelps.
Lucius remarks that the land around Allen is filling up fast.  Forests are becoming wheat fields and the value of land will rise quickly as the last parcels are settled.  Then Lucius gives his brother some advice: he should find a wife.  His description of Henry's social life and his own frontier existence give an interesting glimpse at the different lifestyles lived by people in the East and West in 1843.  Finally, Lucius asks for information on cousins from Ashfield.  He has heard they were in Medina, about thirty-five miles away, and he would like to visit them if he was anywhere nearby.  Once again, family — even extended family — is an important part of frontier life.
Note: In a postscript at the end, Lucius says "Excuse bad spelling writing &c."  As I transcribed these letters, I fixed some of the spelling and punctuation in order to make them easier for modern readers.  That includes adding apostrophes to contractions and breaking a few long run-ons into separate sentences.  But just so you don't miss all the fun, in the PS Lucius actually wrote "Excuse bad speling writing &c."
My transcription follows the photos of the letter: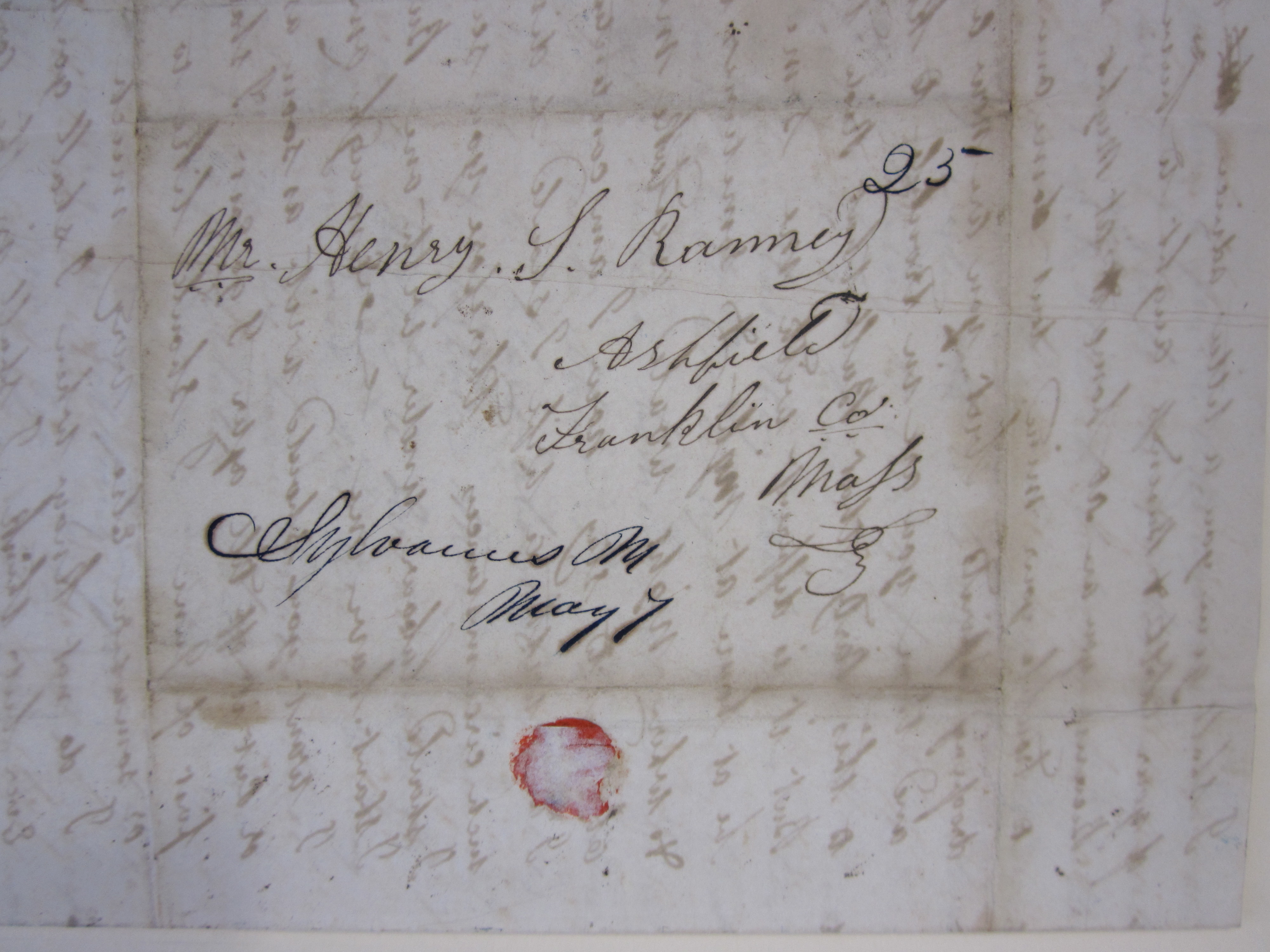 Allen April 30th 43
Henry Ranney
Dear Brother
I once more take my pen to write a few lines to inform you that I am well & ever have been in Michigan.  I shall not apologize for not writing any sooner  for I have not any except negligence to make.  I suppose you are well are you not?  I hear nothing in particular from you of late but receive papers from you quite often which I peruse with pleasure.
I traded one of my lots of land the other day for a lot with 35 acres improved House & Barn.  I gave or rather agreed to give five Hundred Dollars in four yearly payments, the first next fall, & clear ten acres on the lot I let him have.  I think the extra improvements are worth five Hundred Dollars & the situation of it is worth One Hundred Dollars more than the one I traded, so therefore you see that according to my estimation I have made $100.  We have money enough due this fall in Phelps to make the first payment & shall with common luck raise enough wheat to pay the rest.  I have six acres of wheat on the ground which bids fair for 100 bushels.  I intend to clear 20 acres this summer & seed thirty to wheat.  I have two as good lots of land for farming as there is in Michigan or anywhere else.  If you doubt my word come out here and see which I hope you will this fall will you not?
As for Lewis I saw him a few weeks ago.  He was well and is doing well I guess.  He & his partner will have about 50 acres of mint to still this fall.  You had better come out this fall & buy their oil.  What is it worth now?
I wrote a letter home about two weeks since stating to our folks that I should probably be at home about the tenth of May.  I suppose that they will move then to the West but shall write again today that I shall not return home until June for my business is such that I cannot leave at present.  I want to plant about eight acres this spring & furthermore I am in the Potash business with a partner.  One of Mrs Baggerly's Son in Laws.  We are a building a Pot-Ash this spring.  We have made three tons & we find it profitable therefore we intend to follow the business.
This part of the country is settling fast.  Where there was forests one year ago the same surface is now waving with wheat.  The cars will run to Hillsdale Center this summer, six miles east from where this child is & then you can out here time in a hurry if you please.
We have had a hard winter for the past one for this country.  Grain is pretty well up.  Wheat is worth 62 cents per bushel corn 50 oats 37 potatoes 25 &c.
I shall give you a little advice, that is a man of your cloth & business ought to have a wife.  Why?  Because you are t home at night then and nothing to trouble your mind but someone to cheer up your drooping spirits.  But you are now a hunting up a horse and then you are in trouble to know who to take to this party that ball that ride this circus &c.  But it is different with me.  Sometimes I should be at home at night & sometimes in the woods to where night would overtake me I should be obliged to stay.  Now I am contented where ever I am, with a wife I should be discontented under such circumstances.  Therefore you see the disadvantage I should labor under with one.  But I don't say that I shan't have one.
Enough on that head.  I want you should write as soon as you receive this or put it off till after I go East.  I shall go about the first of June.  I should like to meet you there or somewhere else very much.  I do not know when I shall go to Ashfield if ever, but think I shall in the course of a year or two.  If you see any of Uncle Jesse's folks just ask them what part their girls live.  When I am a traveling about I may go near them.  If I do I should like to know it & go and see them.  I have been through Medinah where I heard since one lived.  Give my respects to all inquiring friends. 
Yours in haste, Henry S. R.
Lucius Ranney
Excuse bad spelling writing &c.