Lucius writes to Henry and Achsah, who is visiting Ashfield to help out.  Both Henry and his wife Marie have been ill.  Lucius mentions that he was briefly down with "ague & fever," but is recovering.  Lewis is fully recovered and is buying a small farm in Quincy, about six miles away.  He and his wife Sarah Ann will stay with Lucius until they move into their new place in a month.  Lucius also says Harrison is not home yet, because he is waiting for a cholera outbreak to subside.
Michigan and apparently much of the continent are experiencing a drought, and Lucius gives a detailed account of the conditions on his farm.  The hot, dry weather has reduced the wheat and corn yields and a hailstorm has damaged his fruits, but Lucius says at least the extreme heat has produced plenty of tomatoes.
Lucius says his wife Clarissa has gone into the "dairy business," and made twenty cheeses.  Their daughter Carroline is healthy and Lucius writes fondly about her and says she "often says she wants to see Granma."  But he repeats his opinion from previous letters, that Achsah should come home whenever she is ready.  Lucius also says he's sorry Henry's family has seen so much sickness; and he uncharacteristically sends his love at the close of the letter.  It will be interesting to see if, as the brothers age, more or less sentiment shows up in their letters.
My transcription begins after the images: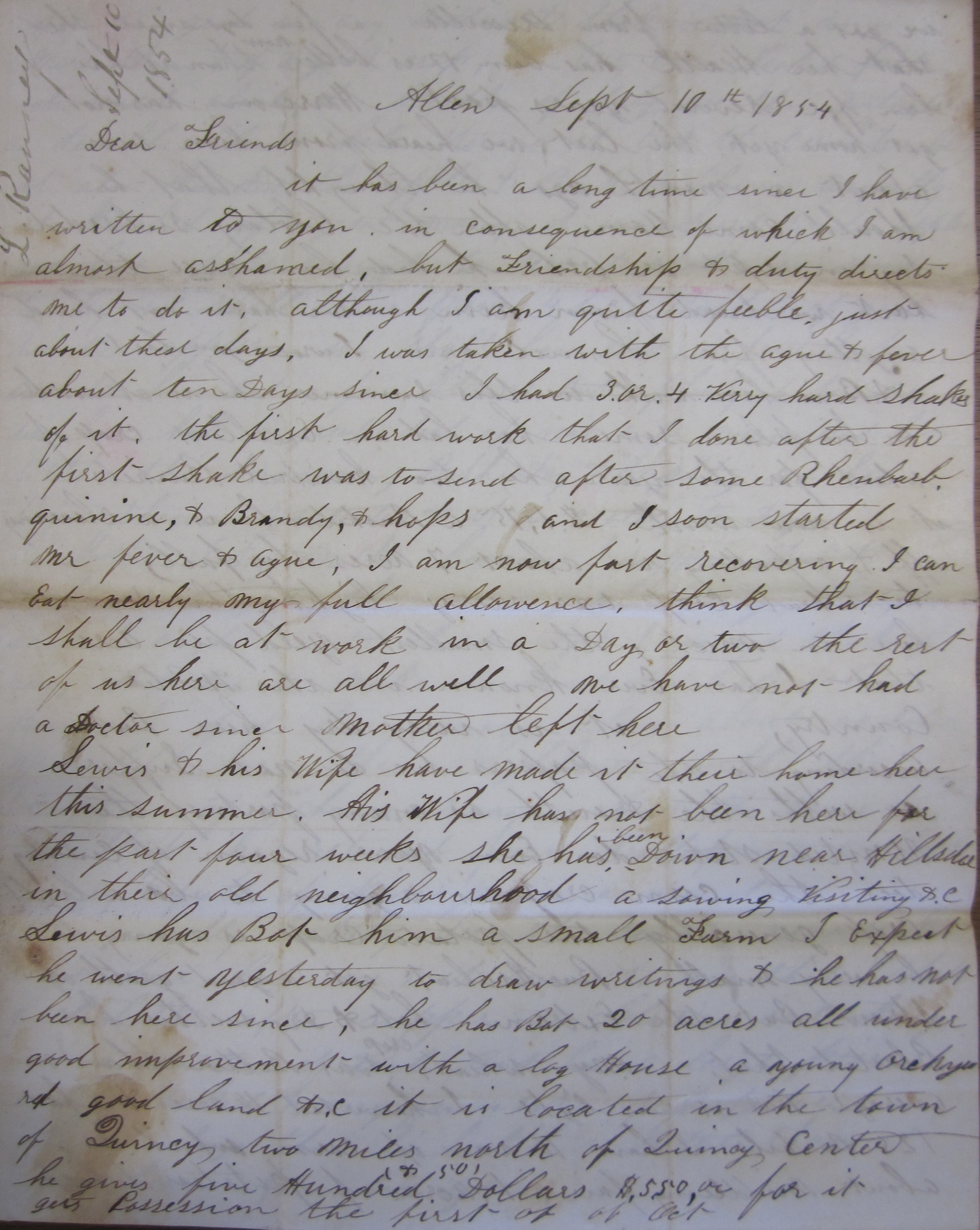 Allen Sept 10th 1954
Dear Friends
It has been a long time since I have written to you, in consequence of which I am almost ashamed, but friendship & duty directs me to do it, although I am quite feeble just about these days.  I was taken with the ague & fever about ten days since.  I had 3 or 4 very hard shakes of it.  The first hard work that I done after the first shake was to send after some Rhubarb, Quinine, Brandy & Hops, and I soon started over fever & ague.  I am now fast recovering.  I can eat nearly my full allowance, think that I shall be at work in a day or two.  The rest of us here are all well.  We have not had a Doctor since Mother left here.   
Lewis & his wife have made it their home here this summer.  His wife has not been here for the past four weeks.  She has been down near Hillsdale in their old neighborhood, a sowing, visiting &c.  Lewis has bought him a small farm, I expect.  He went yesterday to draw writings & he has not been here since.  He has bought 20 acres all under good improvement with a log house, a young orchard good land &c.  It is located in the town of Quincy two miles north of Quincy Center.  He gives five hundred and fifty dollars $550.00 for it, gets possession the first of Oct.
We got a letter from Priscilla a few days since.  She that her health has been & is better now than it has been for several years past.  Harrison has not got home yet.  The last we heard from him was about a month ago.  He thought that he should come home after the Cholary subsided.  Say in Sept or Oct.  He had been well the last we heard from him.  We have not heard from Lemuel since I wrote you last.
A.B. Is here with us this summer.  He is at work on his place some.  He had an excellent crop of wheat for this year.  Two hundred bushels, it is now worth $1.75 per bushel.  He is clearing off & putting in about 7 acres this fall.  The wheat crop was very light this season here in Mich.  The smallest yield per acre that I have ever known in this Western Country.  It is very dry here, but according to the papers we do not suffer with the drought as many parts of the United States do.  Even your region of country does.  The corn crop is going to be a light crop generally.  The potato crop is a going to be very small.  Buckwheat got a good growth of straw, but the extreme hot & dry weather has blasted that.  My wheat crop was better than an average, but it was light.  I harvested 10 acres & I had 125 bushes.  I have 10 acres of corn which is about middling fair.  1 acre of potatoes which are as good as anybody's & that is not any more than 1/4 of a good crop.  Our corn looked first rate until about the middle of July.  We then witnessed a terrible blow & hail storm.  It cut the corn terribly.  It also knocked the apples & peaches & plums awfully.  It knocked off a great many of our hard winter apples.  We have apples enough to use & shall have some to dry.  We shall have from 4 to 8 bushels of good winter apples.  We shall have but a few peaches.  We also have but a few plums.  But a plenty of tomatoes.  We have had a great deal of not only warm but hot weather this summer, both day & night.  We had a fine shower yesterday & it is cooler today.
Mother, I say Mother because I suppose that this will reach you, there is a great many things that I might write about which I do not think of now.  But I will make a kind of wholesale business of it.  Times move along about as when you left here.  The neighbors with the exception of a few changes remain about the same.  Moultrop has returned from California without money & full of pin pains as usual.  It is generally healthy here this season.  None sick about here but me & it seems to me that I shall feel better after supper as Clarissa is cooking not a quarter of veal but has a large piece nearly baked & any quantity of potatoes.
Lewis says that his health is better than it has been for six years.  Mrs. Brockway & the 2 Mrs. Sheriffs got home day before yesterday from Phelps.  They have been down on a visit.  Was gone about 4 weeks.  They did not see Franklin but heard that he & his folks were well.  Uncle Everett as we call him & his wife are a coming out here about the 10th of Oct to spend the winter.
Clarissa is in the dairy business on a very small scale this summer.  She has made 20 cheeses.  Carroline says that dinner is ready & I shall have to stop writing.  She is always on hand about 10 minutes before there is anything to eat & if you do not believe it, you would if you should see how she grows.
Mother, as regards you coming home, I shall say as I have said in my previous letters.  That is, come when you think best.  We would all be very glad to see you.  Carroline often says that she wants to see Granma.  We all get along very well here.
I am very sorry that Henry's folks are sick as much as they are.  I suppose that all things are for the best.  But it certainly seems to me that they have more than their share of sickness.  It has been a long time since we have heard anything from you, therefore write on receipt of this.
Clarissa sends her love to you all.  I also send mine.
Yours in Haste, Mother, Henry & Family
Lucius Ranney