Frank Ranney writes to Henry from Phelps, where he is considering giving up his farm and retiring from "so many cares & hard work". His two oldest sons have moved to Michigan, the younger having just bought a 120 acre farm near Lansing. His youngest is twenty and still lives at home. Frank has a widow boarding with him and has let his farm-hand use the house that his son Henry had lived in until his move.
Frank remarks briefly that he has decided to "rather approve" the new president's policy toward the South. Rutherford B. Hayes lost the popular vote and it required a Supreme Court decision to award him a majority of the Electoral College. In return, he ended Radical Reconstruction which had been enforced by stationing troops in the South to protect the voting rights of former slaves. Hayes believed that by focusing on reconciliation he would  "get from those States by their governors, legislatures, press, and people pledges that the Thirteenth, Fourteenth, and Fifteenth Amendments shall be faithfully observed; that the colored people shall have equal rights to labor, education, and the privileges of citizenship. I am confident this is a good work. Time will tell."
Frank may have been similarly hopeful; after decades of supporting abolition and fighting the Civil War and Reconstruction, many Northerners were weary of the fight and hoped the issues could finally be laid to rest.
Frank concludes by inviting Henry to come out to Phelps for a long stay, remarking that it has been twenty years since Henry's last visit.
My transcription follows the images: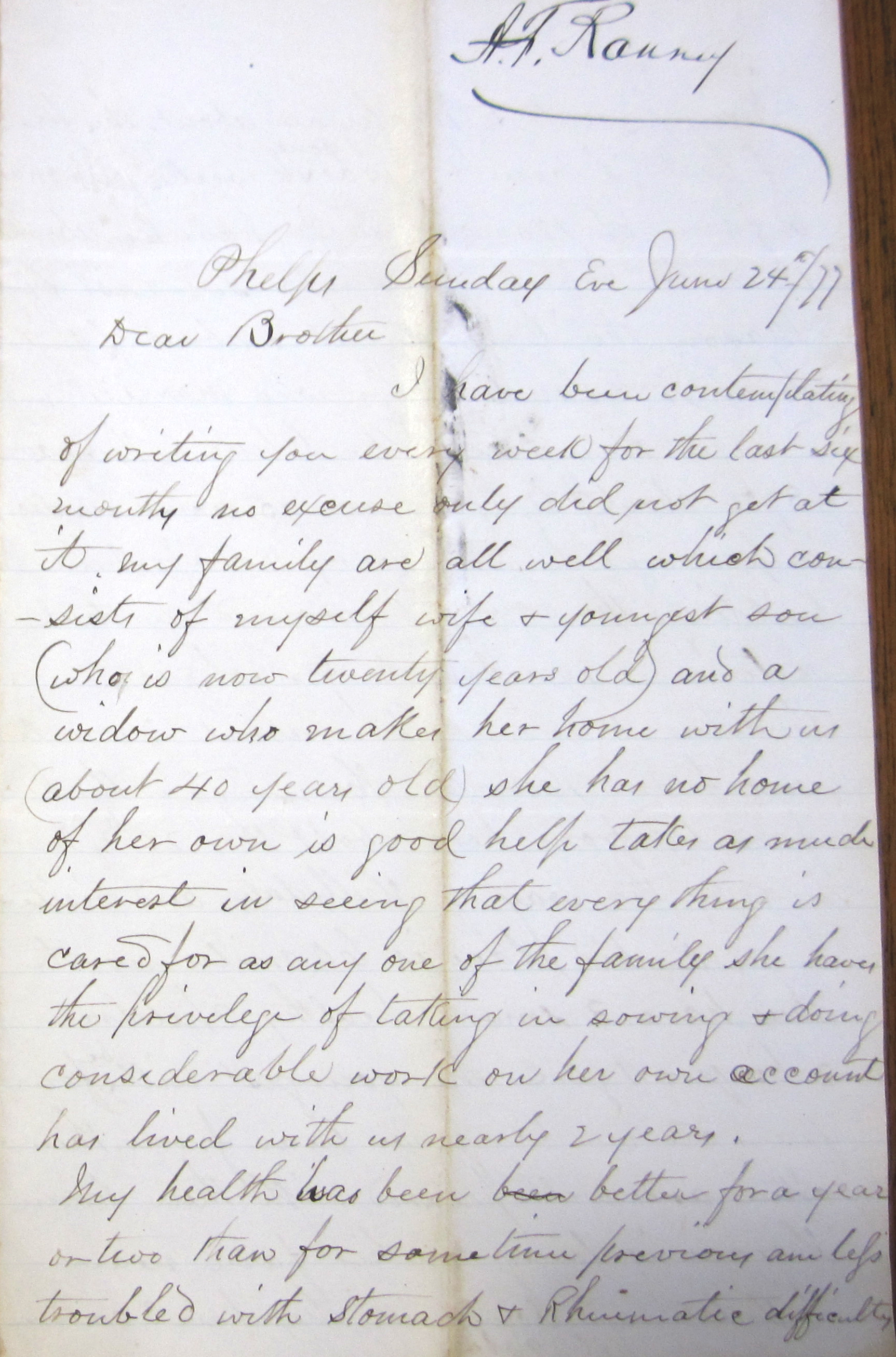 Phelps Sunday Eve June 24th / 77
Dear Brother,
I have been contemplating of writing you every week for the past six months. No excuse only did not get at it. My family are all well which consists of myself wife & youngest son (who is now twenty years old) and a widow who makes her home with us (about 40 years old). She has no home of her own, is good help. Takes as much inters in seeing that everything is cared for as any one of the family. She has the privilege of taking in sowing & doing considerable work on her own account. Has lived with us nearly 2 years.
My health has been better for a year or two than some time previous. Am less troubled with stomach & rheumatic difficulty.
Henry went to Michigan about the first of last December, was gone 6 weeks. Purchased a farm of 120 acres in Ingham Co. about 12 miles from Lansing & six east of Mason the County seat & about ½ mile from Wm. Vanderhoof who married my 2d wife's daughter Etta Cline. He gave $3,700 about $31 # per acre. 95 acres under improvement with very comfortable buildings. The country around in that section is excellent for wheat.
Erastus Ranney lives about 20 miles west from Henry's. He moved with his family from here about the 20th of March. Went by way of Hillsdale and visited a week. His place is 60 miles north. They have 3 smart healthy children, 2 boys & 1 girl. The youngest will be 4 years old in Aug. We hear from them often, are well pleased with their home.
Horace is living on his farm near Hillsdale and doing well. They have 3 children, all girls.
I have been laboring quite hard this season. So far helped lay 25 rods of heavy 4 foot stone wall. I have hired a man for 8 months at $25 # per month and boards himself. Is married. I give him house rent and garden. He lives in my old house that Henry occupied.
Winter wheat is very heavy & promising. I have 15 acres on the ground. 20 of barley & oats, 10 of corn, 4 to potatoes. Spring crops are not as forward as some seasons. We have had but a little rain since snow went off. Scarcely a Thunder Shower so far. We was favored with a nice rain last Thursday afternoon.
Potato bugs are plenty. They have never troubled me as much as some others. Have never used Paris Green in any way. What few I have had have been picked off or knocked off into a pan & burned or killed.
I think sometimes of selling my farm in order to get rid of so many cares & hard work but just now it would be hard disposing of it except at a sacrifice. We milk 5 cows this season and make considerable Butter and sell at 25 cts per lb.
I wish you would shape your affairs so that yourself & wife could come out and make us a good long visit. It will be 20 years this fall since you were out here.
For myself I rather approve of our President Hays Policy in regard to the South.
Write soon & I will try and improve on the past.
Truly & affectionately yours,
A.F. Ranney