In early spring Henry's 22-year old son Ralph writes to his younger sister Ella (Lemira Ella Ranney, 1847-1874) from a peddling trip in Vermont. Ralph seems to be selling mostly silk thread, and says he waited in Rutland for a resupply from "Bement". This was probably Joseph Bement, Jasper's son and Henry's former partner. Ralph took the train from village to village and had been headed toward Bennington near the New York border until he heard that another Ashfield peddler had just been there.
Ralph says he has gotten over a cold that was bothering and asks his sister about the measles outbreak she had mentioned in a prior letter. He closes the letter abruptly to make room for people at the house he's staying at who want to use the table to eat some maple sugar that was being prepared while he was writing.
My transcription appears after the images: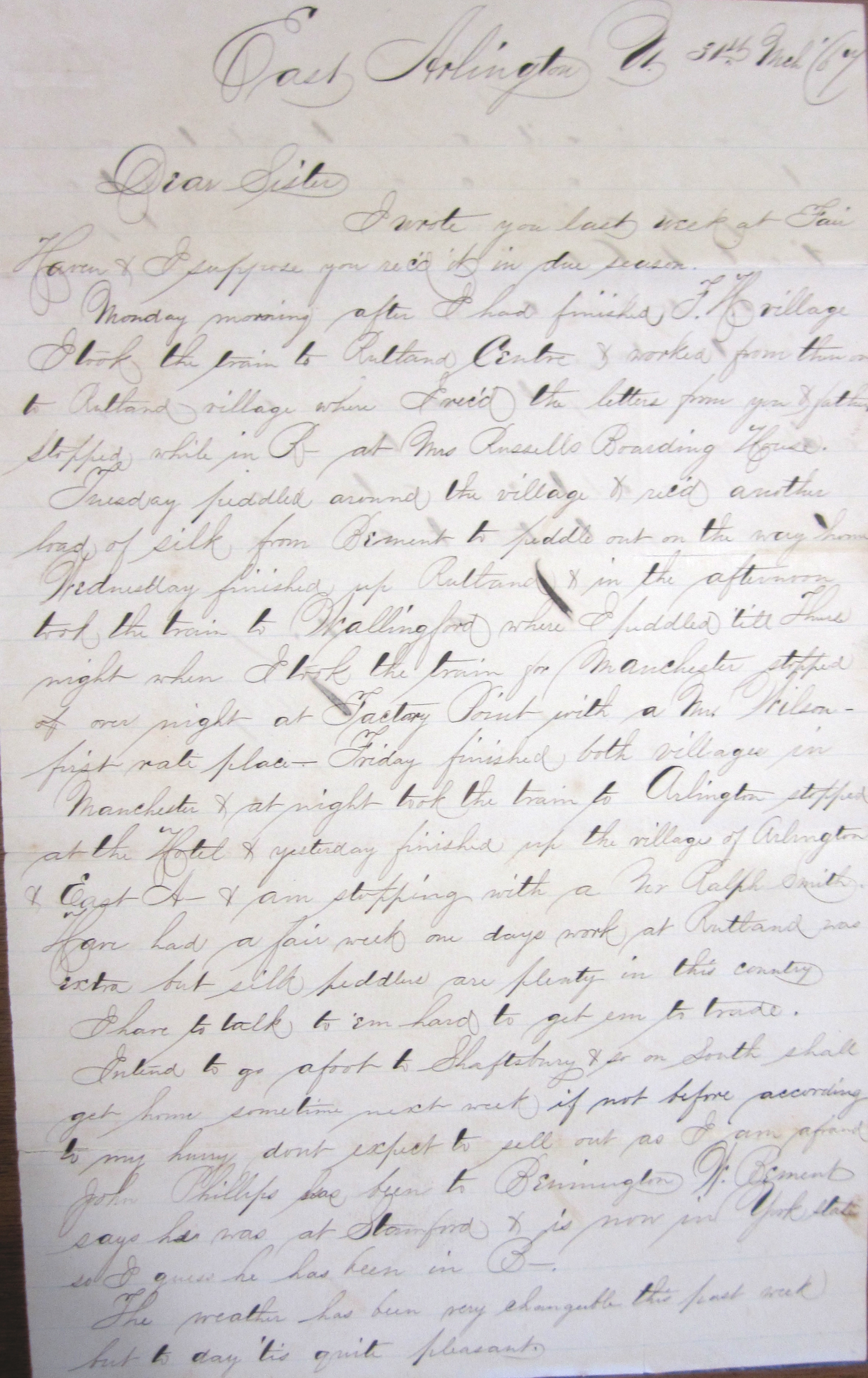 East Arlington Vt. 31st Mch '67
Dear Sister
I wrote you last week at Fair Haven & I suppose you recd it in due season.
Monday morning after I had finished FH village I took the train to Rutland Centre & worked from there on to Rutland village where I recd the letters from you & father. Stopped while in R at Mrs. Russells Boarding House. Tuesday peddled around the village & recd another load of silk from Bement to peddle out on the way home. Wednesday finished up Rutland & in the afternoon took the train to Wallingford where I peddled till Thurs night when I took the train for Manchester. Stopped over night at Factory Point with a Mrs. Wilson. First rate place. Friday finished both villages in Manchester and at night took the train to Arlington. Stopped at the Hotel & yesterday finished up the village of Arlington & East A & am stopping with a Mr. Ralph Smith.
Have had a fair week. One days work at Rutland was extra but silk peddlers are plenty in this country. I have to talk to 'em hard to get 'em to trade.
Intend to go afoot to Shaftsbury & so on south. Shall get home sometime next week if not before according to my hurry. Don't expect to sell out as I am afraid John Phillips has been to Bennington. W. Bement says he was at Stamford & is now in York state so I guess he has been in B.
The weather has been very changeable this past week but today 'tis quite pleasant.
I am in quite a hurry to write this as we (ie the folks here) are sugaring off & I expect to get some pretty quick. If you should write please direct to No. Adams.
My cold is almost well but I was most sick two days.
Hope the measles are not so prevalent as it was last time you wrote.
I have got to close as the sugar will wax & the folks want the table to eat sugar on.
Your aff Bro.
Ralph