Ralph Ranney writes to his father Henry S. Ranney from a peddling trip in Vermont. He says he has recently passed through several towns and villages between Burlington and Rutland and mentions that his finger had been bothering him and he had feared a "felon" infection. A felon is an abscess deep in the palm side of the fingertip, caused by a bacterial infection. Luckily, Ralph's problem turned out to be nothing.
Ralph also mentions that a man was run over by a train in Rutland and lost an arm and a leg. He mentions he was intoxicated at the time but "is now sober!"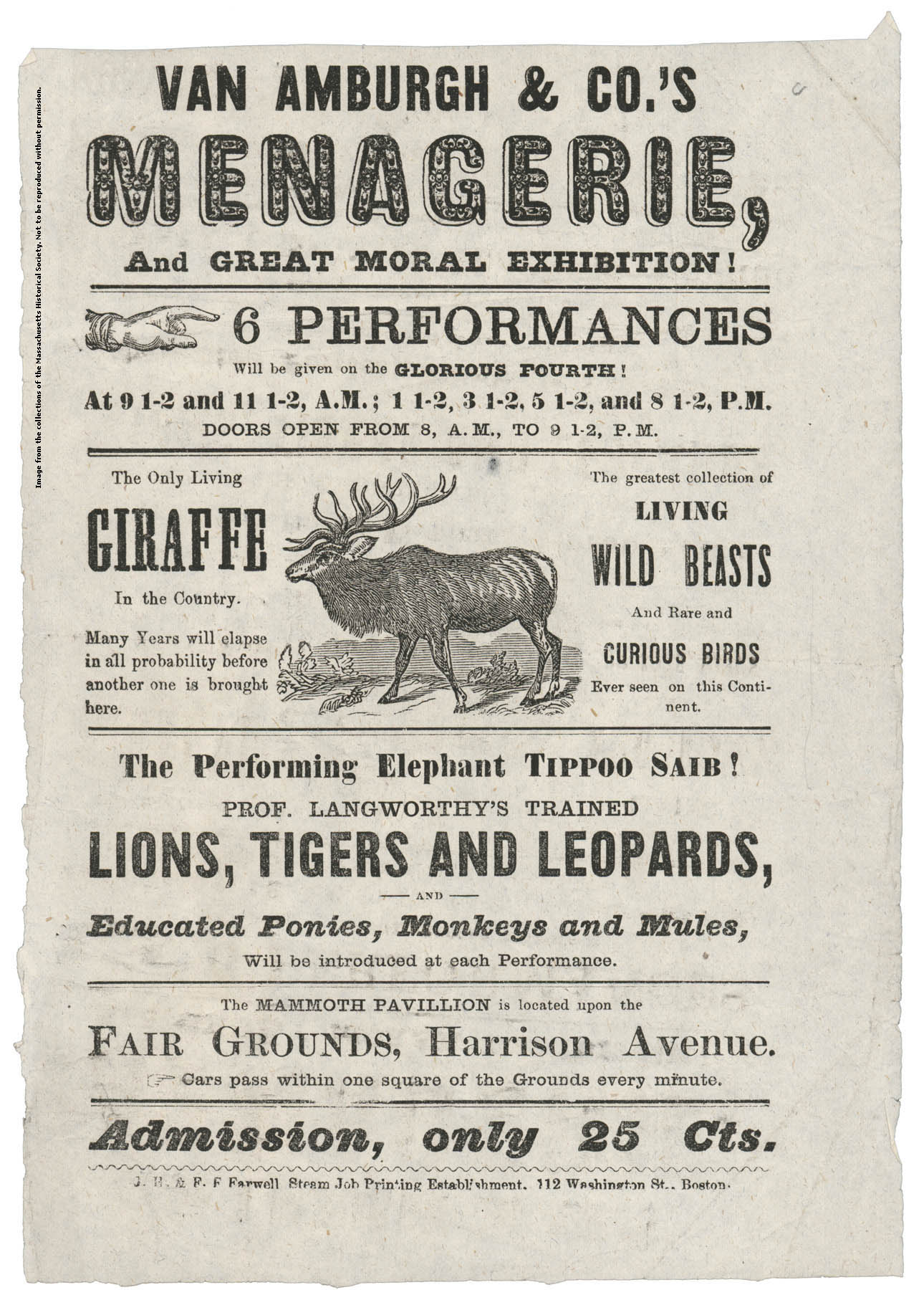 Ralph says he arrived in Rutland on the second day of a cattle show, but didn't attend. He mentions that Van Amburgh's Menagerie was attracting a lot of visitors on the Agricultural fairgrounds  and that Rutland is growing quickly. Ralph says it is the most like Ashfield of any town he has visited in Vermont.
My transcription follows the images: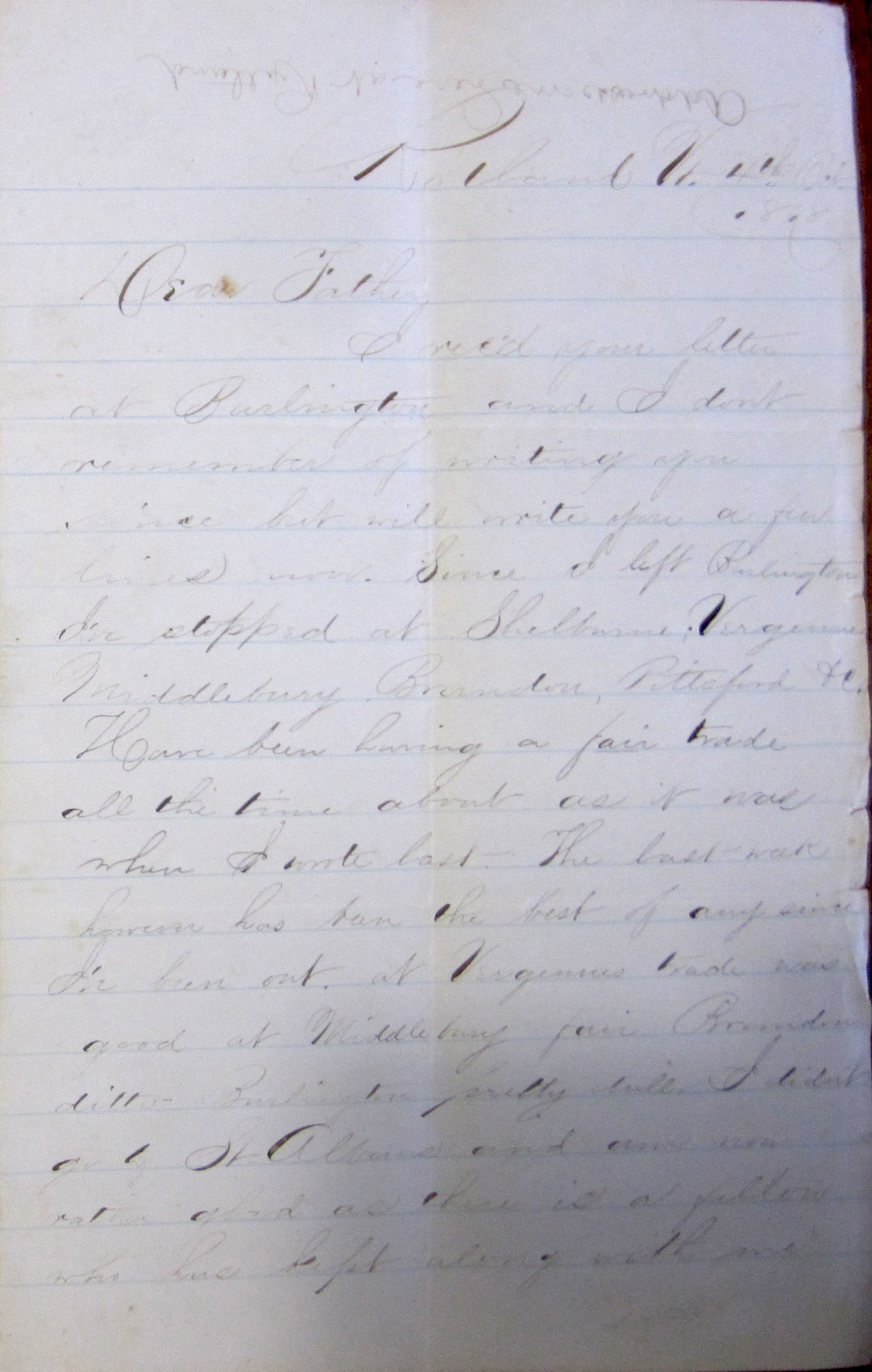 Rutland VT. Oct. 8 '68
Dear Father
I rec'd your letter at Burlington and I don't remember of writing you since but will write you a few lines now. Since I left Burlington I've stopped at Shelburne, Vergennes, Middlebury, Brandon, Pittsford, etc. Have been having a fair trade all the time about as it was when I wrote last. The last work however has been the best of any since I've been out. At Vergennes trade was good, at Middlebury fair, Brando ditto, Burlington pretty well. I didn't go to St. Albans and am now rather glad as there is a fellow who has kept along with me most of the time since I left Montpelier selling spectacles out there and didn't do anything and I have seen by county maps that it wasn't a very large place.
As you said I rather missed it in not stopping at West Randolph but I knew nothing of the place till after I got to Northfield. I had been informed that there was no place of any size till I got to N.
Had a pleasant time at Middlebury where I stopped three days. Staid with Mr. Cobb who is the P.M. and who was formerly Editor of the Middlebury Register and although holding the P.O. from Andy I should judge him not to be so sound a democrat as his Bro. Jasby. He is the strongest Repub. I've seen.
That letter Roscoe forwarded me to Windsor I rec'd just before leaving Montpelier. Have been having something of a sore finger for a little more than a week which at one time I was afraid was going to be a felon but it is nearly well now and no felon. Did they have a good cattle show at A. I understand you started off there in the rain.
They had one here Wednesday and Thursday. I came into town the last day but didn't go to see any of it. They had the additional attractions of Van Amburgh's Menagerie on the Agricultural Grounds and a great many went. Rutland is growing fast. A great many new stores & dwellings have been built since I was here before. I've ordered some new goods which I expect will be here sometime this week.
Meanwhile I am going to Castleton & Fair Haven way and then shall come here finish up and continue on south. And shall get around to Ashfield not far from Election time I think. Rutland seems most like home of any place I've found in Vt.
A man was run over by the cars near the depot at the crossing last night and his leg & arm cut off & otherwise badly mangled. He is yet alive. He was intoxicated at the time. Is now sober!
Am boarding at Mrs. Earles on Willow St. There are six other boarders.
Had a letter from Fayette within a week or two. Dated St. Louis. No news in particular, only that he intended starting for a firm in St. L. soon. Whether with team or as a drummer didn't understand. He wanted to know Emeline's address.
My health is good. Hope you are all the same. Won't ask questions as I consider them superfluous as I shall expect to hear everything without.
Yours etc. Ralph
Yours was forwarded from Montpelier to Bulrington.