52

Native American Voices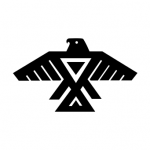 In consultation with a friend from the Fond du Lac Band of Anishinaabe, several important voices are included here to represent the diversity of ideas and activities from within the Native communities in the United States. We have centuries of very difficult and, frankly, mostly terrible behavior from the immigrant settlers towards the Native people already living in North America.  Over time, after centuries of broken promises, theft and death, voices arose to talk about this history, the rights of the Native people and a way to move forward in much more appropriate and respectful ways.
So we need to hear from a number of people.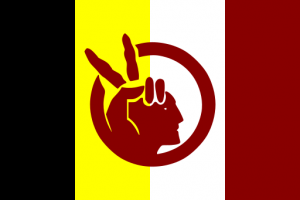 Vernon Bellecourt ,1931–2007, was a long-time leader in the American Indian Movement, which his younger brother, Clyde Bellecourt, born 1936, helped found in 1968.  They co-founded the AIM chapter in Denver, and Vernon was its first Executive Director. It worked to ensure civil rights for Native Americans, as well as educate people about their cultural and spiritual heritage. Both Bellecourts took part in the 1972 Trail of Broken Treaties caravan to Washington, DC. Vernon Bellecourt served as a negotiator during AIM's occupation of the Bureau of Indian Affairs headquarters building at the Department of Interior. Vernon Bellecourt was present briefly during the 1973 Wounded Knee occupation at Pine Ridge Indian Reservation in South Dakota. He acted as an AIM spokesman and fundraiser during the 71-day standoff with federal agents. After the occupation of Wounded Knee ended, Clyde Bellecourt hosted seminars and other public appearances.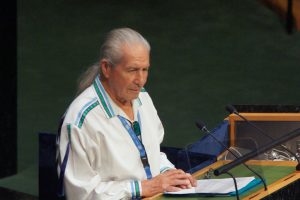 Oren R. Lyons, Jr. is a Native American Faithkeeper of the Turtle Clan of the Seneca Nations of the Iroquois Confederacy. Once a college lacrosse player, Lyons is now a recognized advocate of indigenous rights. Here he addresses the Spotlight of Indigenous Peoples plenary at the 2015 Parliament of the World's Religions in Salt Lake City, Utah on October 19th.
Keynote Address at the 2015 Parliament of the World's Religions
Winona LaDuke, born in 1959 of an Ojibwe father and Jewish mother,  is an American environmentalist and writer, known for her work on tribal land claims and preservation, as well as sustainable development. In 1996 and 2000, she ran for Vice President as the nominee of the Green Party of the United States, on a ticket headed by Ralph Nader.  She is the executive director of Honor the Earth, a Native environmental advocacy organization.
Winona LaDuke  Thinking Beyond Empire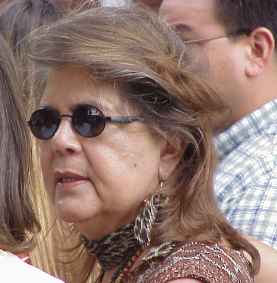 Chief Wilma Mankiller,  1945 – 2010, was a community organizer and the first woman to serve as chief of the Cherokee Nation. She served as chief for ten years from 1985 to 1995. She was the author of the bestselling autobiography, Mankiller: A Chief and Her People and co-authored Every Day Is a Good Day: Reflections by Contemporary Indigenous Women. Mankiller's administration founded the Cherokee Nation Community Development Department.
Host Marcia Alvar speaks with Wilma Mankiller, Principle Chief of the Cherokee Nation from 1983-1995. Ms. Mankiller discusses her experiences as related in her book, "Mankiller: A Chief and Her People." She describes her early political activism as well as her eventual return to her home.