I can remember when we had just one black & white TV. Eventually, we got a smaller one for the kitchen, too, but we did not get a color TV until I was 12. That was a little behind the neighbors, but not by much. TV was still rather new when I was young, there were only broadcast channels, no cable, and no video players. We did develop the unfortunate habit of watching it at lunchtime. At first that was Bozo the Clown or a game show, a very suitable thing for kids, but then these got replaced by soap operas! So I was not even out of grade school when my mom got us hooked on All My Children.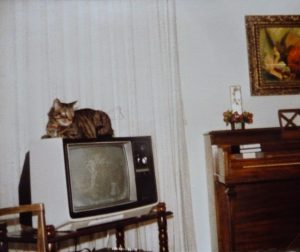 Supper was different though, perhaps my dad did not approve, so TV at supper was only for special events, like a genuinely classic movie on Family Classics on WGN on Sunday.  Evening TV was very much a family event with lots of "wholesome" shows like Andy Griffith, Batman, Dick Van Dyke, I Dream of Jeannie and Hogan's Heroes. Bewitched was one of my favorites; I think Samantha may have influenced me quite a bit. Diane and I, like most kids of the 1960s, also liked our Saturday morning cartoons, but we still had to get our cleaning chores done that day.
Advertising had its effect, too, perhaps only slightly less insidious than it is now. I know we ended up buying and eating certain breakfast cereals because Diane and I would see the ads and ask for them. However, it seems the positive side of TV was more prevalent back then. There was a lot of educational programming for kids before Sesame Street- we had Captain Kangaroo, Romper Room, Garfield Goose and Friends, and others.
On weekends, long before there was any Food Network, public television aired the French Chef! My mother was probably watching Julia Child to learn, but Diane and I were more likely enjoying the showmanship. I recently revisited some of these, and giggled at the ruined crepe tossed to the floor all over again. One way or another, I think we were all influenced, and my mother bought the show's companion cookbook. I don't know if Julia's recipes were served at some of the elegant buffet parties my parents had for my dad's department at Christmas, but she may have set the style for those. For me it was also more about the style and fearless attitude than actual recipes. Boeuf Bourguignon was the famous first episode of the French Chef. Watching that again, I realize the recipe I'm using is not much like it. However, it is one I tinkered with until it was tasting the way I thought it should, drawing from a couple French recipes, and at least one tip from a restaurant chef.
Beef Burgundy
Recipe by Nicole Simonian Masika
6-8 servings
24 ounces Beef bottom round ; cubed
1/2 cup All purpose flour ; for dredging
2 tablespoon Olive oil
2 Onion ; chopped
2 clove Garlic ; minced
4 stalks Celery ; chopped
2 Carrot ; sliced
2 teaspoon Dried thyme
2 teaspoon Dried marjoram
1 teaspoon Tarragon
1 cup Burgundy ; or other dry red wine
1/2 cup Tomato sauce
4 cups Beef broth
1 cup Peas
4 large Red potatoes -optional
Salt ; to taste
Tabasco sauce ; to taste
Dredge beef in flour. Brown in olive in Dutch oven or large saucepan. Add onion, celery, carrot, and herbs when beef is nearly brown and continue cooking until beef is brown.
Add burgundy, tomato sauce and beef broth-broth should just cover meat, you may need to adjust amount depending on your pan. If you are using potatoes, add these now. Simmer about 2 hours until beef is tender. Or put everything in crockpot on low for 4-8 hours after browning beef.
Add peas (and pearl onions for that variation) and heat through. Add salt and Tabasco to taste-if your broth is salted , no extra salt may be needed.
Serve with a crusty French bread.
Variations: 1) Add 12 -16 pearl onions, peeled and trimmed but left whole 2) Omit potatoes, serve over noodles or rice.