Girl Scouts had a significant role in our childhood, right up there with church, and we often met in church basements. Diane and I joined the local Brownie troop when we were old enough, starting our adventures in crafts, cooking outdoors, camping and many other things in second grade. I remember when you first became a Brownie, you wore your pin upside down until you did a good deed. My friend Kathy and I got our pins turned very quickly as we had car trouble on the way home from the initiation meeting! It was only a few blocks for us to walk to get one of our dads to help, and we were happy to take the responsibility of fetching them.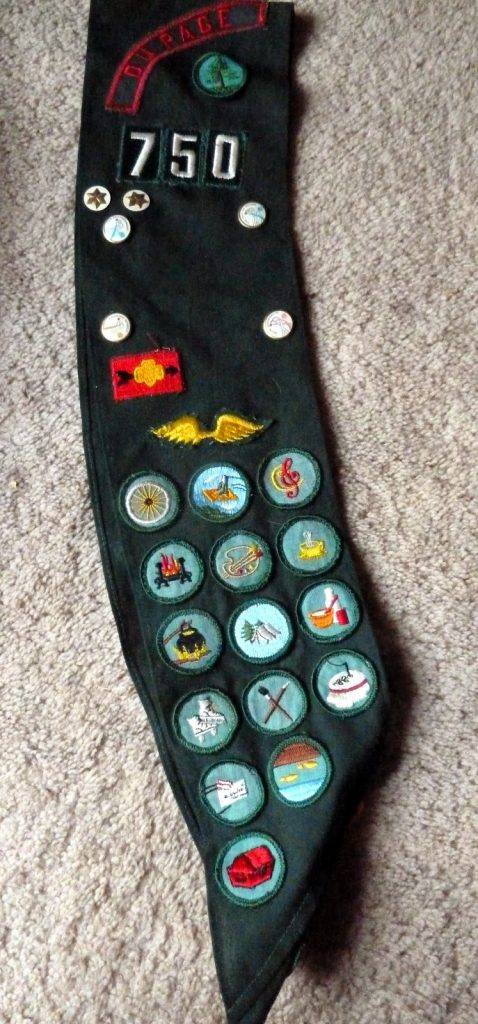 I had no idea that some 40 years in the future conservatives would say we were learning witchcraft! But maybe they did unwittingly find a grain of truth there; we were learning to appreciate and respect Mother Nature and to be self-sufficient in ways not taught in school. Cook-outs were my early favorite, aside from involving food, there was the whole starting a fire thing. I still like doing that and am rather good at it to this day, and it did come in handy during a time in my adult life when we went 10 days with no electricity.
Girl Scout cookie sales were important then as they are now to fund scouting activities. Diane and I sold our share of cookies and got very competitive with each other. In those days you could go door to door in pairs safely, so we were willing to cover the same territory we did as when trick or treating. However, there were other scouts on some of those blocks so we had to restrain ourselves. Some of the varieties we sold are still popular today: Thin Mints, Savannahs (now called Do-si-dos) and Trefoils.
As we advanced to Juniors, camping was another set of skills to learn though often it seemed more like a slumber party on steroids! I probably remember as many ghost stories as knots. We also played truth or dare and attempted levitation when it was supposed to be quiet time in the tents or cabins. Singing was a big part of camping, whether around a fire or while hiking, or on the bus on the way to day camp. I remember one strange song about Adam and Eve that seemed to have little to do with scouting, but it was funny. Others, such as the Happy Wanderer or Blue Sky fit our activities perfectly.
Most girls dropped out of Scouts after Juniors which generally ended in 6th grade. I stuck with it a few more years and became a Cadette, it was more service oriented as you advanced, which suited me. However, eventually my social life became too busy as well, and I gave up going to meetings in favor of working on stage crew and going to basketball games.
When we didn't have Girl Scout cookies around, chocolate chip was the family favorite. We started with the recipe on the bag of chocolate chips, and I remember Diane powering through creaming the butter and sugar by hand with a wooden spoon. She could get it done fast! I tried a few other variations over the years, and then ended up with this, which may be very close to the one Hillary Clinton released during the 1992 presidential campaign.
 Chocolate Chip Cookies
Recipe adapted by Nicole Simonian Masika from Hillary Rodham Clinton's version
5 dozen
1 cup Butter ; softened
3/4 cup Brown sugar
3/4 cup Sugar
1 teaspoon Vanilla
2 ea Eggs
2 cups quick oats
1/2 teaspoon Salt
1 teaspoon Baking soda
2 cups Whole wheat pastry flour
12 ounces Chocolate chips, preferably  Guittard or Ghiradelli
Preheat oven to 350. Cream butter and sugars. Beat in vanilla and eggs. Stir in flour, oats, salt and soda gradually. Stir in chocolate chips last.
Drop by scoops or teaspoons on parchment lined cookie sheet about 2 inches apart. Bake about 9 to 13 min., depending on the size of the scoop.