Halloween was a major holiday for kids when I was growing up. Trick or treating was practiced with enthusiasm and endurance! Diane and I would each carry a large grocery bag or pillowcase as we headed 5 blocks in either direction, no little plastic pumpkin would cut it for the kind of haul we planned on. It was probably when we were old enough to go on our own that we did so well, we had to make a pit stop at home and empty the bag so we could start over. Neighbors left their lights on so we would know it was a house you could stop at; we knew that we should skip completely dark houses- either no one was home or they wished not to be bothered. Most homes had a Jack O'Lantern or two as well, but store bought decorations were not yet common. We always had at least two Jack O' Lanterns so Diane and I could each design one, but even when we were old enough to do some of the carving, I think mom and dad got stuck with the worst of the pumpkin cleaning.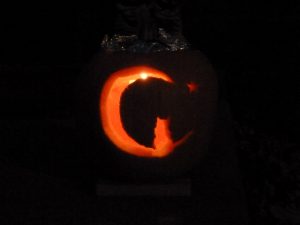 We were lucky to usually have one of a kind costumes sewn by our mother. I think the first year that I was a witch, Diane was Little Red Riding Hood. I really liked my witch costume and stuck with it for quite a few years, though I'm sure larger versions had to be made.  I may have been influenced by Samantha on Bewitched, but I was also proud of my ability to cackle properly like the Wicked Witch of the West. Diane went for more variety, I think she was Arnold the Pig from Green Acres one year- my mother made a fabulous papier mache pig head.
After we'd made the rounds, the sorting and bargaining began. There were some things we were willing to trade, but no one was giving up their Snickers or Milky Ways! Sadly, in later years, we also had to look for signs of tampering. When we were very young, my mother had often made popcorn balls to hand out. Then some psychopaths started putting razor blades in popcorn balls and certain kinds of candy, so my mother stopped making them for other people- they would have no way to know if they were safe. Packaged candy could be checked, so everyone went that route. However, incidents like this probably started the decline in trick or treating; the door to door style was much less popular when my own kids started, though there were still parties and hayrides, so it was still a big candy pig-out.
We think our mother used a recipe from the 1956 edition of Betty Crocker's Picture Cook Book to make the popcorn balls. Popcorn had to be made in a pan on the stove back then, there were no microwaves or air poppers. You would heat some non-smoking oil such as peanut oil in heavy skillet, put in 2 kernels, cover, and when they popped, add the rest, cover quickly and shake the pan frequently to pop them evenly. The only kind of convenience popcorn was Jiffy Pop, which was a foil pan full of popcorn with a foil lid that expanded with the popcorn as it popped, but it still had to be used on a stove.  I have also heard popping corn the old fashioned way is making a comeback as people don't like the chemicals in microwave popcorn.
Popcorn Balls
from Betty Crocker's Picture Cook Book
makes 12-15 large balls
7 cups popped corn
1 cup sugar
1/3 cup water
1/3 cup light corn syrup
1 tsp. Salt
1/4 cup butter
1 tsp. Vanilla
Put popcorn in an extra large bowl. Mix sugar, water, syrup, salt & butter in a saucepan. Cook to 250 degrees or until a few drops form a hard ball when dropped into cold water. Remove from heat. Stir in vanilla. Pour in thin stream over corn, stirring constantly. Mix well. With buttered hands, form into balls.
Supper was very secondary on Halloween, and with trick-or-treaters ringing the doorbell frequently, it was best to have something that was not too labor intensive. I don't remember having anything traditional year after year though. Perhaps it was chili some years, an  easy cool weather dish that my dad liked to make sometimes.  I don't know if he had a written recipe, but I remember it would have a pinch of cloves in it.  I have tinkered with several chili recipes over the years, this one combines several, and I still like to put a  pinch of cloves or allspice in it when it's cold out. Back in the day, my dad served this with saltines. I don't think tortilla chips were common yet, though we had Fritos. Now we like to top it with cheese, tortilla chip crumbles, and maybe yogurt or sour cream.
Chili
Recipe by Nicole Simonian Masika
4-6 servings
1 Onion; chopped
1 pound Ground beef
4 cloves Garlic; minced
1 Green pepper; chopped
2 dashes Tabasco sauce
1 teaspoon Oregano
1 1/3 tablespoon Chili powder
1/8 teaspoon ground cloves or allspice
1/4 teaspoon Salt
1 1/3 tablespoon Brown sugar
2 teaspoon Worcestershire sauce
3/4 cup Tomato sauce
2 cups cooked Pinto beans; or mixed chili beans
2 cups Tomato; diced
1 1/3 cups Corn
Brown onion with beef, drain. Add spices and green pepper, and garlic, cook lightly. Mash half of beans. Combine all in large pot and simmer 1 hour.
Or throw everything in the crockpot on low all day.
Ground turkey or vegetarian burger crumbles can  be substituted for beef
Variations: add 1 Tbsp. cocoa  and/or half a bottle of leftover beer