1968 was an exciting year, elections, riots and police brutality on network TV, and we got our first pet. After much begging by me and Diane, my mother gave in, and we went to the shelter to get a cat. We settled on a grey tabby kitten with singed whiskers; my mom said the mishap was a sign of a curious and healthy cat. The shelter said it was a girl, and we named her Muffin. A few weeks later when we took her to the vet, we found out she was a he! However, I don't think Muffin cared what we called him as long as we called him for meals!
At first Muffin was supposed to be kept in the basement, but was very quickly allowed in the breeze-way where we watched TV. Every chance he got, though, he would bolt for an open door, so he soon had the run of the whole house during the day. Diane and I would have made that 24 hours, but he could not learn to be quiet at night, so my parents made him go back to the basement.  I can't remember if it was finished when we got him, but if not, it was not long before he had carpet, chairs and a hide-a-bed to lounge on.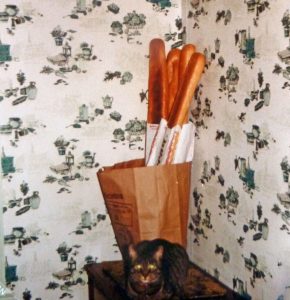 Muffin was playful, sometimes scaring us a bit when he'd make a mad dash across the back of the sofa. He was also fairly tolerant of us playing with him, submitting to the indignity of being dressed up in Easter bonnets and swimming caps. He loved his cat food, and would even jump for it, so meal time came to be called "Hop Hop". However, he also loved people food. My mother was oddly lax about letting him jump on the kitchen table, and many mornings he'd be stalking my cereal bowl. I would try to block him with cereal boxes, but that just made it more fun for him. Eventually, he'd be rewarded with the milk in the bottom of the bowl.
Other times he was fast and sneaky enough to get things we had not given him, pepperoni off a pizza, tuna right out of the sandwich as my dad was eating it, a nice buttery corn cob out of the trash. He didn't have much sense about it sometimes, jumping on the counter and helping himself to bacon grease put him in some severe digestive distress. Another unfortunate occurrence was eating the string from a rolled beef roast; my mom got the unpleasant duty of helping pull it out of his rear end! He even ate through a plastic bag to get at chocolate chip cookies a few times, luckily he did not get enough chocolate to get sick.
Muffin was supposed to be an indoor cat; he was allowed out on a leash in the backyard only. Once in a while he would escape and start exploring the neighbor's bushes. Usually he was quickly lured back with food, but sometimes he managed to be gone for a few hours. One thing he really, really liked was licking the wrappers from instant milk, a fad of the early '70s. One time I was not sure if he'd got past me when I came home from school, so I opened a milk packet. No cat came running inside the house. Then I looked out the back door, and he was right there! Could he possibly have heard me open that from outside? I don't know, but it got him in.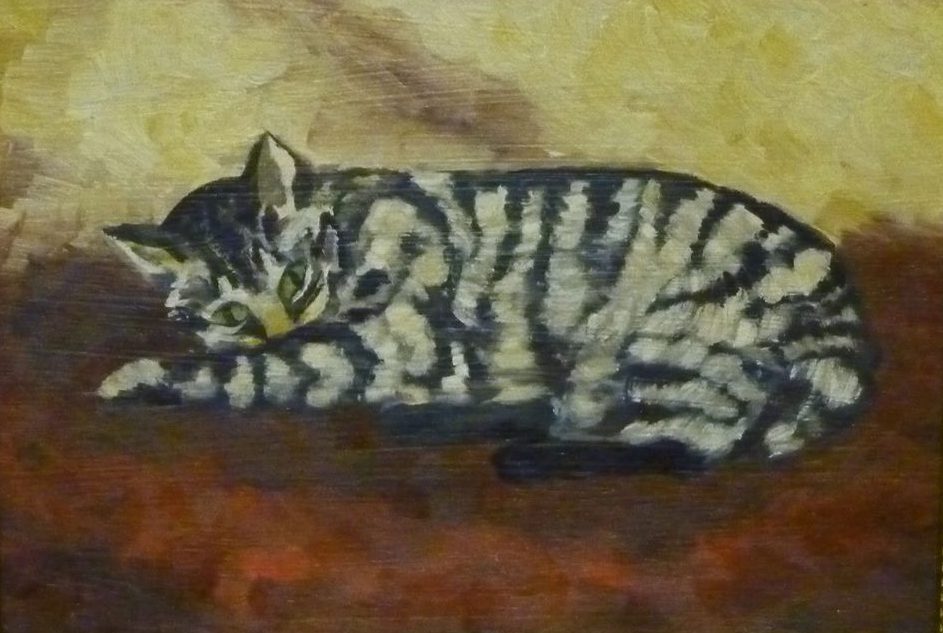 So nearly any recipe from my youth would work for this chapter. Here is one of my mother's specialties that I'm sure Muffin liked taste testing if he got a chance.
Swedish Meatballs
Recipe by Donna Nelson Simonian
4 servings
1 pound Ground beef
1 1/2 cups Bread crumbs
1/2 teaspoon Nutmeg
1/2 teaspoon Worcestershire sauce
1/4 cup Onion ; minced
1/2 cup Milk
1 ea Egg
1/4 teaspoon Black pepper
1/4 teaspoon Salt
1 tablespoon Butter
2 tablespoon Flour
5 ounces Beef stock
1 cups Milk
2 tablespoons sherry
Combine first 9 ingredients (easiest in food processor), blend well and form into 1″ balls. Place on a cookie sheet, greasing may not be necessary, bake at 350 about 25 min. until brown.
Meanwhile, melt butter in large saucepan. Stir in flour. Gradually stir in beef consomme and milk. heat just to boiling, stirring constantly,
Add meatballs and simmer 15 min. Add sherry, heat 15 min. more. Serve over noodles.