Some of the early summers that I can remember were spent away from home. Until we got Muffin, my dad was taking summer teaching jobs at universities in other states, and we would have some kind of house sitting arrangement with a local professor. Though Burlington, Vermont was the first, it made some deep impressions. Coffee ice cream at the University of Vermont, the stuff that would later become Ben & Jerry's, was a fairly regular treat. It may say something about me that the only other 2 things I remember clearly were 1) impressing the neighbor kids by being able to count to 20, and 2) touring a maple syrup factory! It smelled absolutely divine.
The next summer was in Michigan, my most distinct memory of that was my mother bleaching all our toys because someone we had played with got chicken pox. Somehow Diane and I got through our school years without having it.
The last summer away was in Lafayette, Louisiana. Diane and I wasted our opportunities to eat great seafood most of the time, choosing to order hamburgers instead! We did enjoy the spectacle of Cafe Diablo though, so my dad would always get that when we went to Don's Seafood. I remember having a hard time with the heat, humidity and some kind of allergy, and there were also lizards hanging around the porch. Diane thought it was great fun to pick them up and throw them at me, but sometimes their tails fell off! We got to stay in New Orleans for a couple days on the way home, I remember visiting a voodoo souvenir shop, seeing prostitutes on Bourbon Street, and a restaurant that put us in a back corner because my dad wasn't wearing a tie.
Later childhood summers were spent doing more mundane Midwestern mid-century things. Girl Scout camp, riding bikes to the library or the swimming pool, park district arts and crafts, and more time to read, color and play with friends.
Summer was also time for picnics. Most of the ones I remember were simple family affairs, sometimes just grilling and eating in our own backyard, or larger gatherings of extended family. We must not have been in Vermont for the entire summer of 1965 because there is a photo of all of us cousins on my mother's side at a family picnic.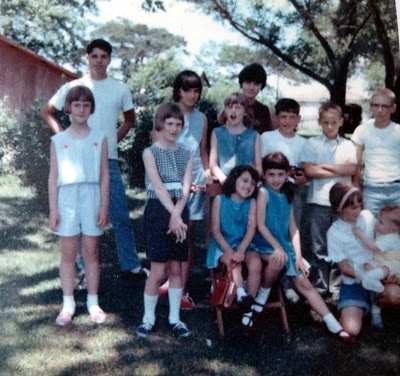 Besides some of Auntie's wonderful pies, something you were likely to see at a family picnic, large or small, was my mother's potato salad. I am not sure she followed an exact recipe, but I helped with it often enough to know what was in it. I've since added a few touches of my own after seeing some what some chefs did with large batches. The garnishes in the photo are entirely my own doing though!
Potato Salad
Recipe by Donna Nelson Simonian, with a few additions by Nicole
8 servings
1 ounce Onion ; minced
5 ounce Celery ; chopped fine
6 large Egg ; hard cooked & diced
1 1/2 pound Red potatoes ; cooked & cubed or sliced
1/2 ounce Pimento ; chopped
1/2 medium Cucumber ; sliced & quartered
2 ounce Green pepper ; diced
1/2 cup Mayonnaise
4 ounce low fat plain yogurt
1/4 teaspoon Salt
2 dashes Tabasco sauce
2 teaspoon Mustard
1 tablespoon Sugar ; or honey
1 clove Garlic ; minced
1/2 teaspoon Dried basil
1/2 teaspoon Dried marjoram
1 tablespoon Fresh parsley ; chopped
Combine mayonnaise, yogurt and seasonings in bottom of large bowl. Fold in remaining ingredients, adjust seasonings to taste. Chill at least 2 hours.
May wish to save one hard cooked egg for garnish. Slice and sprinkle with paprika and arrange slices on top of salad. A tomato rose looks nice on this, too.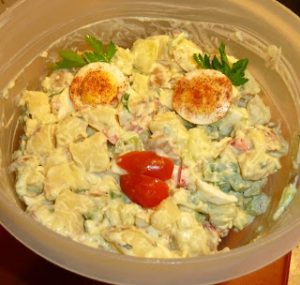 If the picnic was at our house,  Shish Kebab was nearly as likely to be on the grill as hot dogs or hamburgers. This was entirely my dad's project, the one thing patriarchal Armenian society allowed men to cook. Fortunately, he did not respect that limitation and cooked many other things, and was considered the green salad expert in the house.
Shish Kebab
Recipe By: Pierre Simonian
Serving Size: 4
1/2 cup Wine, red
1/2 cup Olive oil
1 large Onion ; sliced
1 tablespoon Tomato paste
1 clove Garlic ; minced
Salt ; to taste
Black pepper ; to taste
1 pinch Paprika
1 pound Lamb ; cubed
Combine marinade ingredients in ziploc bag. Add meat (meat amount may be doubled and there should be enough marinade) and marinate several hours or overnight, turning halfway through to ensure even soaking.  Thread meat on to skewers along with veggies such as green pepper, mushrooms, tomatoes, onions if desired.  Grill over moderately hot coals, turning to brown each side.