Appendix – More family recipes
Scalloped Hamburg
This may be the oldest recipe I have. I found it in Grandma Gladys' cookbook from the 1920s, in her own writing.  It may have been the tator tot casserole of its time; it has no processed ingredients, but the ground beef, potato, dairy combination is similar. It's also pretty easy to put together. I don't remember this ever being served by my mother, but I have resurrected it since it's quite economical.  Some of the amounts and directions were not spelled out in the original, so I did some interpreting.
Recipe by Gladys Lutz Nelson
4 servings
1 pound Ground beef
1 large Egg; beaten
1/2 teaspoon Salt
1/8 teaspoon Marjoram
1/8 teaspoon Thyme
1 pinch Sage
1 pinch Nutmeg
1 pinch Rosemary
1/4 teaspoon Pepper
1 cup Bread crumbs
1 Onion; chopped
4 ea Potato; use more if small
1 pint Milk
Preheat oven to 350°
Mix ground beef, egg, bread crumbs and seasonings. Pat into an 11 x 7 baking dish. Cover with layer of chopped onion.
Slice potatoes thin, layer over onions, pour milk over all. Bake 1 1/2 – 2 hours. until potatoes are browned and liquid is absorbed.
Onion Pizza
We may have had this for supper  a few times, but I think it was considered party food. Along with fancy dips and chips, it was the kind of thing my mom might serve when friends came over to play bridge. It's very similar to pissaladiere.
Recipe source unknown
4 servings
1 Pizza crust; 14″
5 cups Onions; sliced
1 cl Garlic; minced
2 tablespoon Olive oil
4 ounce Swiss cheese; shredded
4 ounce Parmesan; grated
2 tablespoon Black olives; sliced
Saute onions and garlic in oil over med. heat. Reduce heat , cover and sweat until onions are soft. Season to taste with salt & pepper.
Spread on pizza crust, sprinkle with cheeses and decorate with olives. Bake at 425 for 15 min.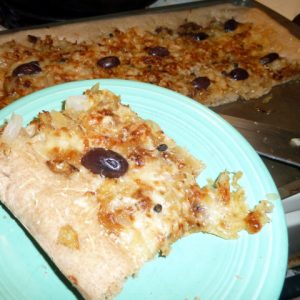 Cheese Fondue
This one is definitely party food, and was all the rage in the sixties.  Tradition has it that if you lose your bread in the cheese sauce, you must kiss all the other guests!  I don't recall my parents enforcing that rule though.
Recipe source unknown
Serves 4-6
1 clove Garlic; halved
1/2 pound Gruyere; shredded
1 1/2 pound Swiss cheese; in thin strips
1/4 cup Kirsch; or dry sherry
1 teaspoon Corn starch
1/4 teaspoon Nutmeg
2 cups Sauternes
French bread; as required
1 dash White pepper
Rub inside of a heavy saucepan with cut surface of garlic. Pour in Sauternes and warm until air bubbles rise and cover surface. Stir vigorously from now on. Add a handful of cheeses. When melted, add another. Keep heat fairly high, but don't boil. Stir kirsch into corn starch. After all cheese is blended and bubbling, add nutmeg, pepper and kirsch mixture. Quickly transfer to fondue pot. Keep warm . Dip in with cubes of french bread. If fondue gets thick, thin with warm Sauternes.
Zucchini Pie
This was a great way to use the abundance of zucchini from my dad's garden, which he started not long after we moved to the house on Tuttle Ave.
Recipe source unknown
4 servings
4 cups Zucchini; sliced thin
1 cup Onion; chopped
1 cl Garlic; minced
1/4 cup Butter
2 tablespoon Parsley; chopped
1/2 teaspoon Salt
1/2 teaspoon Black pepper
1/4 teaspoon Dried basil
1/4 teaspoon Oregano
2 large Egg; beaten
2 cups Muenster cheese; shredded
2 teaspoon Dijon mustard
1 Pie crust
Saute onions, zucchini and garlic in butter for 10 min,. Add seasonings.
Blend eggs, cheese and mustard in large bowl. Blend in vegetable mixture.
Pour in pie shell and bake at 375 for 20 min.
Let sit for 10 min before slicing.