Chapter 1 – Merry Chrismabirthday to me!
I was born, Nicole Marie Simonian, on Dec. 18, 1959 in DeKalb, IL to Donna Jean (Nelson) Simonian and Pierre Bedros Simonian. I was told I was 10 days early; well, of course, I didn't want to miss Christmas! In addition to the toys every kid hopes for, Christmas in our family was extra special because of all the yummy baked treats. Though I did not get to eat them that year, here is one of my favorite holiday cookies, made often by my mother and great-aunt, though this version is the one I developed as a teenager. They once won a blue ribbon at the Minnesota State Fair.
Spritz
Recipe by Nicole Simonian Masika
4-5 dozen
2 cups Butter ; unsalted best
1 1/3 cups Sugar
6 Egg yolks
1/2 teaspoon Salt ; omit or reduce if butter is salted
1 1/2 teaspoon Almond extract
1/2 teaspoon Vanilla
5 cups All purpose flour ; or use 1/2 cake flour if competing
Cream butter and sugar. Add egg yolks and extracts.  Stir in flour gradually. May wish to chill dough slightly, this is more necessary in the summer.
Squirt dough through cookie press into desired shapes directly onto cookie sheet. Decorate with colored sugar and nonpareils.
Bake at 375 about 8 min for thicker shapes, 6 for thinner ones, until edges are just barely brown. Remove carefully from sheets to cool.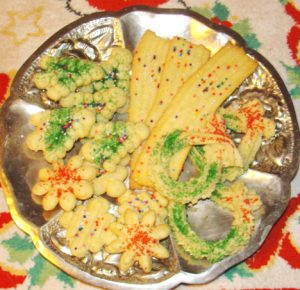 My dad was in the army in Korea at the time of my birth, so my mother was staying with Auntie Margaret & Uncle Clay (my great-aunt and great-uncle). My grandmother had already passed away, so they functioned as grandparents for me. Uncle Clay was wonderful with kids, though they had none of their own. I'm told he would carry me through the kitchen, opening and closing cupboard doors to entertain me. Auntie did have an awesome kitchen, larger than some people's living rooms, though it was a small house otherwise. It had a breakfast nook next to the back door, many sky blue cupboards lining 2 walls and a large white gas stove-it may have been a 6 burner. Though many wonderful aromas came from Auntie's kitchen, there was a baseline scent of fresh ground coffee.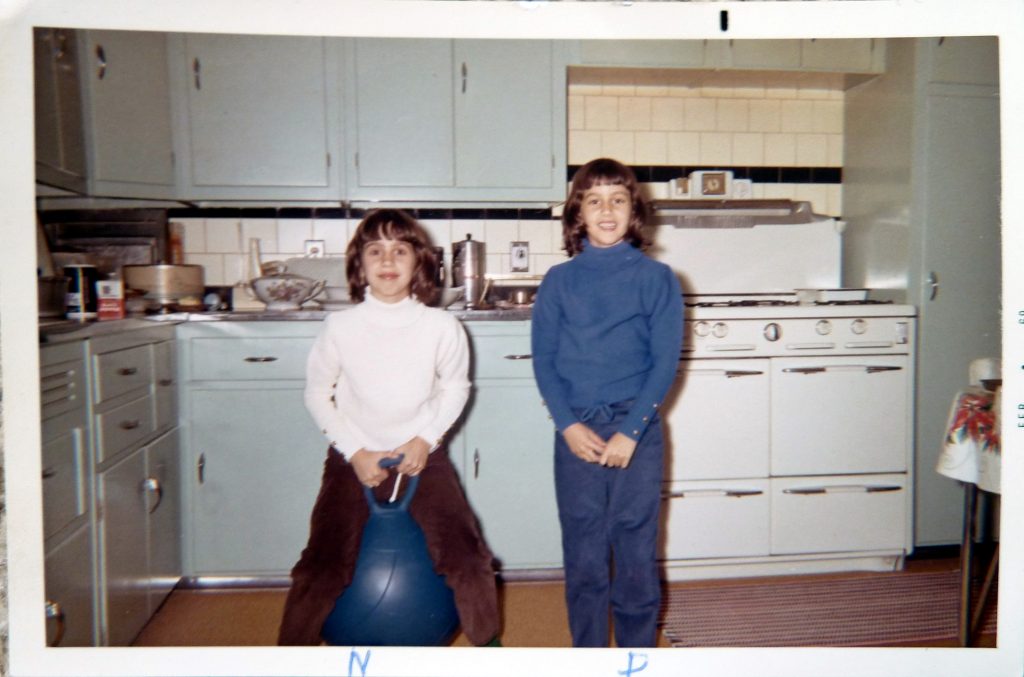 My dad came home when I was 8 months old, and reportedly I was not afraid of him as babies often are of strangers at that age. You may be able to tell from their names that my parents had different backgrounds. My mother grew up in rural DeKalb county and had German and Swedish ancestry. My father emigrated from France as a teenager, but is ethnically 100% Armenian. Both went through hard times during the Depression and World War II, though the war had more impact on my dad's family. They met at Northern Illinois University, which was a teacher's college at the time. My mother planned to teach art, and my father had planned to teach shop, but ended up teaching French.