Chapter 3 – Our Middle Eastern Heritage
Before and throughout grade school, many weekends were spent visiting family. We went back to Auntie & Uncle Clay's house most often, but also visited my dad's side of the family regularly; he had moved in with his uncle and aunt and their boys when he came to America. Their real names were Vahan and Vartar, but we knew them as Dada Zeke and Auntie Rose. Dada Zeke had worked rotating shifts at Johns Manville. I think he was retired by the time I remember him, and he did suffer some ill effects from working with the asbestos in the plant.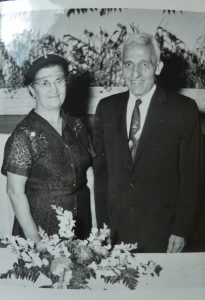 There were horse and soldier action figures to play with (all our cousins on this side were boys!) and perhaps a few other toys, but Auntie Rose's kitchen was where the real action was, and where we liked to be. The aromas were quite different from Auntie Margaret's, the onion, parsley and garlic used so much in Armenian food are some I recall. There was also a hint of rosewater from the pastries stored in the basement. As best as I can remember, there were far fewer processed foods here than in my mother's kitchen, or even Auntie Margaret's. Auntie Rose baked every kind of baked good they needed.
Diane and I were allowed to help by a certain age. Armenian food is often  labor intensive and gets done more easily with many helping hands. I think it may be like that because it was also an opportunity to socialize–daughters, sisters, cousins, daughters-in-law and grand-daughters would all be around the kitchen table chopping and mixing and stuffing while chatting. The men and boys would be in the living room. There was further gender division when the meal began; only the men got to have a shot of hard liquor!
Auntie Rose did not have written recipes. When she was a teenager, my sister stayed over for several days so she could learn and write down some of them. However, thanks to a small spiral cookbook, Treasured Armenian Recipes by the Detroit chapter of the Armenian General Benevolent Union, we had a starting point for traditional recipes. So my mother learned to cook some of these dishes, and Manti aka "Baby Shoes" is one we liked making and eating. The nickname comes from the size and appearance of the dumplings, I don't know if any other families call them that.
Manti
Recipe possibly based on one from Treasured Armenian Recipes
8 servings
3 cups All purpose flour
3 Egg
1/2 cup Water ; scant
1 pinch Salt
1 pound Lamb ; ground
1 large Onion ; minced
1/3 cup Parsley ; chopped
1/2 teaspoon Salt
1/4 teaspoon Black pepper
1 1/2 quart Chicken broth
1 clove Garlic
Stir first four ingredients together to make a stiff dough. Let sit one-two hours.
Combine lamb, onion, second amount of salt, pepper and parsley.
Roll out dough to 1/16 inch. Cut into squares. Place a small ball of meat mixture on each and wrap up like a canoe.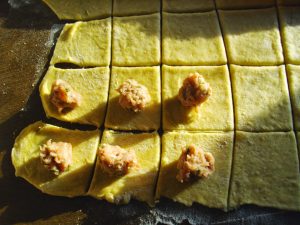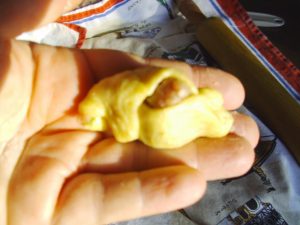 Bake at 350 until golden brown, about 20 min. May freeze at this stage.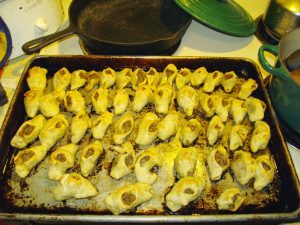 Boil in chicken broth with garlic until soft. May also add a tablespoon of tomato sauce for extra flavor.