1

Wild Rice: Wild Rice Soup
Food holds knowledge and culture.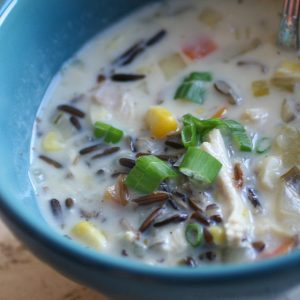 Wild rice is not your conventional grocery store white rice grown wildly. In fact, wild rice is not related to the normal white or brown rice. It is a grass grown in the Upper Midwestern regions of United States, and is Minnesota's state grain. This wild rice plays an important role in the Ojibwe's, an indigenous native american group, culture and economy.
While not all wild rice sold and bought in grocery stores are grown wild and naturally, the Ojibwe people still harvest and supply wild rice the traditional way – handpicking them from canoes. The process and timings of wild rice is crucial to celebrations and traditions of the Ojibwe, allowing them to connect to nature, while also generating an income to survive and continue to uphold their culture.
Unfortunately, wild rice is extremely sensitive to pollution – namely sulphur. With calls to mine into Ojibwe lands, wild rice is being threatened. And with it the Ojibwe, their rich history and culture, are also being threatened. With the loss of wild rice and the Ojibwe, the knowledge and ability to take and use natural resources without depleting them is likely to be lost.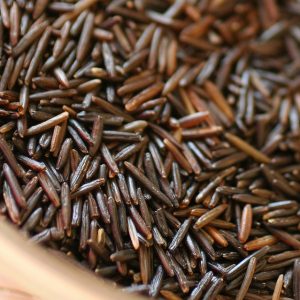 Play Your Part:
Choose

the traditionally picked and processed wild rice – better still, try to get it directly from the Ojibwe people

Understand

the knowledge and role of indigenous groups to the land – they have insights and skills that are quickly being lost
---
Wild rice soup, according to my local friend, is very Minnesotan. I made it for the first time, and ate with Irish soda bread (also first time making bread!). The photo below is the product of my cooking. Super easy and surprisingly filling, perfect freshly cooked or for leftovers.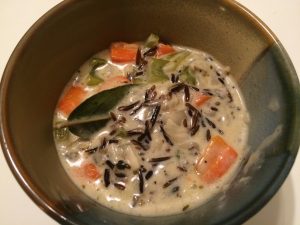 Wild Rice and Smoked Chicken Soup (adapted from Amy Thielen's The New Midwestern Table)
Yield: Serves 8-10
Ingredients:
3/4 cup wild rice
salt (to taste)
pepper (to taste)
6 tbsp salted butter
3 stalks celery, diced
8 oz brown cremini mushrooms, diced
1 medium leek, white and light green parts diced
4 cloves garlic, minced
1/2 cup dry sherry
1/4 cup all-purpose flour
6 cups chicken stock
3/4 cup heavy cream
2 dried bay leaves
2 cups coarsely chopped smoked chicken
Directions:
Rinse and cook wild rice in 1 1/2 cup water and a pinch or two of salt. Bring rice and water to simmer, cover tightly and reduce heat to low. Steam for 20-25 minutes, until liquid is absorbed and rice kernels have curled into a C shape
Add butter, onion, celery, 1/2 tsp salt and 1/2 tsp pepper to pot over medium heat. Cook until onions are tender
Add mushrooms, leek and garlic into pot. Cook until mushrooms have exuded their liquid and has evaporated
Add flour to pot and cook, stirring until completely mixed in
Add dry sherry to pot, and bring to boil
Add chicken stock, 2 cups water, heavy cream and bay leaves
Bring to summer and add chicken
Cook at bare simmer for 30 minutes
Add cooked wild rice to pot, and cook for 5 minutes
Remove bay leaves and serve hot
Recipe Notes:
To make vegetarian, chicken stock can be replaced with vegetable stock, and chicken can be taken out
Any leftover meats, or preferred meats, can be substituted for smoked chicken