765 Valley View Road
Floyd and Bea Martinson
Floyd passed away in 2000, but Bea still lives in their Valley View home. She is going strong at over 90 years of age. I've heard it said that your chronological years sometimes don't really reflect your age. That is certainly the case with Bea. She is a female Jack LaLanne, the California health and exercise guru on early television. He  was into health fitness long before most people were doing exercises and eating health foods. I can still see him in his black shirt and pants, making a veggie cocktail in his blender. Bea doesn't make a veggie cocktail as far as I know, but her consumption of vegetables like Jack, preferably home grown and organic, is just as critical to her. I should know. I supply some of her veggies from my garden. Bea has prided herself on her physical fitness and maintains a dietary regimen of vegetables, fruits and nuts. Right now she is a big promoter of kale consumption. And she lets me know how good it would be for me. I've often thought that she has always regarded my overweight body with an expression of "how could you do this to yourself?"
I am continually amazed at Bea's level of energy and stamina. I've known her for 30 plus years and like Jack she does not have an ounce of fat on her. Just this morning she went for an early morning walk in the Gustavus Arboretum in the rain, no less, and stopped by later and told my wife that the wild cherries were ripe. Her morning walks started many years ago with her buddies: Stan Benson, Joel Moline, Judy Gardner, and Mary Long. When Bea does get sick, it's like, how can this be happening to me? Let's get over this thing fast so I can get back to my walking routine.
Bea grew up and attended schools in Minneapolis. She went to Ramsey Junior High then graduated from Washburn High School. She then enrolled at the University of Minnesota, It was there that she met Floyd. He was in graduate school and she was a junior. They dated for a number of years before they married in 1946. Bea graduated in 1945, magna cum laude, with a degree in social work and sociology. She became a counselor for the Lutheran Student Association, working on planning events and organizing discussions at Hamline University and Macalester College as well as at the University of Minnesota. After their marriage, they moved to St. Peter, where Floyd began teaching at Gustavus. They were "House Parents" in Wahlstrom, Uhler, Johnson, and Rundstrom Halls for a number of years. During this time they saved enough money to purchase a lot on Valley View and build their house.
Bea has been one of the "party organizers" of Valley View. She still loves to throw parties and many of them. Bea and Gene Lund still organize Valley View Block Parties that they started 50 years ago when their Valley View kids were growing up. Many of these were for birthday celebrations, such as the one given for Gene Lund when she turned 90.
Everyone on Valley View Road were invited, but only three of the only original "gang" there were there. That would be Gene and Bea and Don Slarks. All the rest have passed away.
It was quite a treat for me years ago when we first moved to the neighborhood, to be at one of these block parties. To be in the presence of Chet and Marian Johnson, bombastic Kyle Montage, shy and quiet Vic, Doniver holding forth, Esby and Ruth, Don and Marlys, and Ross and Lavinia. I was in awe of this assemblage. I was so happy that I was part of a gathering of these stalwarts of Gustavus. Like I said, most of this old faculty or administrative contingent have passed away, but the parties live on. I remember one delightful May years ago at a backyard breakfast Bea put on. Vic fried pancakes under the box elder tree just like he was on one of his camping trips. Folding tables were set up with all manner of coffee cakes, fruits, meats, and cheeses. And plenty of coffee. Bea's backyard and front yard are her pride and joy. But it wasn't always this way.
Lot #8, when it was excavated for the Martinson's new home, revealed that at one time in its history, it was a dump as part of a ditch that ran along Jefferson Avenue. The dump debris was removed but then the lot had a severe slope along this ditch. It was filled in with over 40 truckloads of sand and gravel from the Johnson house excavation across the street. Maybe it was this sharing of dirt that led Bea and Marian Johnson to be such avid gardeners. Bea's backyard turned out to be a little park; a far cry from a dump.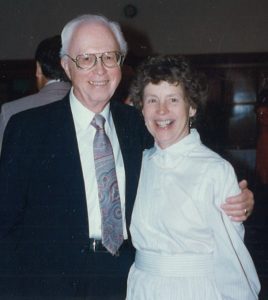 Over the years the back and front yards were beautifully landscaped. This was a common characteristic of the Valley View neighborhood. The Martinsons  planted lilacs, forsythia, and a  variety of trees such as birch, crab apple, and the box elder which was the first tree planted on their lot in 1955. There were shaded areas filled with hostas, as well as a flower garden with tulips, daffodils, and a small vegetable garden and rhubarb patch. Bea has not stopped gardening. Just this spring, she bought a magnolia tree, something she's always wanted. And, to top things off, the backyard is graced by the sculptures crafted by her son, John, who is an artist in Galena, Illinois. But it is his artistic troll work inside Bea's house that most people come to see.
Between Thanksgiving and Christmas, Bea puts out her troll village. John enhances this collection usually with a new piece each year as a Christmas present to his mother. The troll village is a cozy assortment of fairy-like houses carved into all manner of wood- logs, old pieces of bark, and oak knots and inhabited by the most delightful little trolls. Bea warns, "You have to be nice to them or they might do mean things to you." (St. Peter Herald, Dec. 24, 1998). She is most happy to have  visitors come and see her trolls. But not in the summer. Not only aren't the trolls there, but Bea isn't either. She takes her annual summer trips up north to the family homestead in Aitken County. Here she stays with her sister and regularly throws parties for relatives. This is not so much a chance for Bea to get away from Valley View Road, but rather as a means for keeping a connection to her past.
This picture shows Floyd Martinson in the Folke Bernadotte library at Gustavus Adolphus College in 1985. He is holding a copy of one of his first books, Marriage and the American Ideal (1960). I could have selected numerous photos of Floyd at conferences or giving lectures. I chose this one because I believe it represents his love of research and his main life's goal: namely, to be a respected scholar. And, indeed, he was. Floyd kept a detailed record of his academic achievements. It was shown to me by Bea who said that he compiled it to occupy the time when he was confined to the house before his death. He did it, I think, to reflect back on his academic life over the years … a life he was very proud of. The kudos of this life are in a three ring binder that is at least five inches thick.
Floyd passed away on April 23, 2000; Easter Sunday. His church service bulletin reads like a "Who's Who" of academic research. He had over 50 articles published in professional journals and book chapters. He wrote 11 books and monographs, including the aforementioned Marriage and the American Ideal and  Family in Society. He was a Fellow of the American Sociological Association, the Committee on Family Research, International Sociological Association, and the National Council on Family Relations. It was in his research area of child sexuality that Floyd made a name for himself.
As he told it, this research subject came about somewhat by accident. He said, he was teaching a course at Gustavus called "Sex and Society" and one semester he gave his students a term paper assignment to write about the topic of family sexuality. As it turned out, many students focused on their own sexual awakenings, many in their pre-school years. Their sexual revelations triggered an interest in this particular subject area of family sociology and child sexuality that heretofore had never received much scholarly research. Floyd plunged into it full bore, no holds barred. He wrote journal articles and books, and was invited to present research papers or lectures at conferences and universities around the world. He was a globe-trotting sex expert to Cambridge, England; Mexico City; Vaxjo and Uppsala in Sweden; Swansea, Wales; Geneva, Switzerland; and most all of the major cities in the United States. In celebration of the United Nation's declaration of 1979 as "The Year of the Child," he organized a seminar held at the Gustavus campus. It was sponsored by the Committee on Family Research of the International Sociological Association and the International Section of the National Council on Family Relations. It attracted many scholars, including 50 participants from Europe. It was entitled, "The Child and the Family." Although this conference was not the beginning of Floyd's academic reputation, I believe he became a recognized national and international scholar on child sexuality as a result of this conference. And here he lived on Valley View Road in a small Midwestern town. Pretty amazing, when you think about it.
Floyd's reputation continued to grow through the 1980s, and, so did the controversy over his work. In an article published in the September 7, 1981 issue of Time magazine, called "Cradle to Grave Intimacy," he and other so-called "sex experts" were accused of advocating an "Anything Goes" sex life for children without interference from parents and the law. Floyd is quoted as saying, "Instead of jailing adults who are involved in affectionate relationships with tots, all we need to be concerned with is the quality of the relationship involved."
He also made the pages of the National Examiner magazine (February 2, 1982). The story was in response to an article Floyd wrote entitled "Against Sexual Retardation" (SIECUS Report, January, 1982). In that article he told his college students that "they were sexually retarded, not necessarily in their sexual behavior but as to their knowledge and most likely in their attitudes and values toward sex." He went on to say that "our society deliberately tries to keep children ignorant and scared on the subject of sex in the hope that they'll stay away from it." Floyd wrote that his sexual retardation statement made him "popular" with radio talk show hosts from Florida to Canada and New York to California. One such show was on station CKRM in Vagina, Saskatchewan, sorry, I meant Regina, Saskatchewan. (See how easily Floyd could evoke sexual matters?) He probably would've made appearances on Oprah and the Jerry Springer Show if they were around then. He was that much in demand. He went on to say that he was on so many radio talk shows,  he "had to put a stop to it."
From these magazine pieces and talk shows, Floyd spent considerable time and energy dealing with what he called "mishandled quotes" and the irresponsibility of the magazine articles. Bea told me that her husband was accused of everything dealing with sex from promoting incest to promiscuity among children. You have to remember that in the '70s and early '80s, even the mention of the word "sex" in some quarters was taboo. And here was a professor at a Lutheran college openly addressing a multitude of childhood sexual behaviors, while advocating more sex education. It is interesting to note that Floyd wrote that "his bad publicity didn't seem to threaten his tenure at Gustavus." It would seem that contrary to what you might think, Gustavus was perhaps more tolerant of its faculty in those days.
On a more humorous note, it was Floyd's Gustavus campus appearances that I remember most. My wife and I were Head Residents at Co-Ed Dorm when Floyd was invited by the students to give one of his sex talks. He filled the student lounge that night. Who didn't want to get a few insights when listening to sexual exploits? The unofficial publicity around campus for these appearances was, "DIRTY FLOYD IS COMING." You can make as much of that as you want, but suffice it to say, he always attracted an enthusiastic crowd. We always thought he answered student  questions thoughtfully and gave  them  the unvarnished information that they needed and desired.
Don't get the impression that all of Floyd's academic interest dealt with childhood sex. His 1992 book, Growing up in Norway, 1800-1990, stemmed from his trips to Scandinavia. One such trip was more of an adventure with Bea joining her husband in conducting a summer 1980 excursion, called "Life in Scandinavia: Past, Present, and Future." It was offered through the Gustavus Alumni Association and the Upper Midwest Consortium of International Education. The tour was primarily through Norway and Sweden including lectures and meetings at historical landmarks, museums, and other historical sites.
Over the years, Floyd was presented with many awards. Two of the most coveted were the Alfred C. Kinsey Award (1988) and a lifetime scientific achievement award from the Society for the Scientific Study of Sexuality (1996). As I said, for much of three decades, he was one of the world's foremost authorities on childhood sexuality. Of all the profs on Valley View, Floyd was the most influential in terms of research and scholarship. This is saying a lot with the likes of Chet, Doniver, and Kyle on the block.
Bea and Floyd raised five children on Valley View Road: John, Peter, Stephen, Anne and Sarah.