724 Valley View Road
Don and Marlys Slarks
Don and Marlys Slarks became residents of Valley View in 1954. They bought the property from Burt and Mary Gustafson. Burt was a Physics and Math professor at Gustavus and he and his wife, Mary, were part of  Valley View's  first residents. However, they did not live long in their basement home, as Burt joined the Armed Forces and fought in the Korean War. They did not return to Valley View, nor to Gustavus, after the war. Burt started another career: teaching with the Department of Defense.
In 1954, Marlys learned that their basement house was for sale. She writes in the Johnson book, "We liked the area with its big lots and proximity to the college campus. Some people told us that we were moving to the rich 'Knob Hill' neighborhood of St. Peter." The "rich" neighborhood suited Marlys. She liked fine things. She and Don bought the place and hired a carpenter to build a finished home over the Gustafson's basement house. They moved into their new home in January of 1957, with their son Gary. Don loved to mow his big lawn so the neighborhood kids could have a place to play touch football and croquet. He also put in a horseshoe court, which was also a popular attraction. Although the kids and the court are long gone, Don took pride in his yard and mowed his big lawn faithfully. He also took great pride in his car.
It is difficult to say who loved their car more – Don or Kyle Montague. For most of t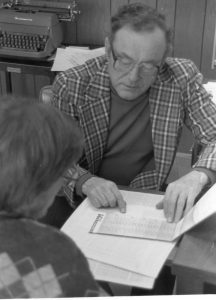 he time that they were neighbors, their respective Cadillacs would be parked across the street from each other, always polished and spotless inside. Don and Marlys ate out a lot. It was not uncommon to see their Cadillac headed down the street at dinner time, and for that matter, to the University of Minnesota home football games on Saturday mornings. They were loyal Gopher fans.
Don was born in Minneapolis and graduated from Roosevelt High School in 1943. He then served in the Navy from 1943-1946. He was in the Seabees and in a conversation with him, he said they primarily made airfields. But they did much more than that. In a St. Peter Herald (December 18, 2014) story, Don recounted some of his more memorable military exploits. "When the Japanese soldiers tried to stop U.S. war planes from landing on one of their air strips, they bombed us. But," he said, they couldn't get rid of us." He was in a few more harrowing experiences. One in particular was when he went along to protect a surveying crew and encountered Japanese gunfire. He wasn't hit, but said, "it was a little dangerous." It would appear that Don, even under fire, kept his calm and was never rattled. That has always been one of his strengths, along with "understatement." I asked him what he liked most about his service years, and he said they had very good food and lots of it.
After the war, Don attended both Augsburg College and the University of Minnesota on the G.I. Bill, earning his Bachelor's Degree. He then went on to get his Master's Degree in Education at Ball State University in Indiana in 1954. That year, he began his career at Gustavus. He was first a member of the Education Department faculty, primarily teaching educational psychology. He pursued further graduate work at Indiana University in 1955-'56. Later in his career at GAC, Don served for many years as the Director of Career Planning and Placement. He was the first director of that office and still takes great pride in helping many students find jobs and careers. I was invited to attend an event he organized at the Le Sueur Country Club in the 1980s. Its goal was to link up professors and business people to encourage and promote internships for Gustavus students. Thanks to Don's efforts, the Geography Department, where I taught, developed the first of many internships with business and planning agencies in the state. Thanks, again, Don.
He also started the wrestling team and, for a year, was assistant football coach. Recently, over lunch in the college's Market Place, I asked him what were some of his most memorable experiences at Gustavus. He replied that helping students find jobs after college was always rewarding for him. He also said that traveling with the wrestling team was always fu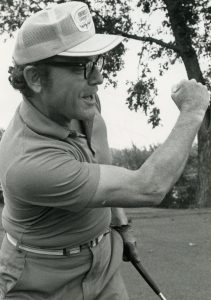 n. He recalled two trips in particular. One was to Denver. He said they drove all night to save money on lodging and he was looking forward to a good nap when they got there. Instead, the team wanted to go up to Pike's Peak and hike up part of it.
Don said he barely could get down, but the students were so impressed with the mountains that it was all worth it. Then, there was the trip to Chicago. The team was so impressed with the city's skyscrapers and museums that he still recalls it vividly. In his later years at Gustavus, Don was the Sports Information Director. He retired in 1989 after 35 years at Gustavus.
Marlys grew up near Kenyon, Minnesota. She was the daughter of Obert and Rose Barsness. She graduated from Minneapolis South High School and attended the University of Minnesota. The late Janet Jones recalled driving with her to put flowers on her Father's grave. Marlys admired him very much. During the Depression, he shared his job with a friend so both of their families could eat. He, in turn, loved his daughter. So much so that he did not approve of a certain "older Navy man" dating his "little girl." What happened next was a classic love story. Don and Marlys first met at a skating rink in St. Louis Park on a cold winter's night and liked each other from the start. They started dating. They grew more and more in love, but Don could never get permission from Marlys' father to marry his daughter. So, they eloped. Don made sure his car was working and off they drove to find a Justice of the Peace. They found one, had a short honeymoon, and lived 60 years as man and wife raising two sons and a daughter. How about that?
At Gustavus Marlys became embedded in campus life like Don. As Head Residents in the dorm North-Sorenson-Link, they lived across from Myrum Field House, where basketball games were played. She became an avid Gustie basketball fan. Don told me that at one game, she got very upset with what she thought was the dirty play of an opposing player. She said loudly, "I'm going to write the President of that boy's college and complain." A man seated behind her said, "You don't have to write. I'm the President." I always thought Marlys had strong opinions, particularly on things, she thought weren't right to her way of thinking. In this way, she fit right in with most of the women on Valley View Road.
Like Bea Martinson, Marlys loved working in the Book Mark at Gustavus. Don said she was particularly flattered when some student workers gave her a book of coupons for McDonald's as a Christmas present. She also worked for many years at Delta Phi Epsilon, the National Professional Honorary Society for Business Education. This was convenient for her as she could be close to home to attend to family affairs and just walk down the street to the National office located in the Ellis Jones' residence.
Marlys and Don loved putting on a good party, whether for a football game or bridge. For many years their annual Christmas Party was something you wanted to be invited to.
They were gracious and energetic hosts in laying out the big buffet and making innumerable "rum slushes." Marlys was extremely proud of her Christmas house decorations, especially the Christmas Village. I can remember that there were all these little houses and shops from a winter scene in a New England village. It was all arranged on their fireplace hearth. As I said, Marlys loved fine things and the attention it brought. She passed away on June 25, 2010.
Don was honored on October 11, 2014 as he was flown to Washington, D.C. to see the World War Two Memorial. He was part of the 12th Twin Cities Honor Flight for Veterans. Congratulations Don. You deserved it. He passed away the summer of 2017.