4

The Ancestors of Katri Kempainnen
Here is what we have for Katri's ancestors. Cousins have traced back to the early 1500s!

This picture is from the funeral of Katri's brother Kalle in 1931: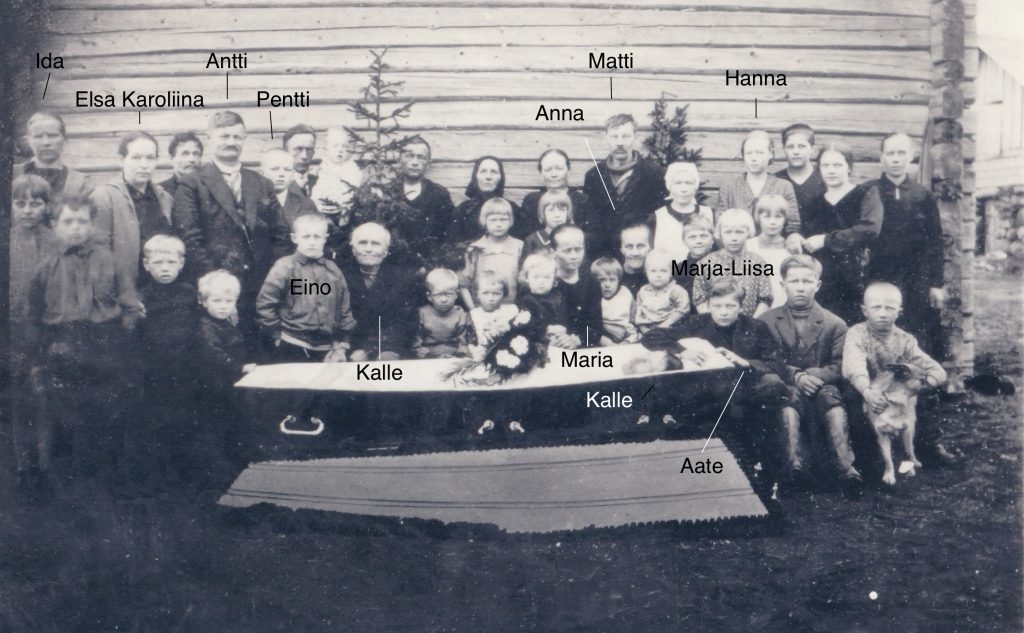 The children of Kalle and Elsa were:
Kaisa (Katri) Lisa (1879-1963) – married William Laitala and had 6 sons
Anna Gustaava (1880-1947) – married Heikki Heikkenen and had 9 children: Kalle, Elsa, Erkki, Heikki, Matti, Joseph, Alisa, Eino and Hanna
Ida Maria (1882-195?)– never married
Adolf (1884-1963) – never married. Worked at Balkan school in 1918.
Matti (1885-?) – married Anna-Mari Klemetti, had 6 children: Aino, Ida, Aarne, Kerttu, Erkki, Anna-Liisa
Kalle (1887-1931) – married Maria Tolonen and had 8 children: Hanna, Aate, Jussi, Eino, Maija-Liisa, Eeva, Aili, Hulda
Elsa Karoliina (1890-1971) – married Antti Kempainen and had 10 children, two of which died as child : Hulda, Sampa, Pentti, Liisa (died at age of 1 year), Ella, Antti, Sakari, Vilho (died 7 days old), Lauri, Kaisa,
Greeta Stiina (1890-1891)
Eeva Johanna (1892-1974) – never married
It appears that at least three Kemppainen siblings came to the US. Katri came to the US  in 1905 with Maria Leinonen. Adolph came to the US in 1906 and went back to Finland (between 1909 and 1913). Adolph returned to the US in 1913 with Hanna and a few other people . . . looks like we have more cousins to investigate! We think Kalle and Matti might have come to the US and returned to Finland. We need to do more research to be sure.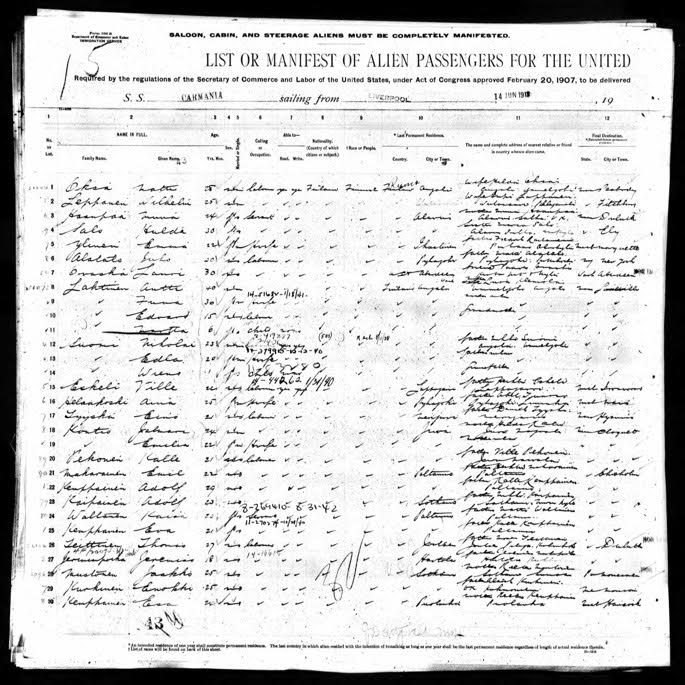 Thanks especially to cousins Matti and Marjatta for sharing information! They even have an association!: http://www.kemppaistensukuseura.fi/