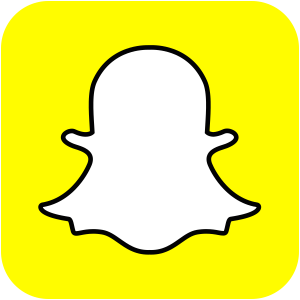 If you have a smartphone you have probably heard of the app Snapchat: it's an app that allows you to connect and share images with your friends.  The application allows you to send pictures, text messages, and videos that disappear after being opened.  At least, that is how the app started. Snapchat has since grown to include games, public "stories," and news headlines.  The Snapchat app has around 158 million users daily with around 85% of those users being between the age of 18 and 35.  Snapchat (or Snap Inc.) is a publicly traded company on the New York Stock Exchange, and is still ran by the original founders Evan Spiegel and Bobby Murphy.  Facebook in the past has made offers to buy out the company, but as of yet, Snapchat has remained independent.  The status of being independently owned and not associated with other large corporations has definitely shaped the platform in terms of what news they show and how Snapchat makes revenue.
Components of Snapchat
Chat: Friends who have each others' usernames are able to send text messages that disappear once exited. The chat may also be used to respond directly to a friend's image or video post.  Users can choose to "save" messages if they wish.
Lenses: Lenses allow users to supplement their images with various filters and effects, including sponsored content for different companies and organizations.
Product identification: By pressing on one's screen for a few seconds, one can identify songs with Shazam or find products on Amazon that most closely resemble the product selected within the frame.
Snapchat's Influence on the News
Over the years Snapchat has accumulated more platforms within the app that allowed for the expansion of public content. From more notable sources like The New York Times, National Geographic, and The Wall Street Journal, to more blog-like stories such as SEVENTEEN and Cosmo, Snapchat now contains a wide variety of  "story" content. With access to these stories, Snapchat users get a snippet of what is happening in the other parts of the world with celebrities, politics, and "shocking" events in the past 24 hours. Because Snapchat is able to freely publicize user material, news stories sometimes include images and videos from other users present at the scene of the story. Because these stories don't require much time or reading, a user can find out about a current event within seconds before deciding if they want to look further into or continue on to other headlines. These news stories are broken up by video advertisements, and users can choose to subscribe to news platforms. Once subscribed, Snapchat's algorithm presents the user with other stories that may interest them.
As stated by The Center for Digital Ethics and Policy, Snapchat presents itself as a camera app, not a media platform, and similar to Facebook, Snapchat does not feel responsible for the content that is placed on the platform. The news stories that are posted on the app generally originate in live pictures and videos posted by users, due to the nature of the app. With crowd sourcing information, it is extremely difficult to monitor the content and to fact check the events. In regards to the Discovery section of Snapchat, which presents users with news stories from news sources, only groups that are partnered with Snapchat are allowed to post. Due to this, Snapchat can pick and choose which sources they would like to be partnered with, and are able to cancel partnerships if Snapchat feels the information is not what they want.  This can both be good and bad, on one hand Snapchat can eliminate false news from the platform, but on the other hand Snapchat can censor sources that they do not agree with.
Snapchat Trends
Snapchat's stated mission is "At Snap, we believe that reinventing the camera represents our greatest opportunity to improve the way people live and communicate. We contribute to human progress by empowering people to express themselves, live in the moment, learn about the world, and have fun together." This social media platform has pushed the boundaries of how people communicate, especially for teenagers. The current state of Snapchat is very different from what it was in its inception, and the popularity of the platform is too. Snapchat is reported to be the highest activity for social media at 35% among teens, according to Pew Research Center.
Snapchat's arguably most recognizable trend is that the things you send or post "disappear", except that is not necessarily the case. Users have the capabilities on their devices to "screenshot" or "screen record" pictures and videos they are sent personally, as well as the content posted on their friends' stories (public posts that all of the users' friends can view). Snapchat was the first to implement stories, and this trend has spread and been copied by the other giant social media platforms like Instagram, Facebook, and now Youtube as well.
According to Amnesty International, Snapchat has not done enough to ensure privacy among its users, and they do not put enough effort into educating their users about the dangers possible on the site. One of the bigger issues is that Snapchat holds users' pictures and videos for up to 30 days on a company server, leaving that data susceptible to hackers. However, the newest "trend" on Snapchat is its relatively new advertising strategy that makes it possible for smaller and bigger brands alike to put ads through Snapchat, and this is done through Snapchat sending user data to companies so they can target their respective audiences. Pushing the boundary further, Snapchat has a new partnership with Amazon for product identification that involves users being able to scan items or barcodes with their camera to then be provided with a list of options to buy from Amazon. Convenient? Sure. Good for privacy? We will just have to wait and find out for ourselves.
Loopholes and Community Concerns
Ability to circumvent age restrictions:  Snapchat, like most social media sites requires users to be at least 13 years old.  While this is true, people simply lie.
Terms of service say you can't do anything illegal:  Because there isn't anyone going through and checking every message sent to look for illegal activity, it is very easy for people to send messages involving, for example, illegal substances.
CAN regulate users by reviewing any and all materials posted, but regulation is very lax.
Snap Inc., is not held liable for any illegal and/or harmful content posted; more concerned about copyright infringement.
Product identification: partnering with Amazon to identify and market Amazon products: the camera can identify products and suggest similar products for the user to buy.
Access to geolocations of users unless turned off in settings:  Snapchat can see where you are
Access to all contacts and photos on user devices.
May mimic your face, voice, or other traits for the purposes of advertising without compensation.
What Should Snapchat do?
While many other social media sites struggle with fake news media, Snapchat remains relatively free of misleading news. According to Bloomberg Businessweek, Snapchat is one of few social media sites that does not have an issue with fake news. As was stated in previous sections, Snapchat only posts content from sources who they have a partnership with. Due to Snapchat picking and choosing who to partner with, they have been able to be clear of fake news and only partner with reputable news sources. Their content chief has also said "If an individual story gets hundreds of thousands of views, a team of our editors looks at it." If the story is checked and found to be true, it is then posted by Snapchat to the "Our Stories" section on Snapchat, which can function as a type of news. Snapchat has also already been actively fighting back against fake news. The company has reportedly been helping to fund research in creating an algorithm to detect fake news, this way they can assist other platforms in riding the internet of the problem.
One method of regulation that Snapchat has is community regulation. Individual users can report other users and content by their discretion. This can allow for Snapchat to eliminate illegal activities, and to eliminate user abuse. Another option for closing loopholes could be to require verification of user identity. This will hold people more accountable and make sure that users are the appropriate age to be using the application. Snapchat already allows an optional two-factor identification for users, requiring new accounts to verify with a mobile phone number. However there are other ways to go about verifying users, for instance they could use Twitter's model of verification.  This can also help to reduce the amount of fake bot accounts on the platform. On the other side, requiring verification could have negative impacts for people that run multiple accounts. For instance, a person who has an account for personal use and an account to use as a public figure. Verification can also lead to the false assumption that because a person is verified, the company supports them, when in reality it just means that the person is who they say they are.
Now we will leave it to you, the reader, do you think that Snapchat is doing enough? What would you like to see change?
Recommended Reading
"Facebook is Being Eclipsed by its Youthful Rival Snapchat" by Mark Sweney, The Guardian, Aug. 27, 2018.
"How Snapchat is Shaping Social Media" by Katie Benner, The New York Times, Nov. 30, 2016.